Super Easy Tzatziki Dip (cucumber yogurt dip)
Looking for a light and refreshing dip? Well, look no further than this easy tzatziki dip! This Greek dip is so light and refreshing and absolutely bursting with flavors, plus it's really fast and easy to make!
With just a few simple ingredients you probably already have in your kitchen you can create this deliciously refreshing dip in minutes.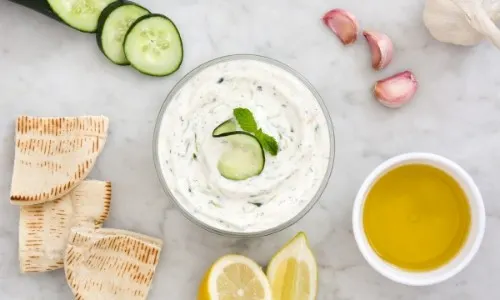 For tools, you will need a grater, cheesecloth/nut milk bag, and a garlic crusher. But if you don't have a garlic crusher that's ok you can grate the garlic or finely chop it.
As for the ingredients, you will need a cucumber, garlic, greek yogurt, dill, mint, lemon juice, and salt and pepper.
Really simple right?
Making tzatziki from scratch
The first thing is to prepare the cucumber and garlic.
Wash and peel the cucumber and then use the coarse side of your grater to grate the cucumber. Then place the grated cucumber in some cheesecloth or in a nut milk bag and squeeze out as much liquid as you can. You don't want your dip too watery.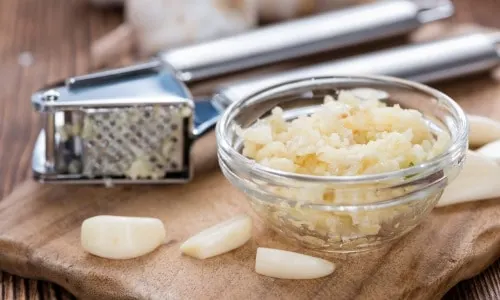 Then crush the garlic. You can either do this in a garlic crusher if you have one or grate the garlic using the fine side of your grater.
Now that the prep work is done all that needs to be done is to add the remaining ingredients and mix together. Season with salt and pepper to your liking and serve.
To let the flavors marry together it's best to chill in the refrigerator for a minimum of 4 hours, it tastes even better the next day! But if you want to eat it right away it's still deliciously good!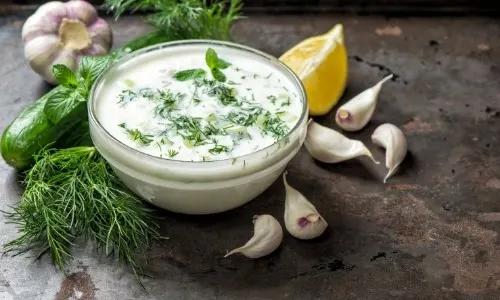 How long will fresh tzatziki last in the fridge?
This easy tzatziki dip will keep in the fridge for around 3-4 days if you have any left that is!
Posts Related To Easy Tzatziki Dip
Yield: 4
Easy Tzatziki Dip (Cucumber Yogurt Dip)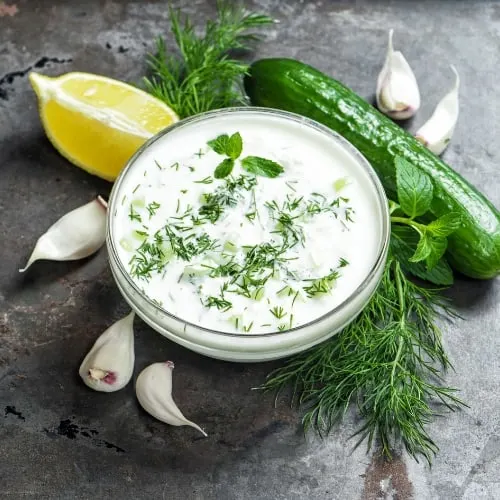 A deliciously creamy, and refreshing dip perfect for summer. Perfect for gyros, sandwiches, over a baked potato or simply as a dip or side. This dip is so versatile and can be combined with so many different cuisines.
Ingredients
1 cucumber
2-3 garlic cloves
1 cup/128g greek yogurt
1 tablespoon fresh mint (finely chopped)*
2 tablespoons fresh dill (finely chopped)*
2 tablespoons fresh lemon juice
Salt
Freshly ground black pepper
Instructions
Wash, peel, and coarsely grate the cucumber.
Put grated cucumber in some cheesecloth, or nut milk bag and squeeze out excess liquid.
Crush (or grate) 2-3 garlic cloves.
Add cucumber and crushed garlic to the yogurt.
Add the mint, dill, and lemon juice.
Season with salt and pepper.
Stir and serve**
Notes
Keep refrigerated for up to 4 days
*Dried mint and dill can be used instead
**For best flavor - leave the dip in the fridge for a minimum of 4 hours for the flavors to really infuse the dip.
Nutrition Information:
Yield:
4
Serving Size:
1
Amount Per Serving:
Calories:

40
Total Fat:

0g
Saturated Fat:

0g
Trans Fat:

0g
Unsaturated Fat:

0g
Cholesterol:

2mg
Sodium:

163mg
Carbohydrates:

5g
Fiber:

1g
Sugar:

2g
Protein:

5g