49 Ridiculously delicious healthy soups and stews, perfect for fall and winter!
Warm your tummy and soul with these mouthwatering soups and stews. Not only are these recipes healthy, but they are also bursting with flavor. You are sure to find a winner in this list!
The list is long but oh so worth it! There are vegan soups and stews, vegetarian options, as well as classics like beef stew and chicken noodle soup.
Jump to Vegan and Vegetarian soups
Jump to Meat and Fish Based Soups
Healthy Fall Vegan and Vegetarian Soups and Stews
Sweet Potato Kale Soup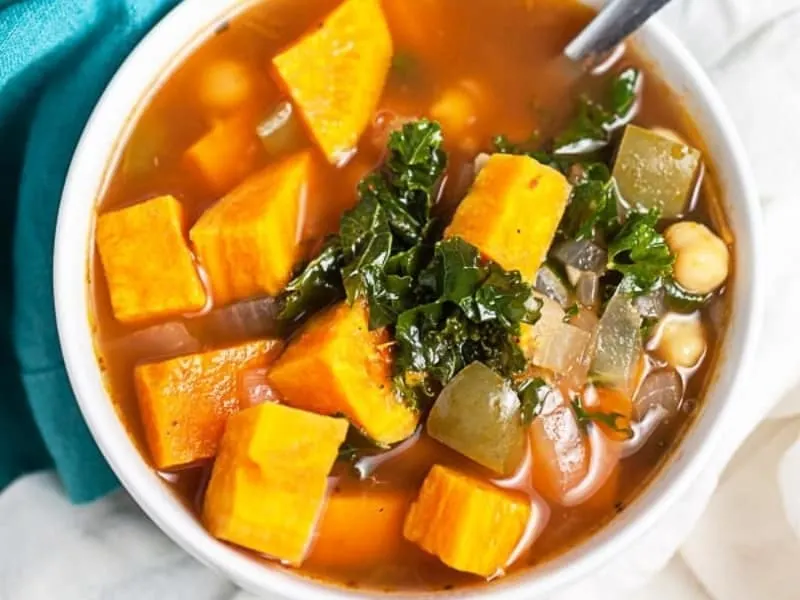 This Sweet Potato Kale Soup recipe from therusticfoodie is hearty and made from scratch. It's easy and full of savory vegetables. Perfect healthy comfort food!
Vegan Carrot and Lentil Soup With Coriander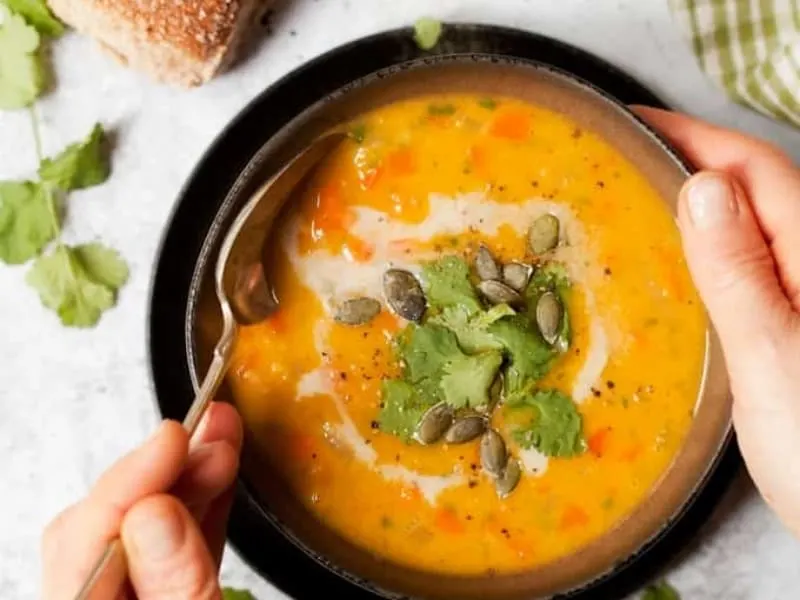 This vegan carrot and lentil soup with coriander from littlesugarsnaps manages to taste fresh and lively whilst also being deeply nourishing and gratifying.
Butternut Squash and Pear Soup With Fennel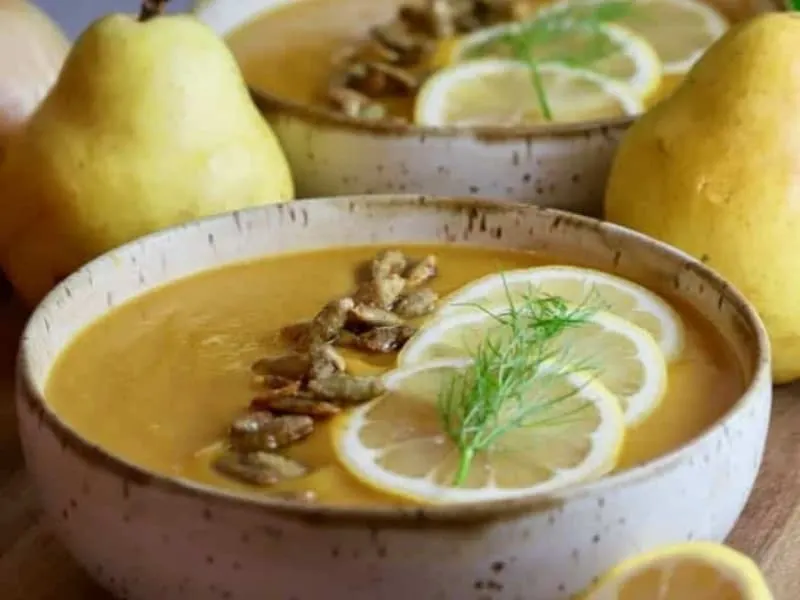 This Butternut Squash and Pear Soup with Fennel from gritsandpinecones is a hearty, gluten-free, and nutritious soup. Incredibly delicious without heavy cream, this soup is loaded with vegetables, and even has pears thrown in the mix.
Vegan Minestrone Soup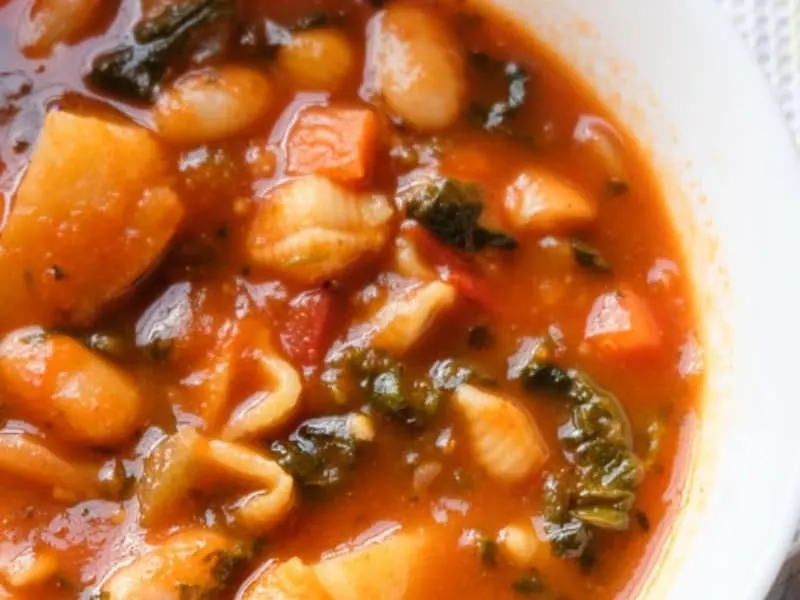 instantveg.com created this healthy vegan Minestrone Soup that can be easily thrown together using leftover veggies, rice, and pantry staples such as pasta frozen vegetables. We save our scraps throughout the week to make this budget-friendly dinner.
Easy Low Carb, Gluten-Free, Keto Pumpkin Soup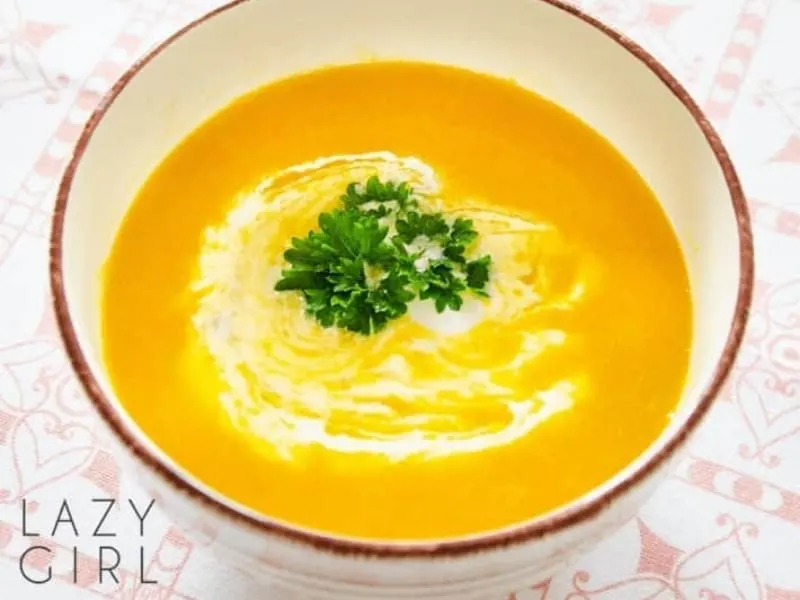 It's a recipe you'll be making all Fall and Winter long. Whether you're low carb, keto, or just wanting to eat simpler and healthier you have to try this keto pumpkin soup from lazy-girl.tips. It's an easy, delicious, and quick dinner idea.
Vegetable Soup With Creamy Coconut Broth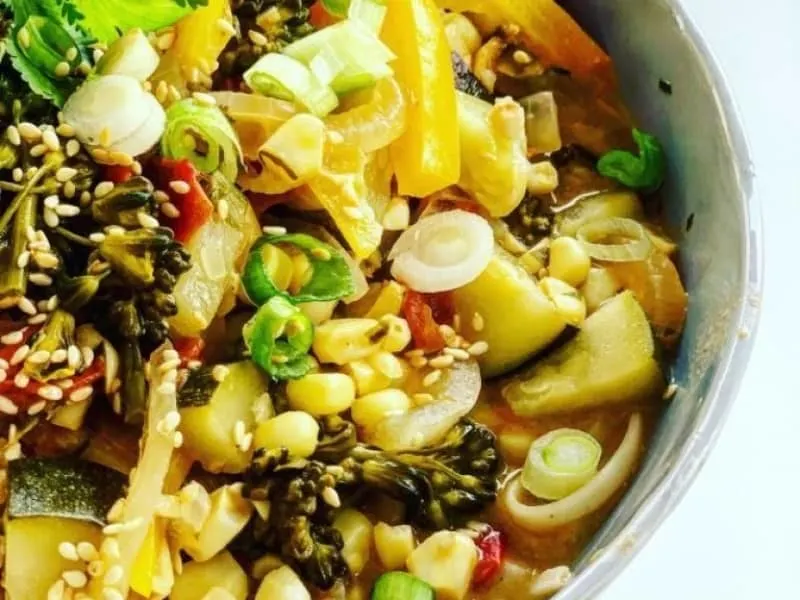 This Simple Vegetable Soup with Creamy Coconut Broth from livitygardens.com is made with truly simple ingredients and is perfect to cozy up to on a cool fall night. A totally awesome twist on the traditional minestrone.
Pumpkin and Sweet Potato Soup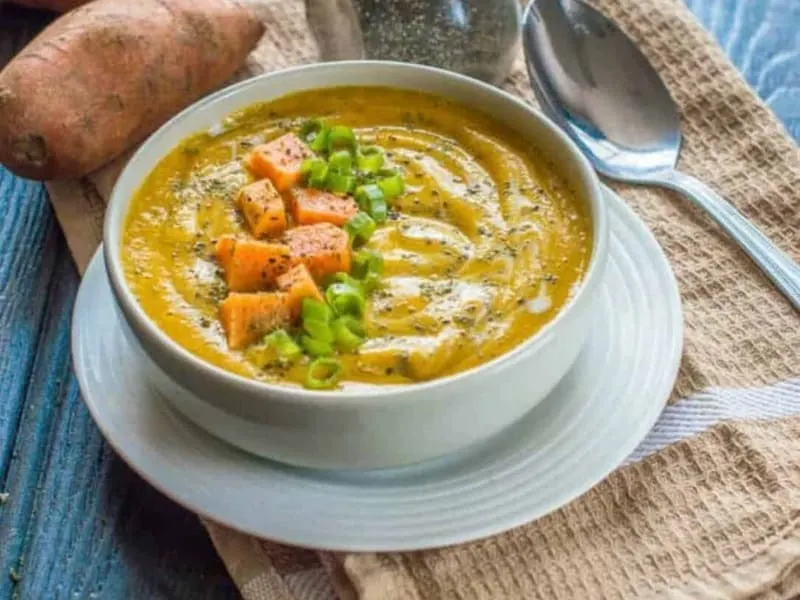 This delicious duo of pumpkin and sweet potato makes the perfect seasonal soup. Both vegetables are roasted to enhance their natural sweetness then combined with onions, garlic, vegetable stock, coconut milk along with heartwarming herbs and spices before being pureed into the tastiest soup ever. From thatgirlcookshealthy.com
Vegan White Bean Chili

Vegan! This hearty and healthy plant-based crockpot chili recipe from thiswifecooks is super simple to make and loaded with good-for-you, budget-friendly ingredients. Just put everything in a slow cooker and leave it alone for the rest of the day. It doesn't get much easier than that!
Vegan Moroccan Lentil Stew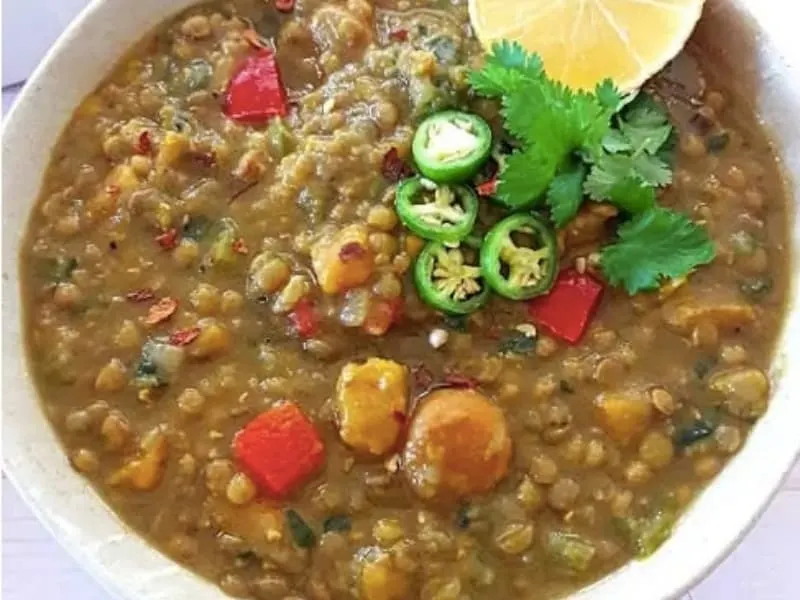 This Moroccan inspired Lentil-Sweet Potatoes Stew found on profusioncurry is loaded with everything that's simply too good! High protein, good fiber, and delightful flavors. You will want to use this wonderful plant-based hearty meal often.
Carrot and Potato Soup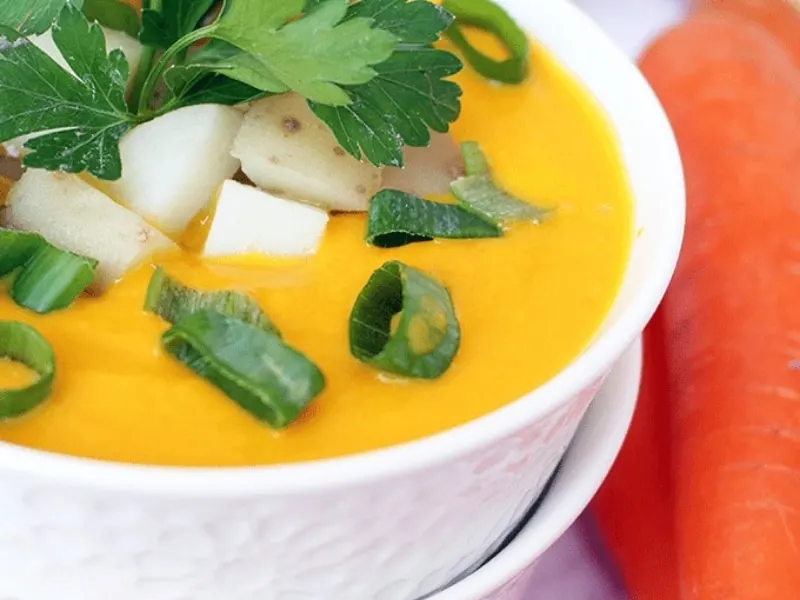 Delicious, creamy, and filling! This soup is for all you veggie lovers. Found on simplystacie
Vegan Chili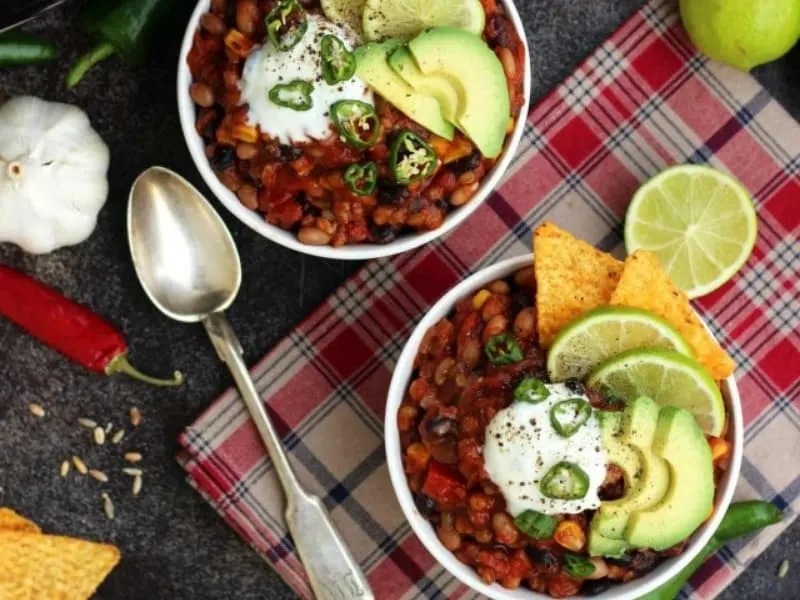 This slow cooker vegan chili recipe from happykitchen will delight your taste buds. It's not only wholesome but delicious and easy to make. A vegan twist on this classic comfort food for those chilly days ahead makes for a healthy dinner packed with nutrients brimming with flavor!
Thai Pumpkin Soup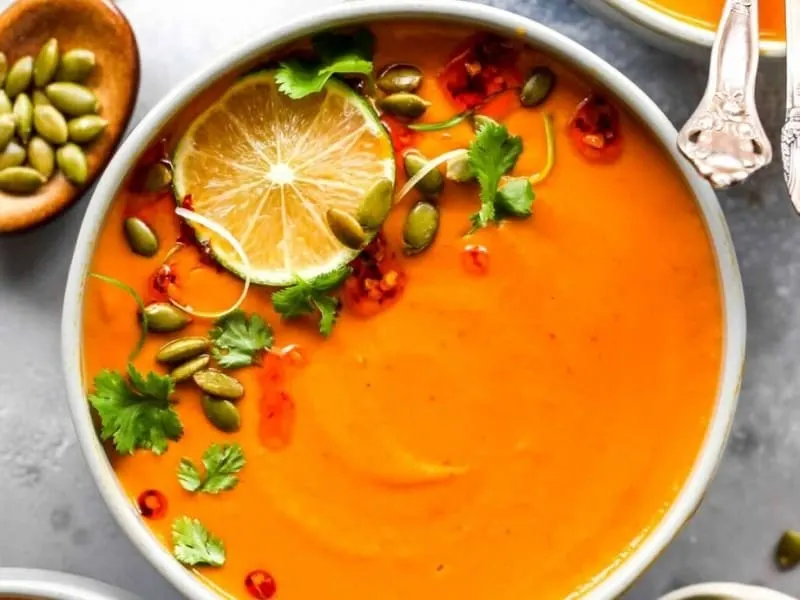 You won't believe how simple, yet wildly flavorful this Thai Pumpkin Soup is from dishingouthealth. Healthy, gluten-free, and made in just 30 minutes, this vegan pumpkin soup recipe is fall perfection.
Vegan African Sweet Potato Peanut Stew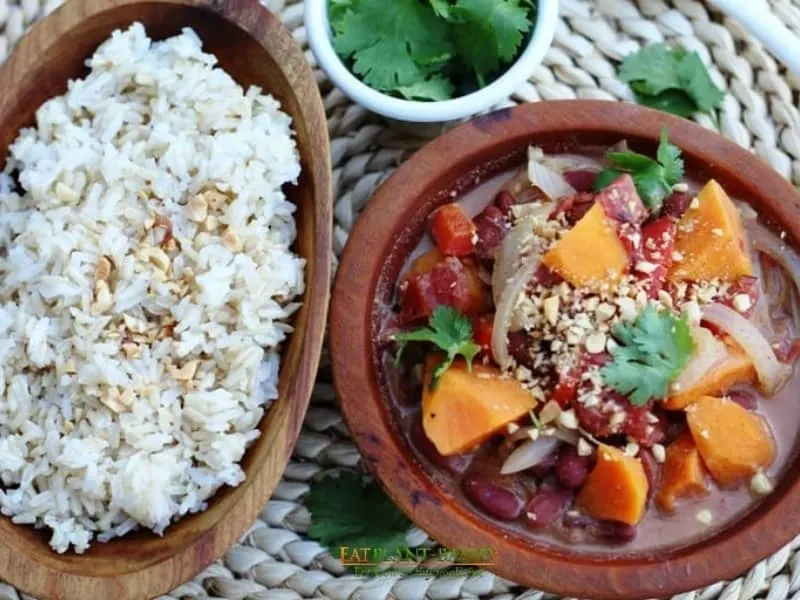 Vegan African Sweet Potato Peanut Stew with sweet potatoes is one of my personal favorite recipes of all time! We make it regularly. The flavors are simply amazing, like a party in your mouth. If you only try one vegetable soup recipe, let this be the one. From eatplant-based.com
Vegan Chicken Noodle Soup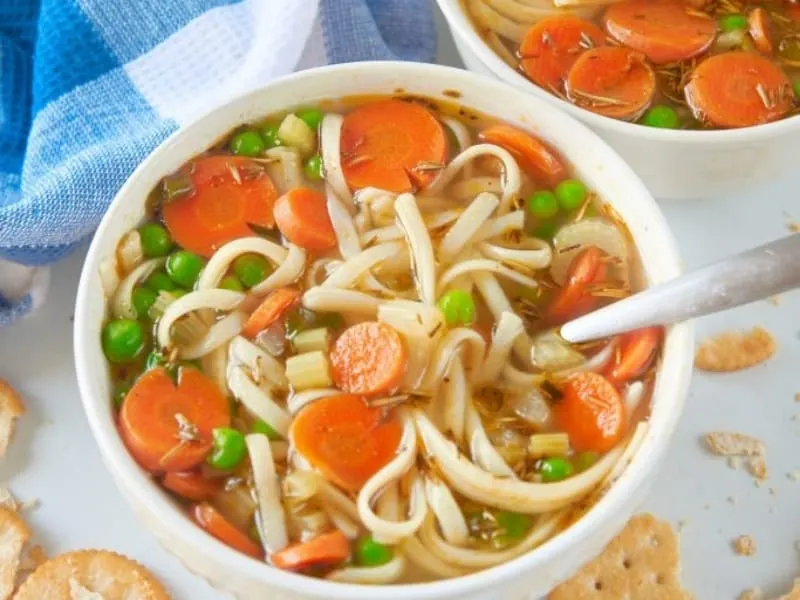 This vegan chicken noodle soup from wowitsveggie is so healthy and delicious and perfect for cold and flu season. It has much less sodium than the traditional version but tastes almost exactly the same
Sweetcorn Vegetable Soup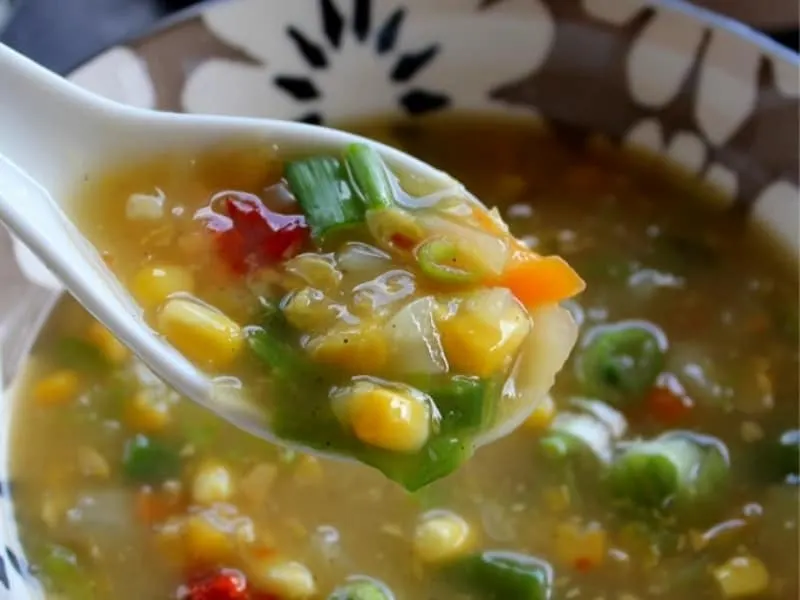 Sweet Corn Vegetable Soup is a healthy, comforting, and mildly spiced soup full of flavor. This easy one-pot soup loaded with veggies is a perfect dish to enjoy on a cold winter night. Found on madhuseverydayindian
Scottish Red Lentil Soup With Barley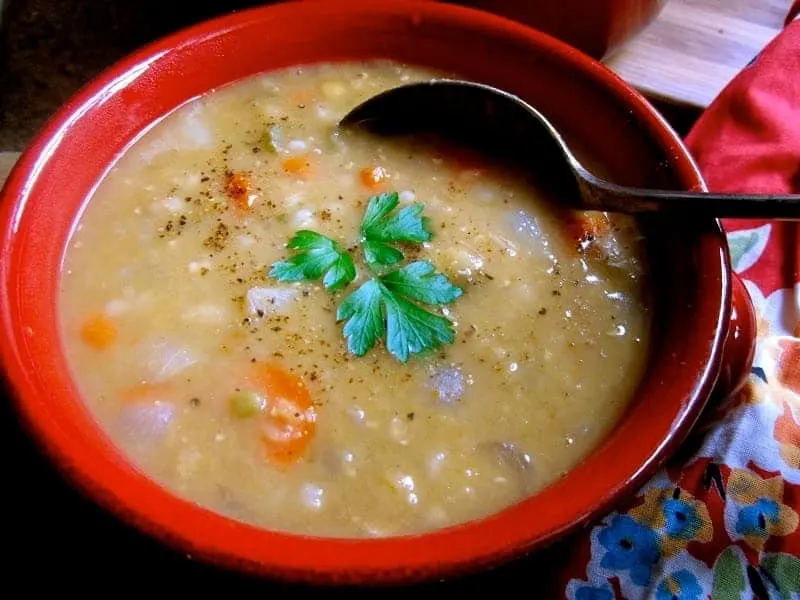 Scottish red lentil soup is a tasty alternative to standard lentil soup. Add barley, or leave it out; either way, it's a comforting bowl of soup when the weather starts to cool down. From christinascucina
Vegan Asparagus Soup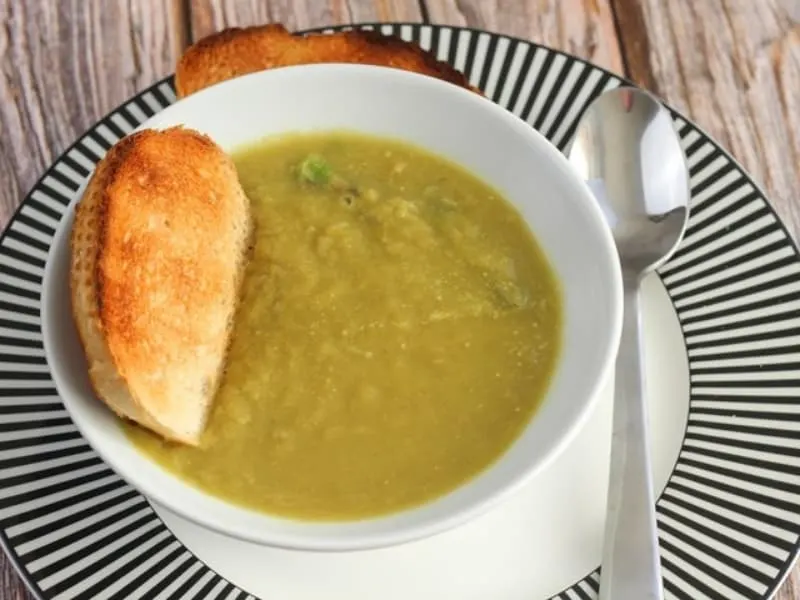 This delicious vegan asparagus soup recipe from recipesformen is easy to make, very low in calories, and yet very nourishing and satisfying.
Vegan Golden Beet Soup With Carrot and Ginger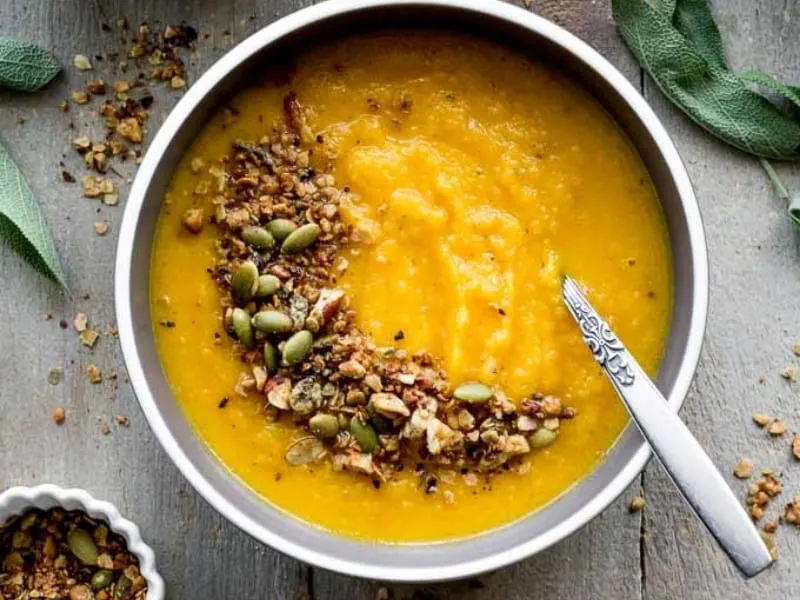 Golden Beet Soup is sweet and creamy with fresh ginger and carrots. It's completely vegan and comes together in one pot for a healthy lunch, side dish, or appetizer. From crumbtopbaking
Guatemalan Black Bean Soup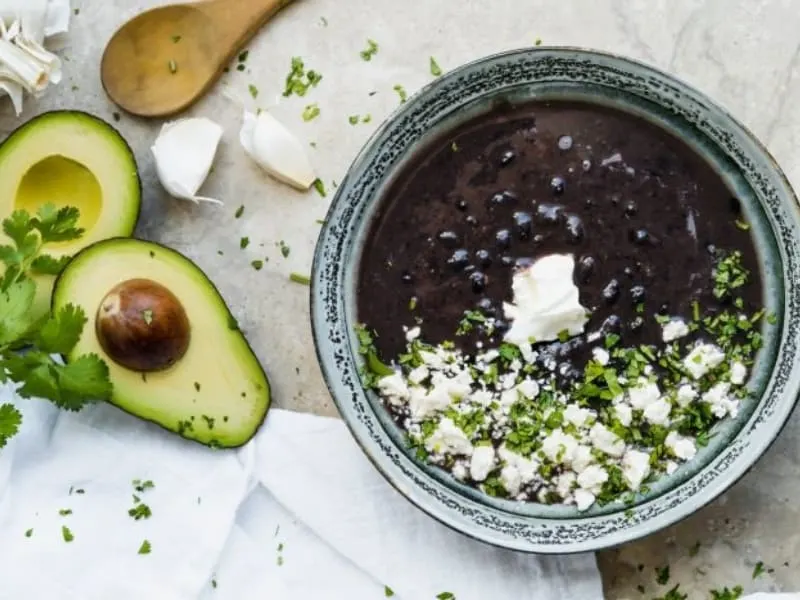 Hearty and satisfying, this black bean soup is the ultimate comfort food. Top it with crumbled cheese or cilantro for a boost of extra flavor. From atastefortravel
Cauliflower Cheese Soup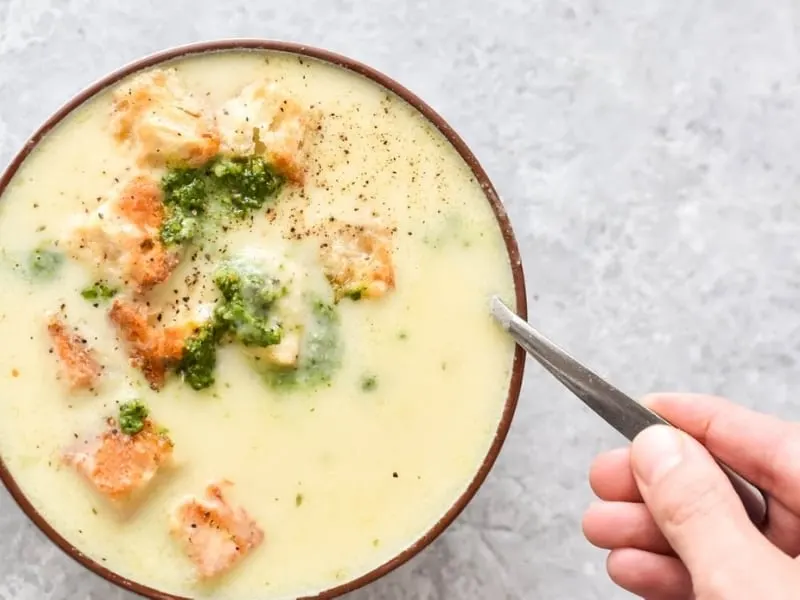 This easy cauliflower cheese soup recipe from babysavers.com is such an easy dinner recipe, and it's ready in just 20 minutes! It's so rich and creamy, and all you need to make it is an onion, cauliflower, olive oil, broth, and cheese!
Carrot Ginger Miso Soup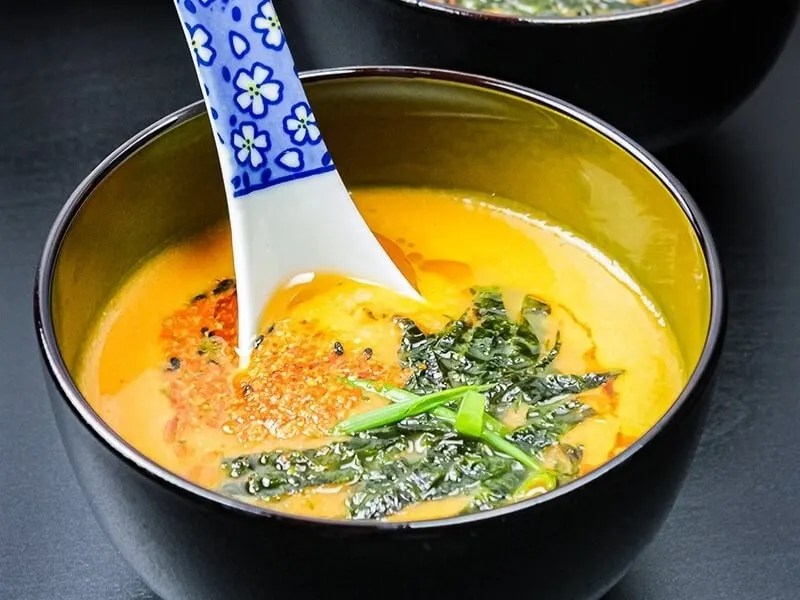 This brightly orange color carrot ginger soup from vforveggy.com is creamy thanks to the addition of Japanese miso paste. Kombu (dried kelp) dashi makes this soup full of umami.
Curry Lentil and Quinoa Soup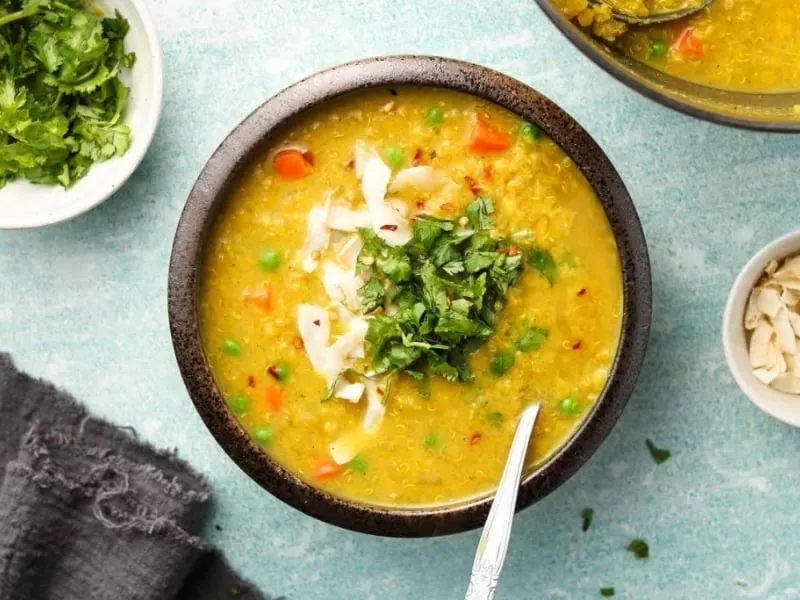 This Golden Curry Lentil and Quinoa Soup from okonomikitchen is made in 1 pot with nourishing ingredients. Ideal for winter cold nights or as an easy meal to prep that is also freezer friendly.
Vegan Instant Pot Sweet Potato Chili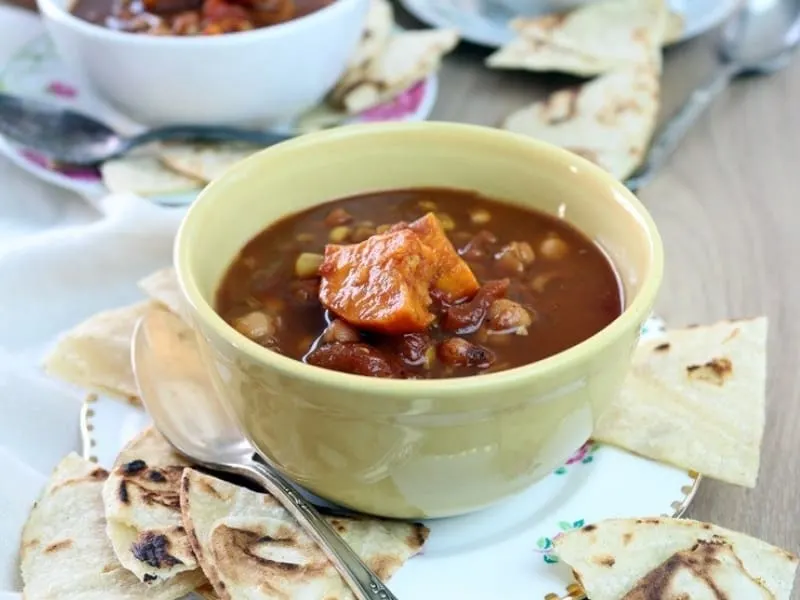 This sweet potato chili made in the Instant Pot was so easy and yummy delicious. It tasted as though it had simmered all day over a low flame. From planted365
Instant Pot Vegan Wild Rice Soup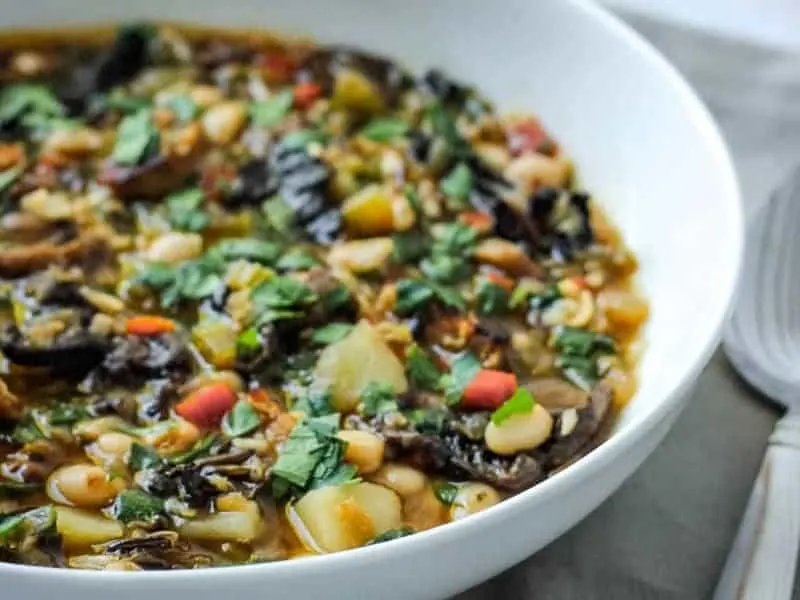 This Instant Pot vegan wild rice soup from veganrunnereats is made with mushrooms and vegan sausage and has a delicious tarragon-infused clear broth. One of our family's favorites!
Tomato Soup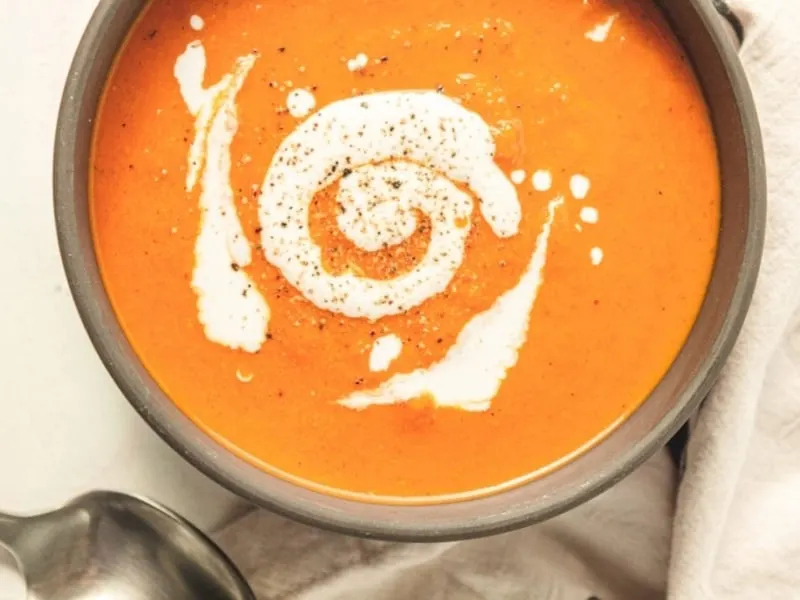 Homemade tomato soup is easy to make and perfect for supper on a chilly evening. This version from kellystilwell is vegan, dairy-free, and gluten-free!
Vegan Potato Soup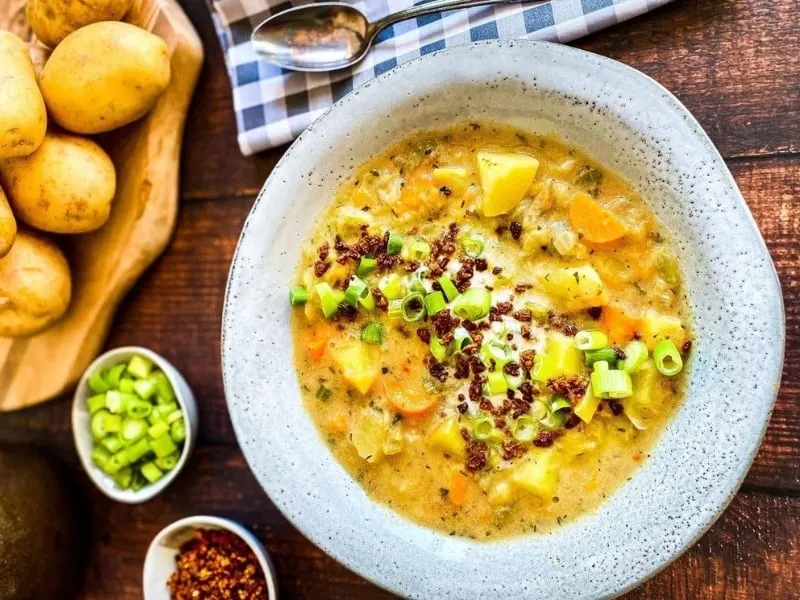 Hearty and filling, this Vegan Potato Soup from nosweatvegan is just what you need to warm up on a cool day. Full of healthy veggies and aromatic flavors, this soup is oil-free and meal-prep friendly.
Chinese Hot and Sour Soup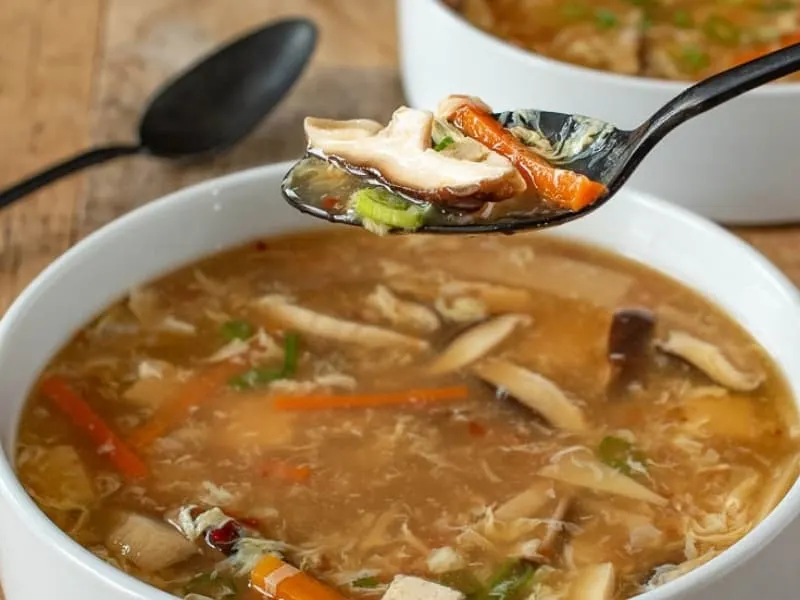 Chinese Hot and Sour Soup is a meat-free alternative to a takeout favorite. Shiitake mushrooms, tofu, and vegetables are bathed in a delicious vegetable broth flavored with soy sauce, rice vinegar, and chili sauce for perfectly-balanced flavors. From culinaryginger
Vegetable Gnocchi Soup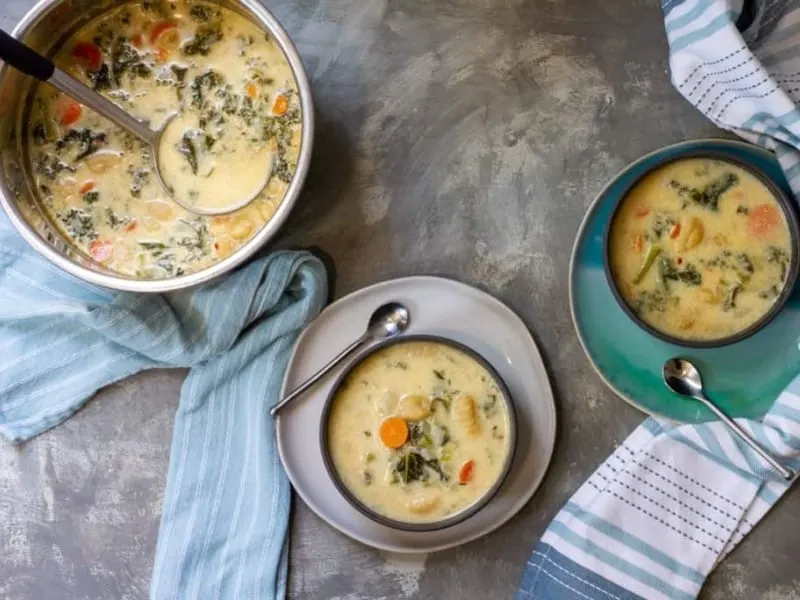 This creamy vegetable gnocchi soup is made with cauliflower gnocchi (or traditional potato gnocchi) and kale, and is a quick and easy Instant Pot meal! (Stovetop directions included.) From champagne-tastes.com
Mushroom Stew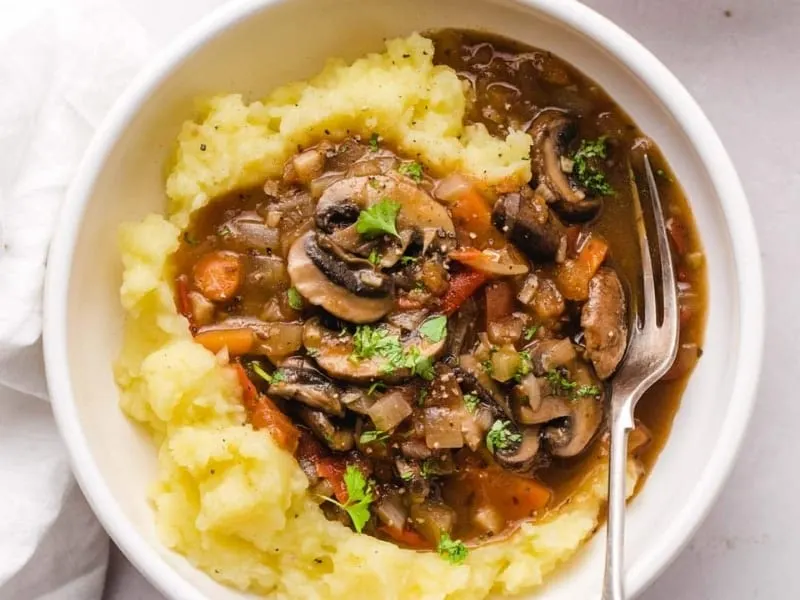 This is an easy one-pot meal that is ready in less than 30 minutes. You can eat this delicious Mushroom Stew with pasta, quinoa, rice, or mashed potatoes. From nourishplate.com
Sopa de Fideo – Mexican Noodle Soup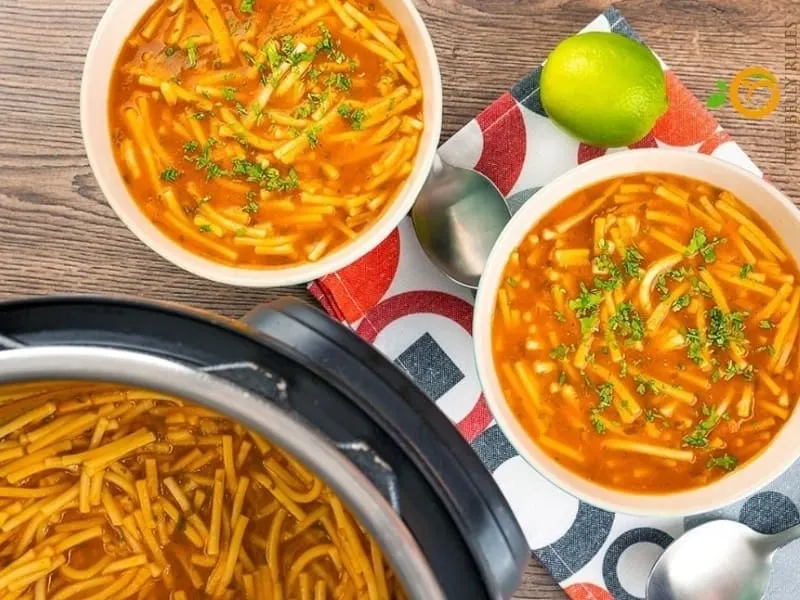 Sopa de fideo / Mexican Noodle Soup is a filling and savory soup with a robust flavor that you and your family will enjoy. It cooks up in minutes, making it an easy choice for weeknight dinners or as a quick make-ahead meal on a Sunday afternoon. You will adore this as a delicious dinner or as a quick lunch on those busy weekdays. from thebellyrulesthemind.net
Healthy Meat, Poultry, and Fish Based Soups and Stews
Instant Pot Vegetable Beef Soup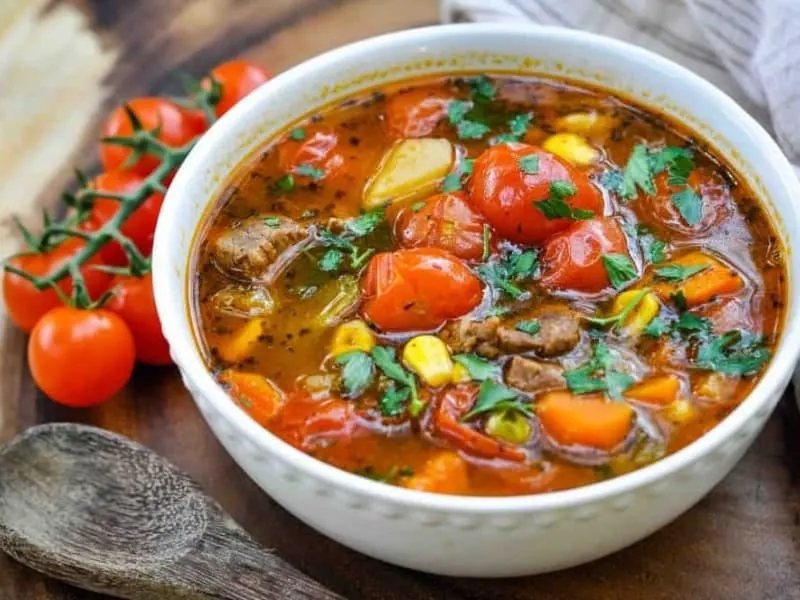 Made with tender chunks of beef, a variety of veggies and potatoes, plus super-sweet cherry tomatoes, this soup from healthychristianhome is cold-weather comfort food at it's finest. Cooking it in the Instant Pot makes the flavors meld together fully and the meat fall-apart tender.
Chicken Soup With Pasta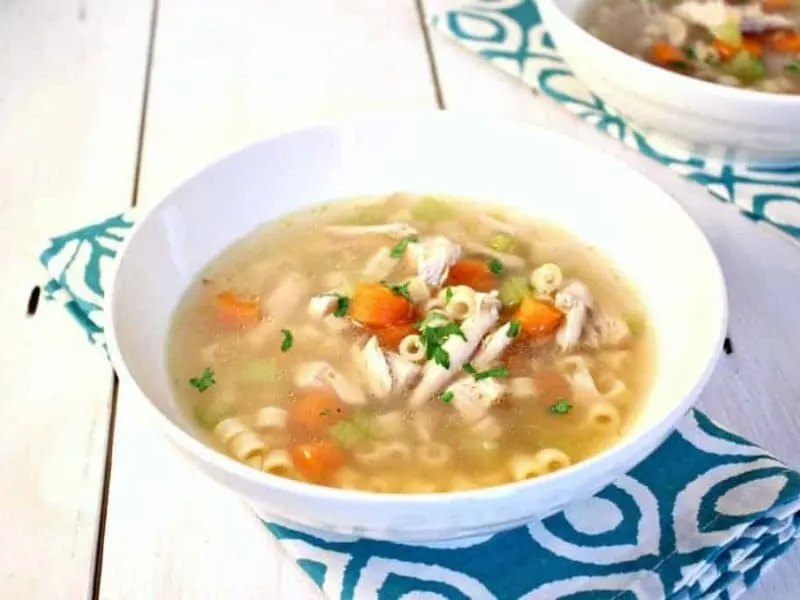 This homemade Chicken Soup with Pasta from beyondthechickencoop is filled with delicious flavor and all the healing goodness your grandma said you need when you're feeling under the weather.
Zuppa Toscana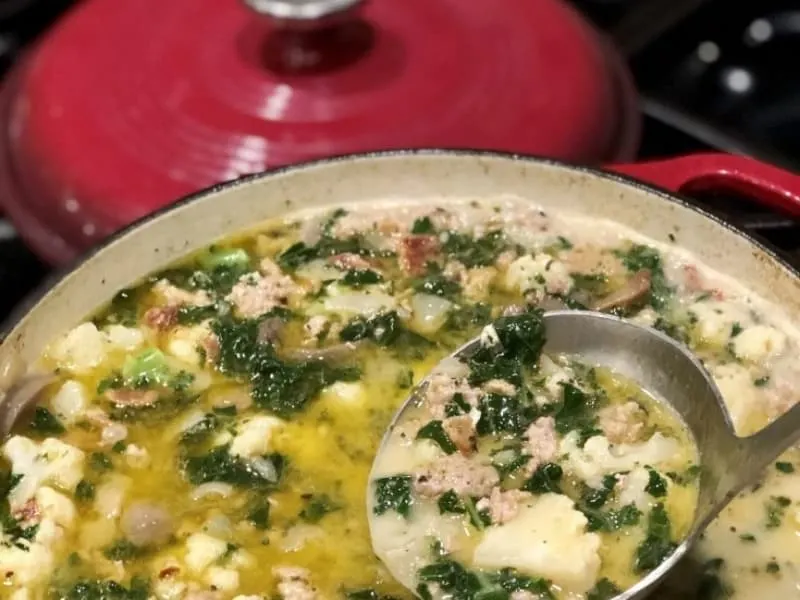 This Zuppa Toscana makeover recipe from thehealthnutmama is creamy, savory & comfort food at it's finest. Now that Fall is in the air soup is a must! This healthy nutrient-packed version is so delicious & believe me, it doesn't taste healthy, but is! This Dairy-Free Recipe is AIP, Paleo, Whole 30 & Keto
Ham and Pea Soup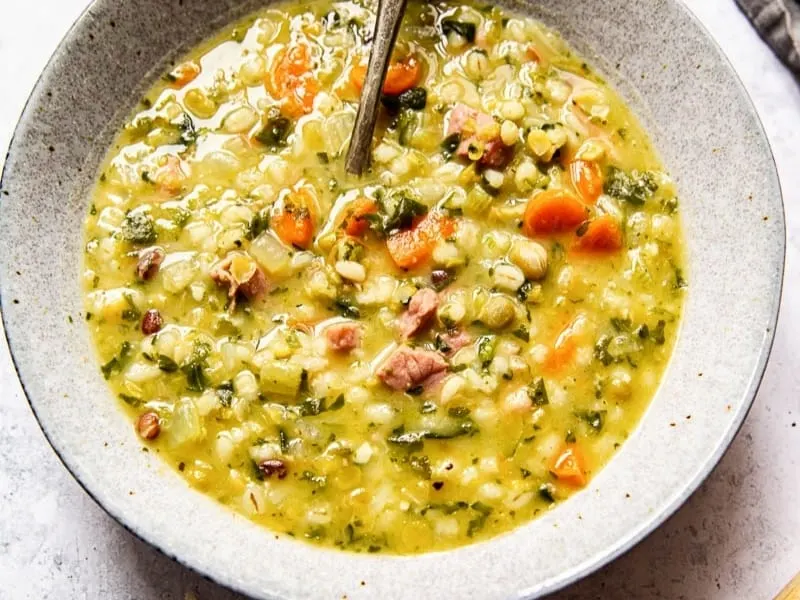 This recipe for ham and pea soup from vikalinka is easy, delicious, and satisfying. Make a large batch on Sunday night and enjoy all week long for a quick and nutritious lunch!
Instant Pot Chicken Posole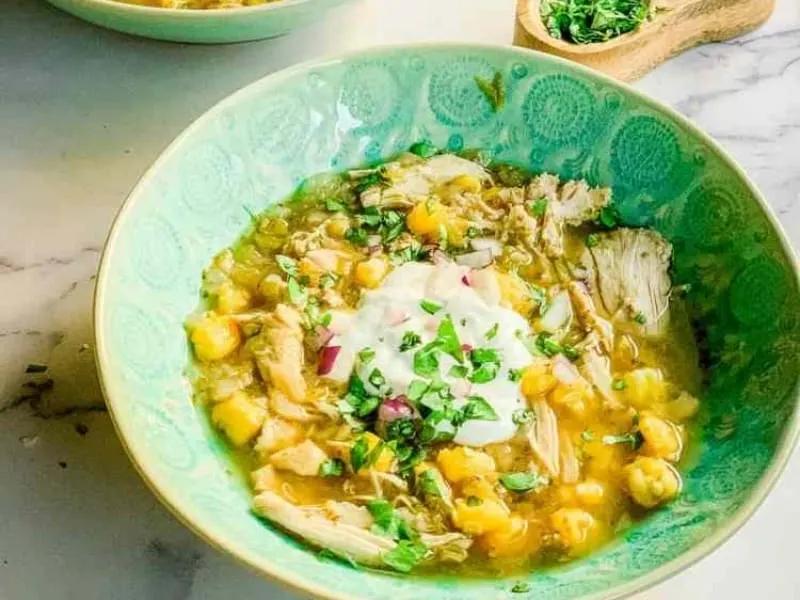 Posole is a delicious Mexican stew featuring tender chunks of chicken, zesty tomatillos, and hearty hominy. This Instant Pot Chicken Posole recipe from thefeatherednester is perfect for creating a rich and flavorful dish in a fraction of the time it takes to make a traditional stew.
Spicy Cauliflower Soup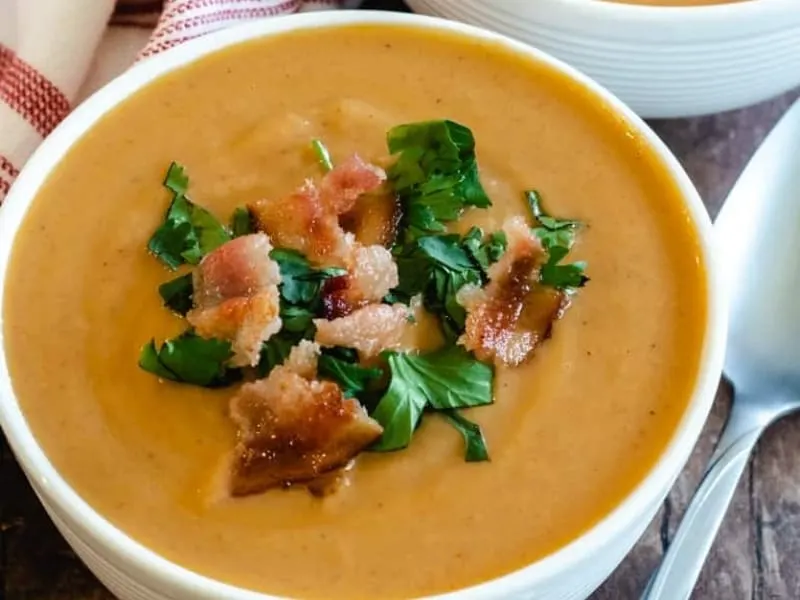 Spicy cauliflower soup is the definition of pure comfort food. It is rich, creamy, and has just the right amount of heat to warm you up and make you feel cozy! Recipe from lowcarbafrica.com
Chicken Wild Rice Soup With Creamy Coconut Milk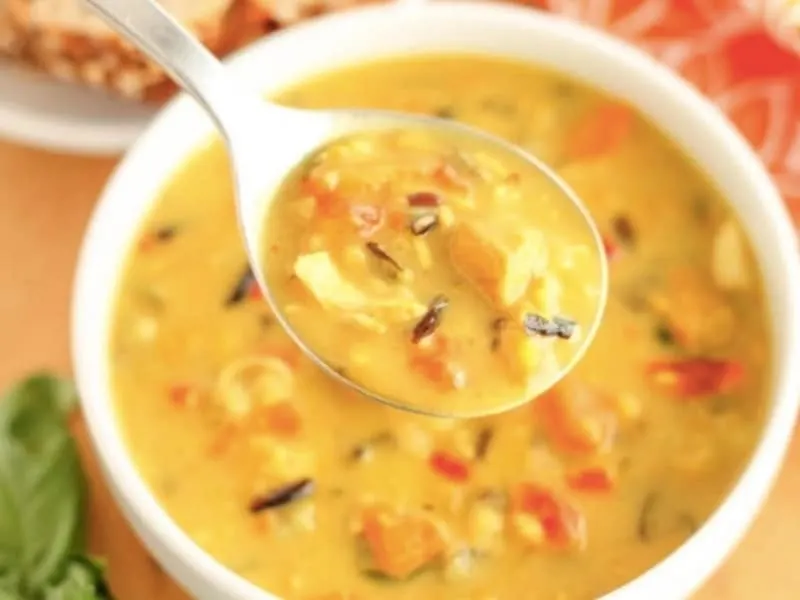 Enjoy this hearty, creamy Chicken and Wild Rice Soup. Loaded with immune-boosting turmeric and ginger. Found on thehonoursystem.com
Turkey Wild Rice Soup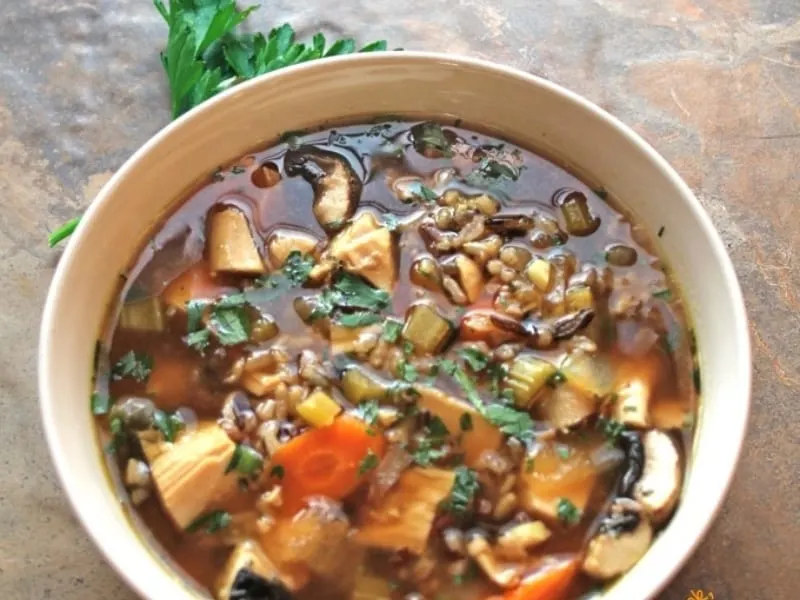 This is a go-to soup whenever we have leftover turkey, which is always the case after holiday dinners. The soup starts with a rich turkey broth, made in the slow-cooker from the turkey carcass. Found on flippedoutfood
Slow Cooker Chicken Stew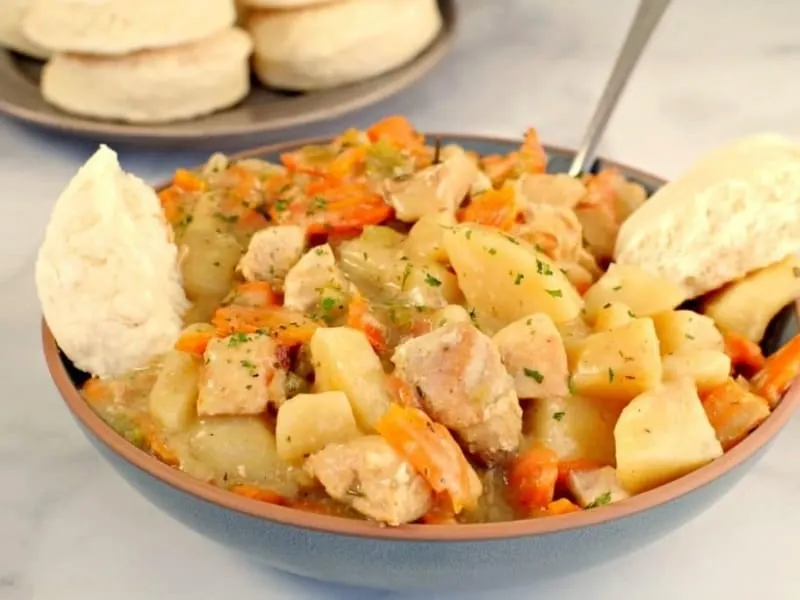 This easy Slow Cooker Chicken Stew is a healthy stew that uses pantry ingredients you already have on hand and condensed cream of chicken soup to make it creamy. It's not only delicious, it's quick to put together and the crock-pot does the cooking for you! It's only 8 WW points on the blue plan. From foodmeanderings.com
Curried Butternut Squash Soup With Spicy Shrimp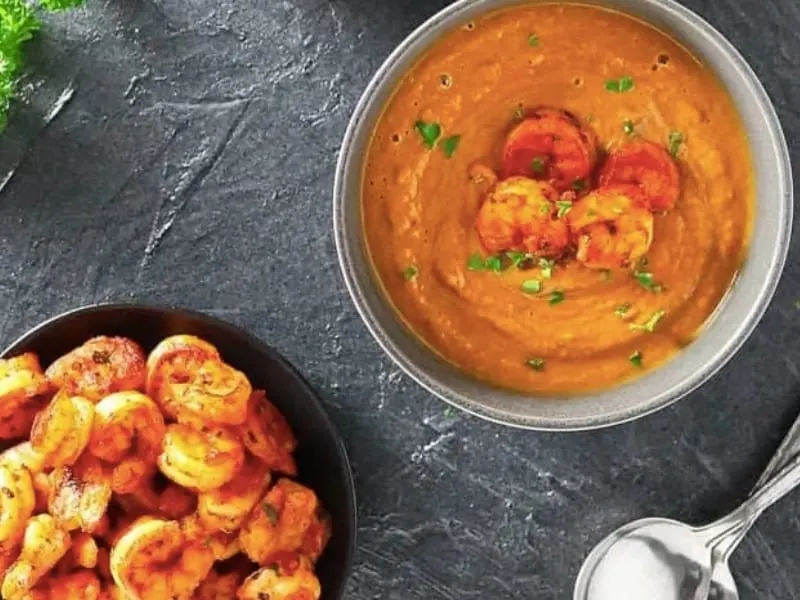 Simple ingredients like Onions, Butternut Squash, vegetable stock, and a smattering of spices that you can easily find at your local grocery store, are what make up this Easy Curried Butternut Squash Soup that my daughter keeps asking me to make over and over again! From savoryspin
Tuscan White Bean Soup With Bacon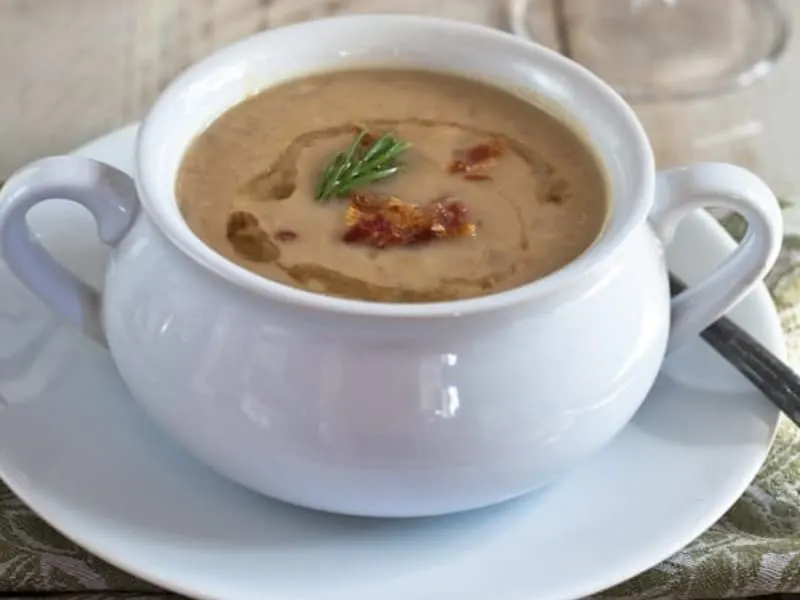 Tuscan White Bean Soup with Rosemary and Bacon is a flavorful, comforting soup, made easily in about 30 minutes! From whatagirleats.com
Jamaican Curry Goat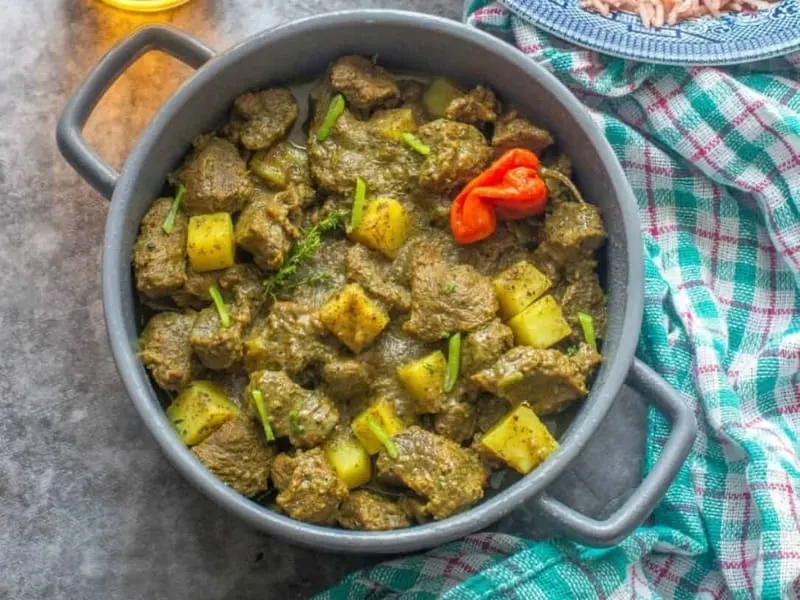 If you are looking for a hearty stew then you have got to try this Jamaican curry goat. I'm talking about succulent pieces of goat meat that is seasoned and simmered until a rich gravy is formed. From thatgirlcookshealthy
Chicken Vegetable Soup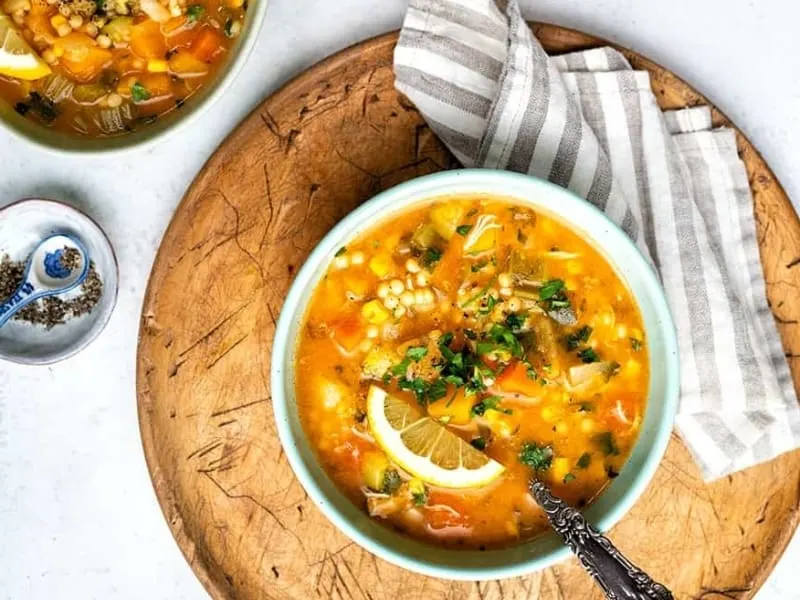 This Hearty Chicken Vegetable Soup from supergoldenbakes is perfect for chilly days! Packed with vegetables and easy to make on the stove or your Instant Pot.
Green Goddess Immune Boosting Soup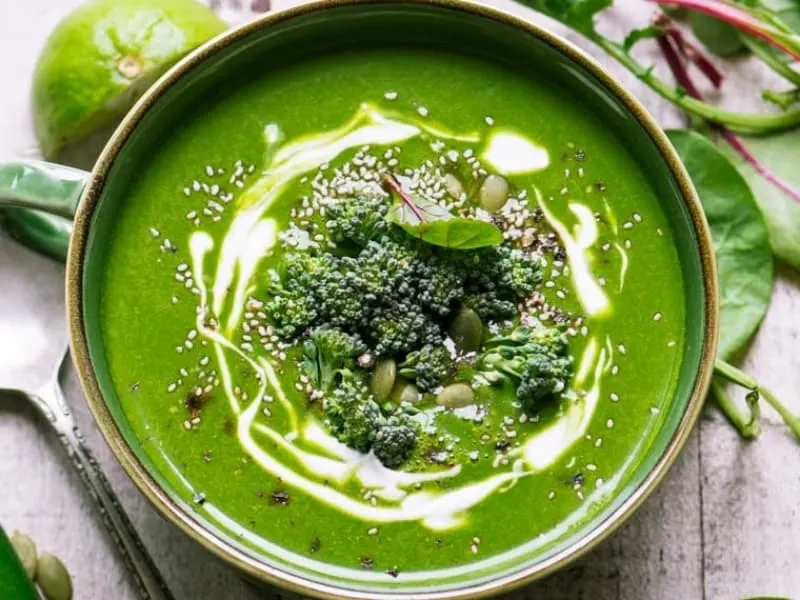 Green Goddess Immune-Boosting Soup from theviewfromgreatisland ~ this healthy soup is full of powerful superfoods to help you get through flu season without so much as a sniffle!
Healthy Taco Soup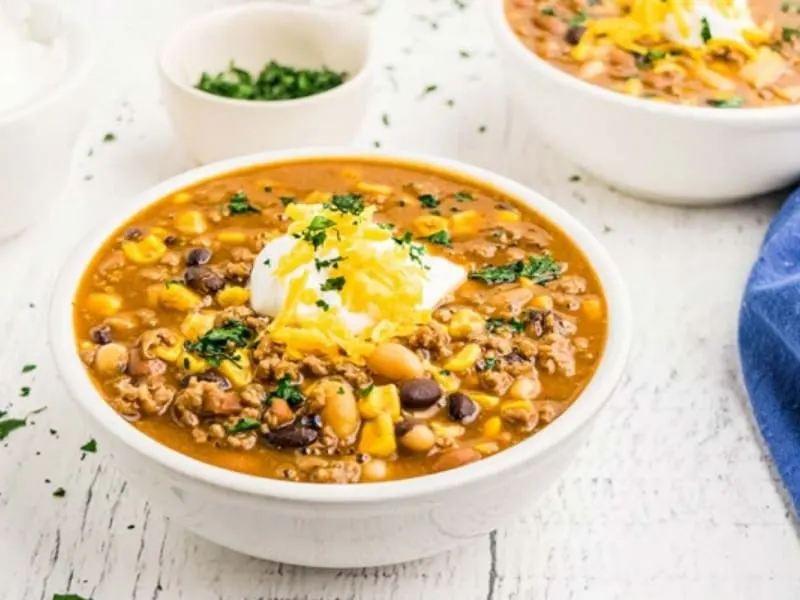 This healthy taco soup is a comforting, hearty dish for the fall and winter that'll leave you satisfied! It can be made on the stove or in a slow cooker. It's also naturally gluten-free and dairy-free. Found on fooddoodles
Chicken Tortilla Soup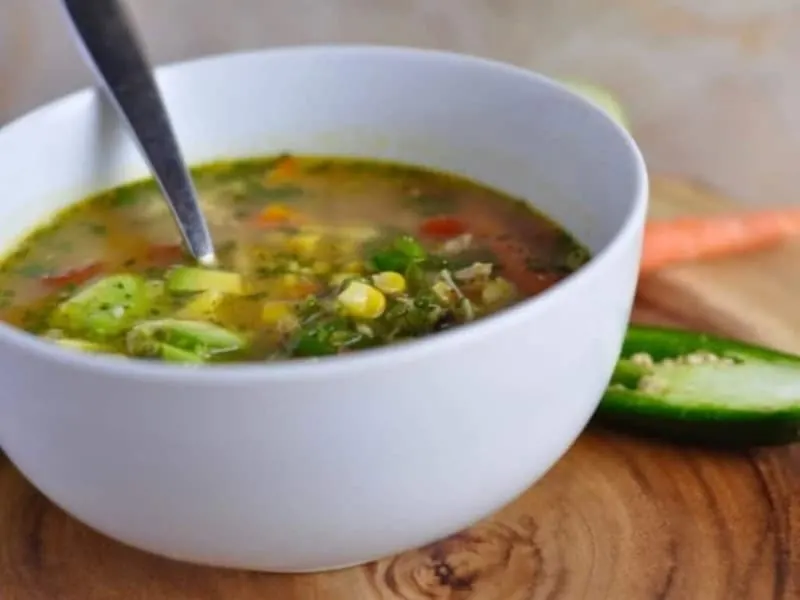 This Chuys tortilla soup is the perfect meal for any chilly day. Filled with chicken, veggies, garlic, and plenty of spice, this soup tastes almost just like the Chuy's version – but healthier! From healthychristianhome
Mexican Meatball Soup With Butternut Squash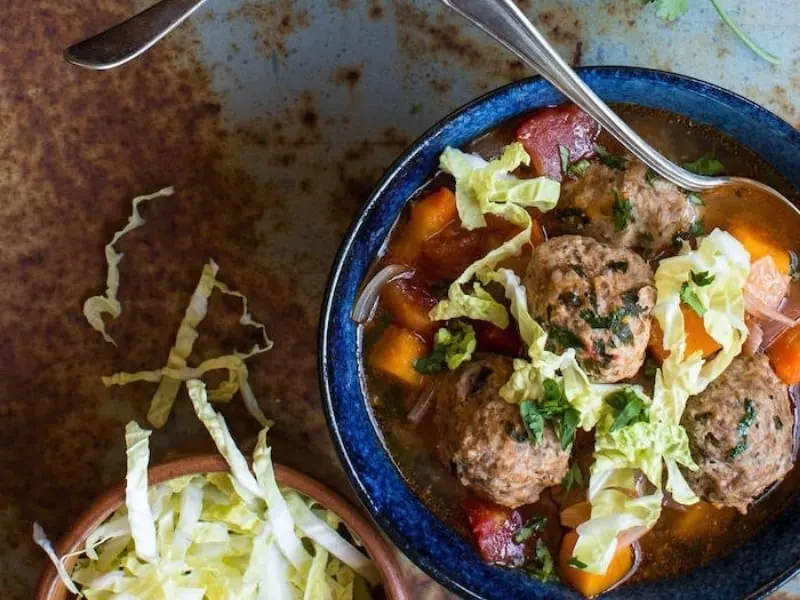 Veggies, protein, and nutritious bone broth make this soup a nutrient-packed meal. Paleo, Whole30, and Keto friendly! from theorganickitchen
Instant Pot Sausage and Cabbage Stew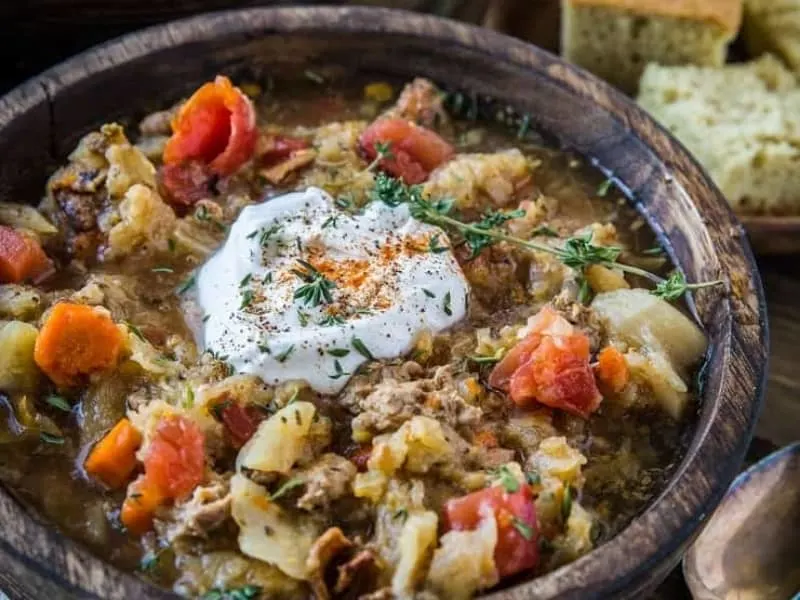 Hearty, flavorful sausage and cabbage stew made quickly and easily using your Instant Pot! Make this meal ahead of time and have it on hand for the whole week! From theroastedroot
Instant Pot Chicken Noodle Soup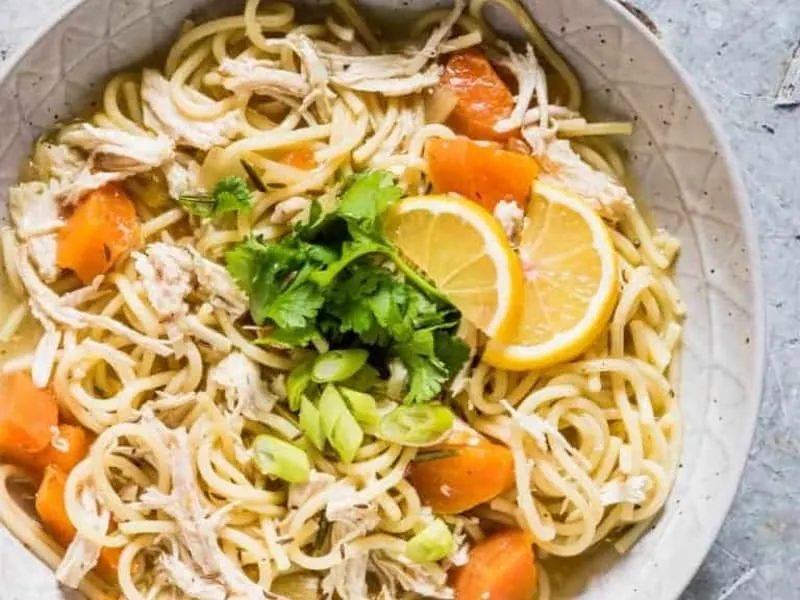 This hearty and cozy Instant Pot Chicken Noodle Soup is quick to make and high in flavor. Great for easy weeknights, meal prep and a nourishing get well soon eat. From recipesfromapantry
If you know someone who would love one of these soups or stews please share this post with them!