19 Fun and Useful Christmas Eve Box Ideas For Toddlers
Looking for inspiration on what to put in a Christmas Eve box for toddlers ahead of the big day? We've put together a list of small Christmas eve box fillers and great ideas your little one will love. Some of these small gifts are also perfect for creating new family traditions for the whole family!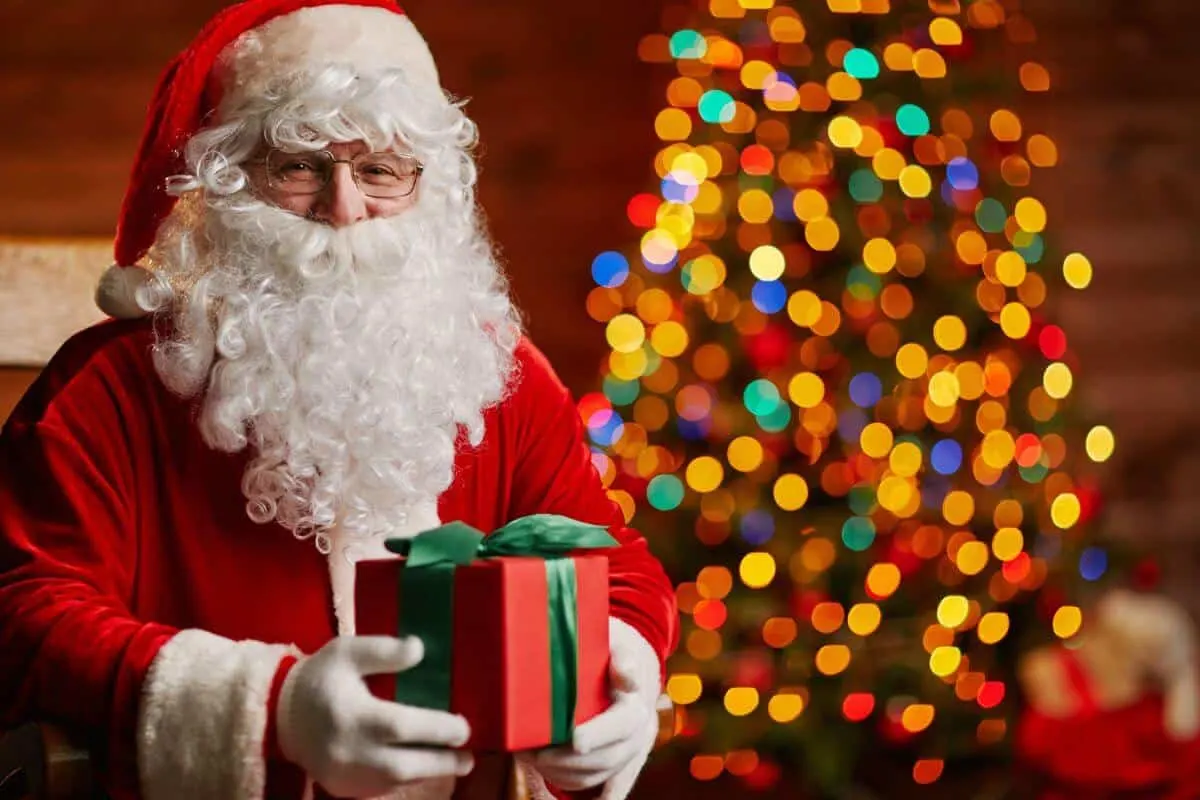 This page may contain affiliate links in which we earn a small commission on items purchased through our links at no extra cost to you. Disclosure Policy
What Is A Christmas Eve Box?
Christmas Eve is a very special day for children and adults alike! It's the day before Christmas when they get to open one present from under the Christmas tree. Some families choose to wait until Christmas Day to open all of their presents, but others like to give their children a little present on Christmas Eve. This is often called a "Christmas Eve box".
A Christmas Eve box is a fun idea and is usually filled with small, but meaningful gifts. These can be things like books, puzzles, games, clothes, or even treats like chocolate and sweets. The idea is that these gifts will keep the child occupied and happy on Christmas Eve, while they wait for Santa to bring them their main present. Just don't forget to leave some cookies and reindeer food out!
If you're looking for something to put in your child's Christmas Eve box, here are some ideas:
What To Put In A Christmas Eve Box For Toddlers?
There are several things you can add to your toddler's Christmas eve box, and while it may be tempting to stuff them full of toys you don't want to ruin the main present under the tree. Here are some thoughtful but inexpensive ideas for things to put in the box.
1 – A Christmas Story Book
A Christmas book is a great gift for a toddler's Christmas Eve box. They can read the stories about the north pole and learn about the traditions associated with Christmas. This can get them excited for the holiday and help them understand what is happening when they celebrate Christmas. Here's a list of some of the books that toddlers will love!
2 – New Pajamas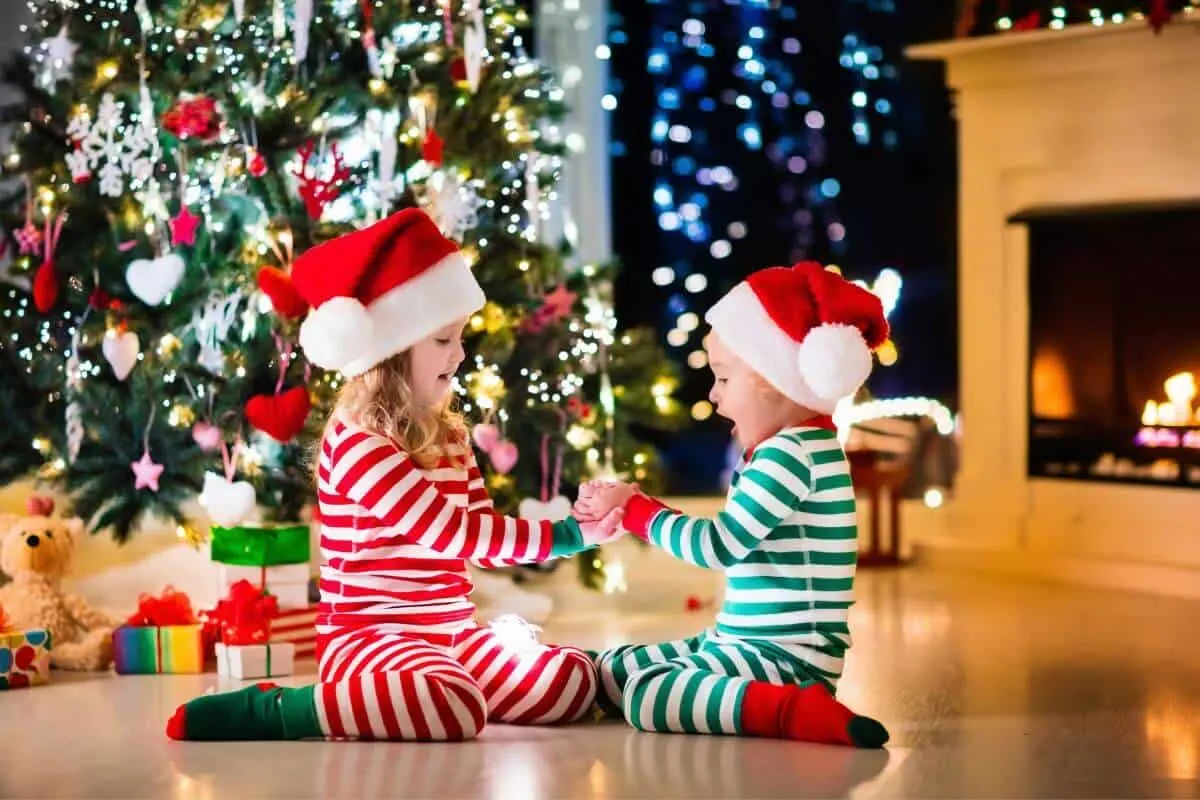 Christmas eve traditions are popular and one item that always makes the list is a new set of Christmas pajamas. Your little one will be excited to wear them on Christmas Eve and go to bed in anticipation of what Santa will bring them the next day. Plus, pajamas are always a necessity, so your child will be able to use them for many nights to come. We love these ones
3 – Coloring Book and Crayons
Coloring books and new crayons are great gifts for a toddler's Christmas Eve box that doesn't cost a lot of money. It encourages creativity and imagination, which are important skills for toddlers to develop. Coloring is also a calming activity, which can help kids relax before bedtime.
4 – Hot Chocolate Mix and Marshmallows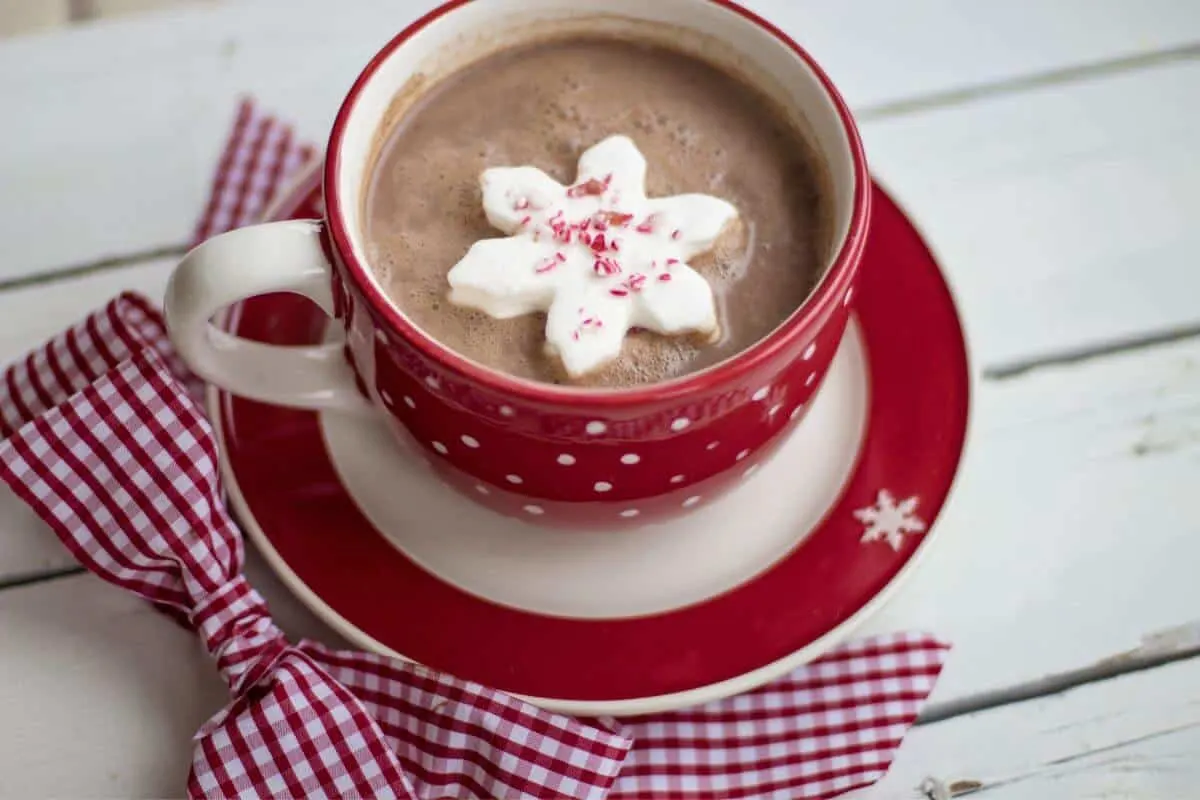 Drinking hot cocoa is one of the top Christmas traditions the entire family can enjoy. A hot chocolate mix is a perfect gift for a toddler on Christmas eve. It's festive, warm, and delicious.
The mix can be made with milk or water, so it's perfect for any child. Plus, it's an easy gift to put together, and it doesn't require any wrapping. Simply put the mix in a festive container and attach a note that says "Merry Christmas!"
If the DIY route is not your style you can always buy a hot chocolate spoon or a hot chocolate set with a festive mug. What could be better than curling up with a mug of hot chocolate while waiting for Father Christmas to arrive?
5 – A Christmas Mug
A mug is a perfect gift for a toddler on Christmas Eve because it's something that they can use every day. It's a practical gift that will be appreciated and enjoyed. A mug is also a symbol of warmth and love, which makes it the perfect gift for Christmas.
You can even personalize the mug by having their name or a Christmas message printed on it. This will make the mug even more special and meaningful.
6 – Stickers
What toddler doesn't love stickers? They are cheap, cheerful, and always a hit with kids.
Your toddler will love the surprise of finding stickers in their Christmas Eve box. Stickers are a good gift for a toddler because they are fun to use and can be used to decorate anything. Your toddler can use stickers to decorate greeting cards, notebooks, pictures, and much more.
7 – Christmas Cookies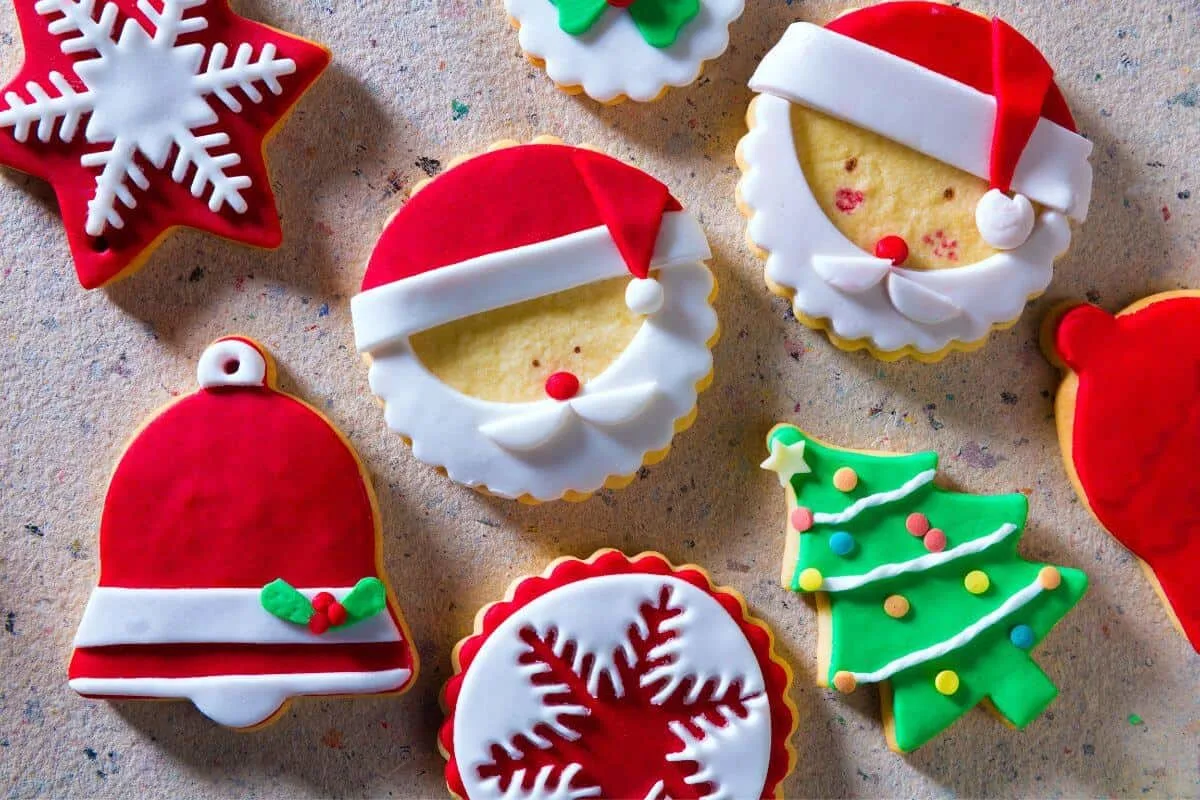 Christmas cookies are a good idea to gift a toddler because they are festive and fun to eat. They are also a good way to get the toddler excited about Christmas.
8 – Bubble Bath
Bubble bath or bath bombs is a good gift for a toddler on Christmas eve because it can help them relax and enjoy the holiday. The bubbles will provide them with entertainment as they soak in the tub, and the scent of the bath soap can help create a festive atmosphere.
9 – A Stuffed Animal
When it comes to choosing a gift for a toddler on Christmas Eve, a stuffed animal is always a good choice. They're soft, cuddly, and perfect for snuggling. Plus, they're sure to bring a smile to your child's face on Christmas morning.
Stuffed animals are also great for encouraging imaginative play. With a stuffed animal as their friend, your toddler can pretend to go on all sorts of adventures. They can be a brave knight defending the kingdom from dragons, or an astronaut exploring the universe. The possibilities are endless!
So if you're looking for a special gift to put in your child's Christmas Eve box, don't forget the stuffed animal. It will surely make their Christmas morning extra special.
10 – Socks
Your toddler will love getting new fluffy socks in their Christmas eve box! They're a useful and cheap gift that will keep your little one's feet warm on Christmas morning and for the long winter months to come. Christmas socks are one of the simple yet useful little things you can put in the gift box, plus they are great for kids of all ages.
11 – New Toothbrush
A new toothbrush is another simple, but useful gift for a toddler on Christmas eve. It's a good way to help them keep their teeth clean and healthy, and it's something that they can use every day.
12 – A Santa Hat

A Santa hat is another cute idea for a toddler. It's festive and fun, and kids love wearing them! A Santa hat will help get your child in the festive spirit, and it will keep them entertained while they wait for Santa to arrive.
13 – Christmas Activity Book
For toddlers, Christmas is a time of wonder and excitement. What gift can you put in your child's Christmas Eve box to make their celebration even more special? A Christmas activity book is the perfect gift!
Most activity books have puzzles, games, and coloring pages that will keep your toddler entertained for hours. They will love spending time flipping through the pages and completing the activities. Plus, it's a fun way to keep them occupied while you're getting ready for Christmas dinner.
14 – New Hat Or Scarf
Winter is a beautiful time of year, but it can also be a bit chilly. That's why a new hat and scarf set is a great gift for toddlers during the winter season. Not only will they stay warm, but they'll also look adorable in their new accessories. This is a practical and fun gift that your child will love!
15 – A small snow globe
A small snow globe is the perfect Christmas gift for a toddler. It is festive, pretty, and small enough to fit in a Christmas eve box. Plus, it can be a new tradition each year to gift your child a new snow globe to add to their collection. This will create lasting memories and keep the spirit of Christmas alive for years to come.
16 – A Cozy Blanket
A cozy blanket is the perfect practical gift for a toddler on Christmas Eve. It will keep them warm all winter long. Cozy blankets are great for cuddling up with on the couch, in bed, or even in the car.
17 – Indoor Slippers
It's getting colder outside, which means that your toddler is probably going to start wanting to wear socks and slippers around the house.
Slippers are a great gift for a young toddler because they keep their feet warm and toasty, and they're also really fun and cute to wear.
Plus, slippers are a really practical gift that your toddler will definitely be able to use. So if you're looking for a gift for your toddler that's both practical and fun, slippers are definitely the way to go!
18 – Easy Card Game
A simple card game like go fish is a good gift for a toddler because it will help them to learn counting and colors. It is also a fun way for them to spend time with their family during the holiday season.
19 – A Christmas Ornament
One of the best gifts you can give a young toddler is a Christmas ornament. It's something they can hang on their tree each year and remember all the Christmases that have come before. Ornaments are also a great way to start teaching your child about the Christmas season and all the traditions that come with it.
How Much Should I Spend On A Christmas Eve Box For My Toddler?
There is no set amount that you need to spend on a Christmas eve box for your toddler. It can be as inexpensive or elaborate as your budget requires and it will still be special. Just make sure that the contents of the box reflect the spirit of the season and provide a little bit of Christmas magic for your child.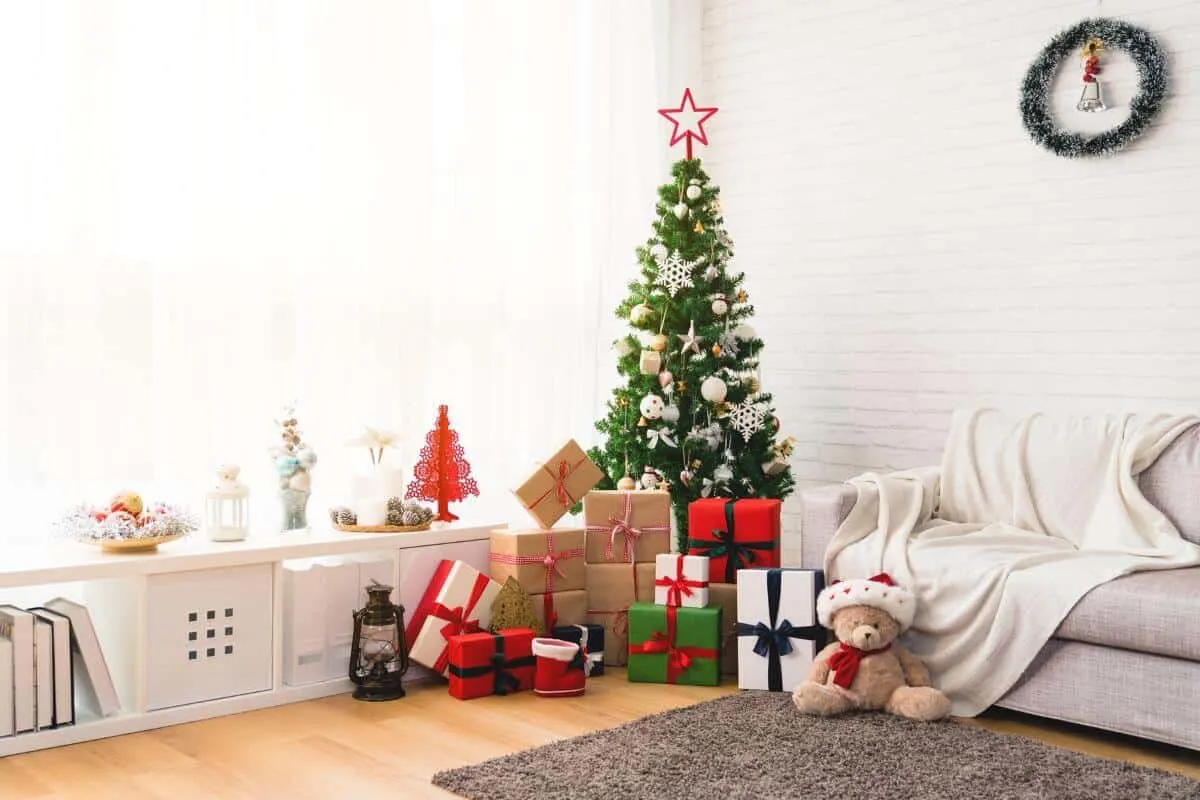 What To Put In A Christmas Eve Box For Toddlers Conclusion
A Christmas eve box for toddlers can be a great way to celebrate the holiday season. It can include anything from new pajamas and books to small toys and festive treats. The most important thing is that the contents of the box reflect the spirit of Christmas and provide your child with a little bit of magic. So if you're looking for ideas on what to put in your child's Christmas eve box, our list above should give you some inspiration!