You've gone through pregnancy and birth and now it's finally time to get those adorable photos of your newborn that you will forever cherish. But what is the best age for a newborn photoshoot? Is it 2 days after giving birth? and is 4 weeks too late?
The first few weeks as a new parent can all feel like a whirlwind and a blur and you shouldn't feel stressed about worrying when the best time is to get those adorable newborn pics! In this post, we'll explore what the best age is for a newborn photoshoot so that you can get those perfect shots of your little one.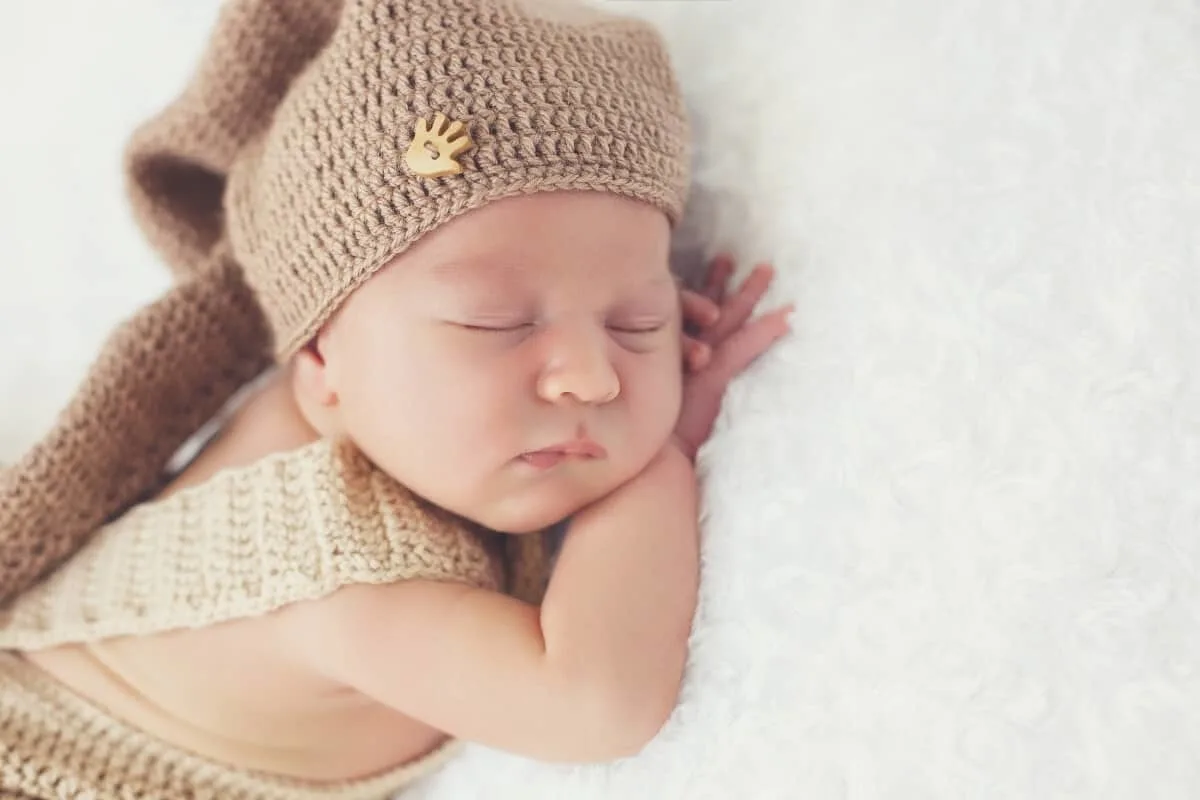 What's The Best Age For A Newborn Photoshoot?
The best time to have your newborn photos taken professionally is typically in the first few weeks of life when your baby is between 5 and 10 days old. This is because they will still be sleepy and relatively calm, which will make for better photos.
Plus if you're after those adorable posed shots, it's best to do them while your baby is still small enough to be able to curl up into those positions.
The first few days after giving birth can be a bit of a blur and you may not feel up to having photos taken or leaving the house if you're planning on going to a studio, you may still even be in the hospital during those first few days! Enjoy those precious moments without stressing about a newborn photography session.
Once you've had a couple of days to settle in at home with your new baby and get some rest, it's a good idea and a good time to have that newborn photo shoot.
What Weeks and Months Are Considered Newborn?
The weeks and months considered newborn is typically from 0-3 months old.
What About An Older Newborn Photoshoot?
But what if your baby is a bit older? Is it still possible to get those same beautiful results? The answer is yes!
An older newborn photoshoot can be just as stunning and memorable as one taken when they are just a few days old. The key is to work with a photographer who is experienced in both newborn and older baby photography. They will know how to position your baby and use the right lighting to create timeless images that you will cherish for years to come. A professional newborn photographer will have plenty of experience taking photos of older babies too.
Professional Newborn Photoshoot Vs DIY Newborn Photoshoot
As a new parent, you may be wondering whether to DIY your newborn's photos or whether it's worth it to invest in a professional newborn photoshoot.
But with so many different options available, it can be tough to decide whether to go the professional route or DIY. Here's a quick rundown of the pros and cons of each approach to help you make the best decision for your family.
Newborn Studio Photoshoot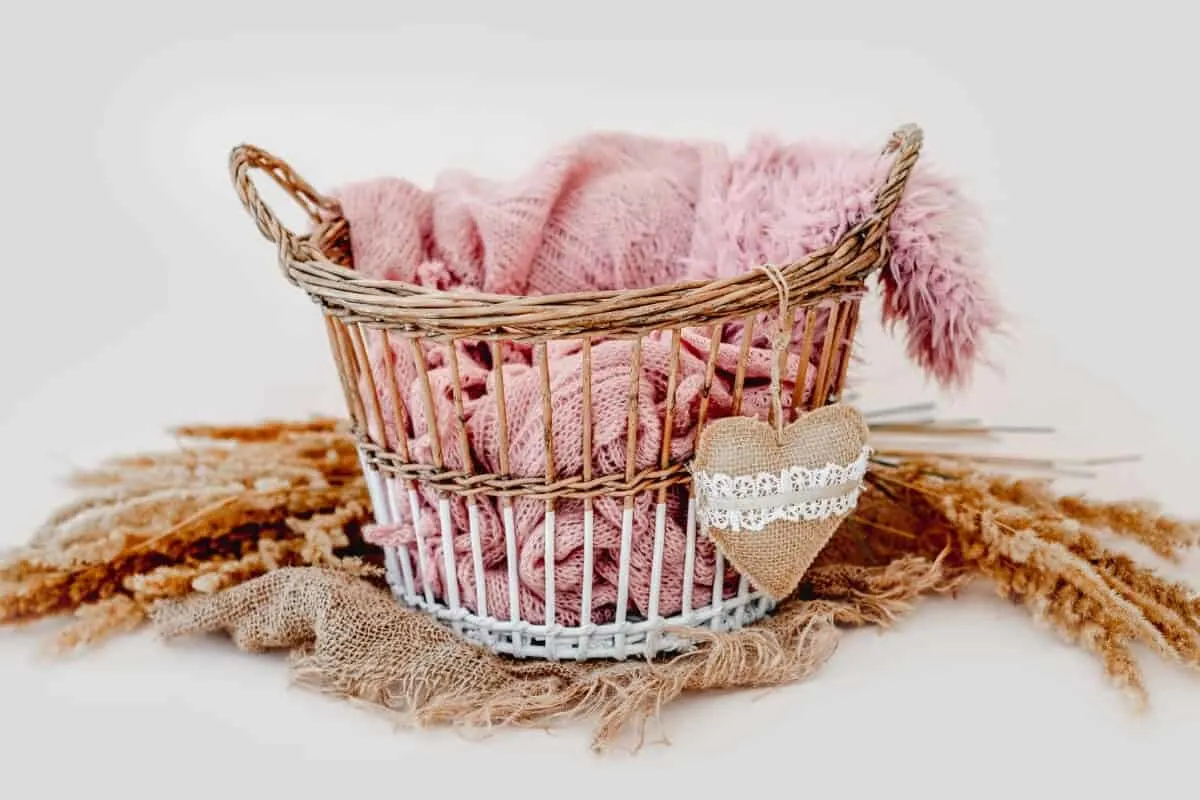 If you opt for a professional newborn session, you'll have access to an experienced photographer who knows how to get those perfect shots. Studio sessions have access to the best props and equipment, which can make a big difference in the quality of the photos.
Professional newborn sessions also typically take place in a calm and relaxed studio environment, which can be a welcome respite for new parents who are dealing with lots of changes and little sleep! However, professional newborn sessions can be pricey, and it may be tough to schedule them around your baby's feeding and sleeping schedule.
DIY Newborn Photos
On the other hand, DIY newborn photoshoots are often more flexible in timing and budget. You can also customize your shoot to include things that are important to you and your family.
However, DIY newborn shoots can be more challenging in terms of getting great photos, since you won't have the same level of experience or access to props and equipment as a professional photographer. You'll also need to factor in the time it will take to edit and print the photos yourself. But if you're up for a little extra work, DIY newborn shoots can result in some beautiful and unique family memories.
A Professional Photographer At Home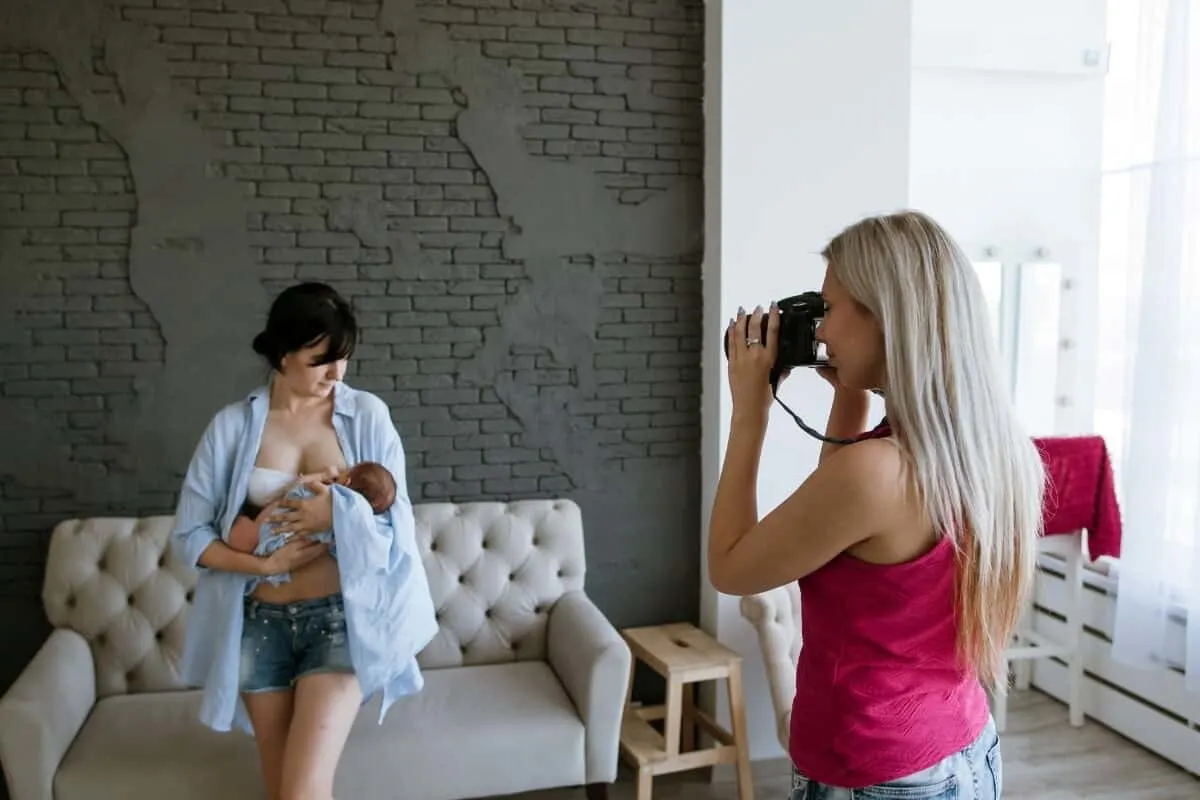 If you feel more comfortable in your home environment but still want a professional photographer you can always bring the photographer to you! This has become a lot more popular in recent years as it can be very difficult for new parents to leave the house with their newborn.
A big benefit of having a professional photographer come to your home is that they will be able to capture the special bond between you and your baby in a more natural setting. The photographer will also be able to take advantage of any special features in your home, like a big window with natural light or a cozy fireplace.
However, it's important to note that not all photographers are comfortable working in someone else's home. Make sure to ask about this before booking your session.
Whichever option you choose make sure to get some family photos at the same time. It's a great moment to capture some wonderful images of the whole family or your newborn with their older siblings!
Newborn Photo Session Tips
Schedule your newborn photo session as soon as possible after your baby is born. The sooner your session, the easier it will be to get good photos of your newborn while they are still sleepy and curly.
Get family portraits done at the same time.
Arrive early on the day of your session date to avoid feeling rushed and stressed.
If possible, feed your baby right before the session to ensure a happy and content baby.
Be prepared for lots of messes! Expect spit-ups, diaper leaks, and other surprises.
Newborn poses – choose a photographer who has experience photographing newborns. They will know how to position and photograph your baby in the most flattering way.
Make sure that you discuss any specific ideas or poses that you would like with your photographer before the session. They may have some ideas of their own that they would like to try as well.
Be prepared for your newborn photo session by bringing plenty of props and accessories for the photographer to use. This could include anything from blankets and hats to baskets and toys.
Relax and enjoy your newborn photo session! It's a special time for you and your family, and you'll want to capture these memories for years to come.
The Best Age For Newborn Photography Conclusion
While there is no perfect time to do a baby photoshoot, most people and studios recommend taking photos when your newborn is between 5 and 10 days old. If you have an older baby, don't worry you will still get amazing images of your little one.
The most important thing is to relax and enjoy this wonderful time with your baby.
Whether you opt for a newborn photoshoot when your baby is just days old, or a bit older, the best way to ensure gorgeous photos is by working closely with an experienced photographer who knows how best to capture your baby's natural beauty and personality in those early weeks.
Read Next: How Long Can You Use A Bassinet Safely (And When To Stop)