Nutrients That Will Boost Your Child's Health, Happiness, and Brains!
We all want our kids to eat a healthy balanced diet, but did you know that there are some vital nutrients that actually increase your child's happiness, health, and increase brain performance?
What mama doesn't want that for their kids! Well in this article you're going to find out exactly what they are and how to add them to your child's everyday diet!
(This page may contain affiliate links you can read the full disclosure here)
1. Lutein
What to boost your child's energy, brain development, and eye health? Make sure to feed them lots of foods with Lutein!
Lutein, which is only produced in plants and vegetables, is a xanthophyll and a natural carotenoid (a pigment which turns things like egg yolks yellow).
Lutein a.k.a "the eye vitamin" is well known for its ability to prevent eye diseases and keep eyes healthy. Eating foods high in lutein has also been shown to help brain development and enhance the mitochondria, a subunit within our cells that act like batteries to power them.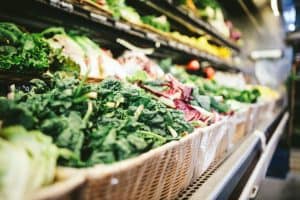 Great Sources of Lutein are:
Kale
Basil
Salad Greens
Summer Squash
Broccoli
Brussel Sprouts
Asparagus
Green Peas
Leeks
Green Beans
2. Omega 3 Fatty Acid
Salmon is probably one of the first foods you think of when you hear Omega 3 fatty acids, but this fatty acid can also be found in nuts, chia seeds, and even mangos! Making it super easy to incorporate into your child's diet!
Omega 3 can help reduce inflammation of the brain and joints, enhance brain cells, and reduce stress! So regardless of how your kids get it, just make sure that they are getting it! 🙂
Sources of Omega 3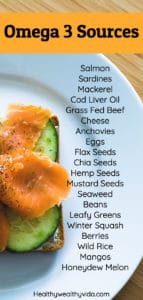 Salmon
Sardines
Mackerel
Cod Liver Oil
Grass Fed Beef
Cheese
Anchovies
Eggs
Vegan Sources –
Flax Seeds
Chia Seeds
Hemp Seeds
Mustard Seeds
Seaweed
Beans
Leafy Greens
Winter Squash
Berries
Wild Rice
Mangos
Honeydew Melon
I make these pancakes for my son almost every night with chia seeds, not only does it help him sleep better, I feel better knowing he's consuming those nutrient-packed little seeds! Find more smart parenting tips here.
Vitamin D
You can boost your child's happiness by making sure they spend plenty of time outdoors! That's right spending more time outdoors will make your kids happier! This is because when we are outside our bodies make Vitamin D in response to sunlight.
Vitamin D not only helps keeps bones healthy and strong but has also been shown to affect our mood.
Making sure your child spends at least 20 minutes outside daily is vital for good health. Vitamin D also aids brain development, so by spending lots of time outdoors you can keep your kids fit, healthy, happy and boost their brain development.
Children who spend plenty of time in the fresh air outdoors also tend to sleep better thanks to all the Vitamin D.
It's important to note that our bodies don't store Vitamin D, therefore you will have to get outdoors with your kids every day!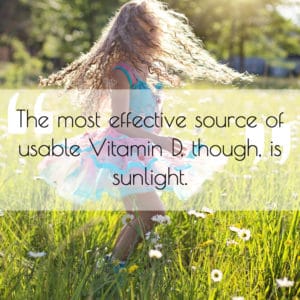 These 3 nutrients will help boost your child's happiness, health, and brains. But that isn't to say other nutrients aren't important!
Your child should also eat foods rich in Vitamin C, Iron, Folate, Protein, Calcium, magnesium, healthy fats, and other vital nutrients in a healthy balanced diet.
While eating healthy foods is the best way to make sure your children get all the nutrients they need, these natural multivitamins are the perfect boost!
If you are concerned with your child's diet or feel they are lacking certain nutrients, please consult your local physician.
Let us know in the comments if your child sleeps better when they spend more time outdoors! 🙂