Free Summer Activities For Kids
Summer is the perfect time to explore your neighborhood, enjoy a picnic in the park, and have fun with friends! But sometimes it can be difficult to come up with activities that are free and entertaining.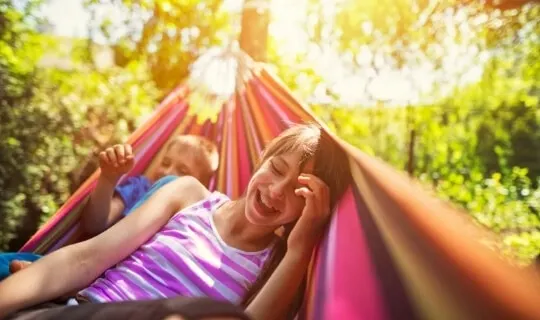 The good news is there are plenty of free summer activities for kids. In this blog post, we will cover some of our favorite ideas for having fun this summer without breaking the bank.
Free Summer Outdoor Activities For The Family
Go to the Beach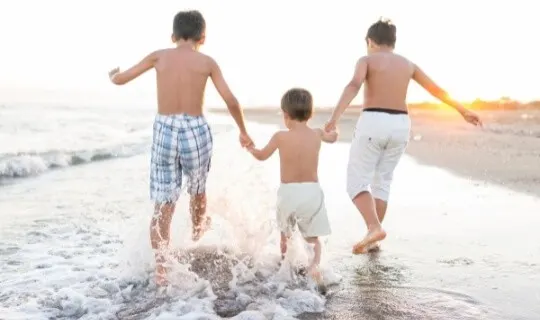 If you're lucky enough to live near a beach, then you have free access to one of the best summer activities for kids. Take a day trip, spend an afternoon or enjoy all week!
There are so many different water activities to choose from- swimming, boogie boarding, body surfing, and more. You can also explore the beach with a scavenger hunt or build sandcastles on the shore.
Go For a Family Hike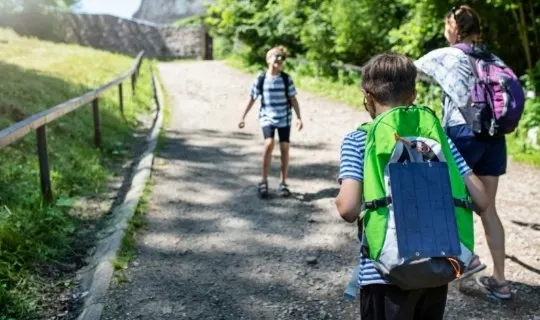 Hiking is another great free outdoor summer activity that the whole family can enjoy. Just grab a picnic lunch and head out on the trail.
Get a book on the local wildlife and flora and tick off ones your find. Pack a water bottle and snacks to keep everyone fueled up.
There are so many benefits of hiking with kids- it's exercise, an opportunity for learning about nature, the chance to spend quality time together outside in fresh air where you can appreciate what is important. Plus you'll see new wildlife that might not be as visible from your car!
Go To The River or Lake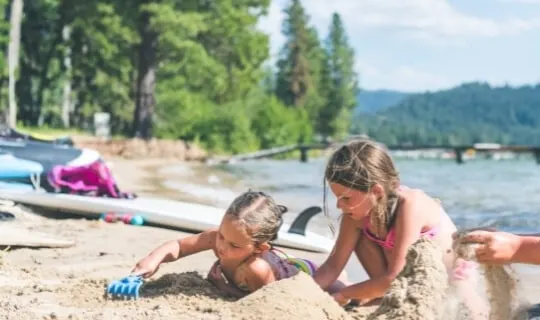 Take a walk along the river or around the lake and take in the sights and sounds of nature.
A day trip to the river or lake is a great free activity for kids. Pack some sandwiches, water, bug spray, and sunscreen before you go. Give your children each their own bucket or inner tube so they can enjoy splashing in the water and don't forget a good book for yourself!
Go Fishing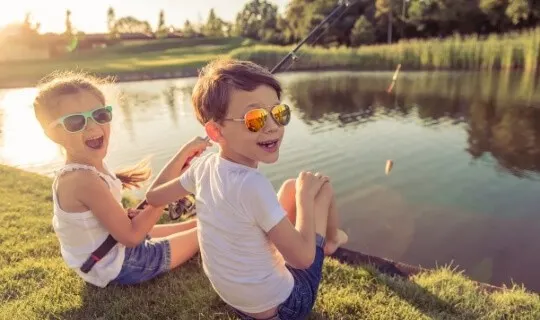 Fishing is another free activity for kids that is both fun and educational. It's a great way to teach the basics of fishing fundamentals like knot-tying, which can come in handy when you're out on the water with your children or grandchildren!
This is also an opportunity to talk about fish species and their habitats while they are waiting for a bite.
Go Camping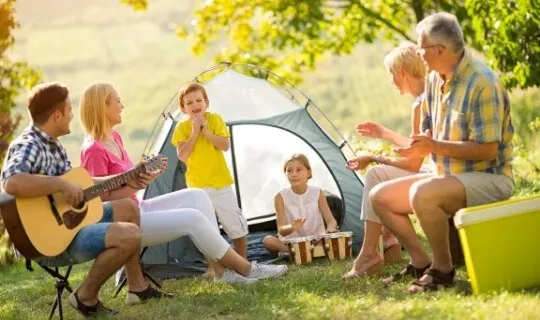 If you love the outdoors why not try camping this summer? Camping is a fun free activity for kids that can be as simple or complex as you want it to be.
Sing songs around the campfire, roast marshmallows and make a stick figure out of Play-Doh for ghost stories.
Just remember to bring bug spray and a flashlight, just in case!
Go To The Park
The park is a great place to spend a summer day free of charge. The kids can play on the jungle gym, swing from the hoops, or you can have a family picnic.
You can also bring a soccer ball, a football or even frisbees to add variety.
If you have toddlers in the family then bring bubbles and chalk for mess-free fun!
The park is also a great location to check out free summer concerts that are often held on Saturday evenings. You can find this information easily by googling free concerts in your area.
You might even spot some wildlife if you're lucky. Just don't forget to bring plenty of water!
Fly a Kite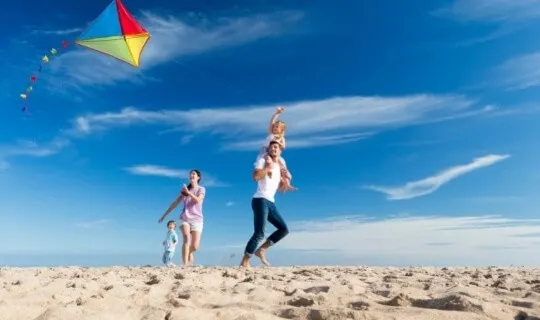 Either make or buy a kite. The kids will love the challenge of getting it up in the air. Flying a kite is a great way to spend the day in a park on a windy day.
Go On a Family Bike Ride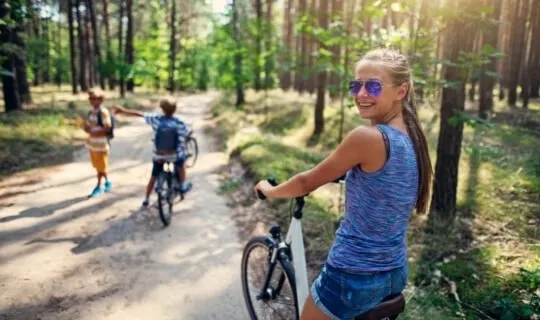 Pack a picnic basket, and go for a bike ride around the neighborhood. You can take bikes to a nearby park or beach as well!
This will be an easy way to get some exercise while enjoying time with your family. Pack the sunscreen too and don't forget to bring water.
Have a Picnic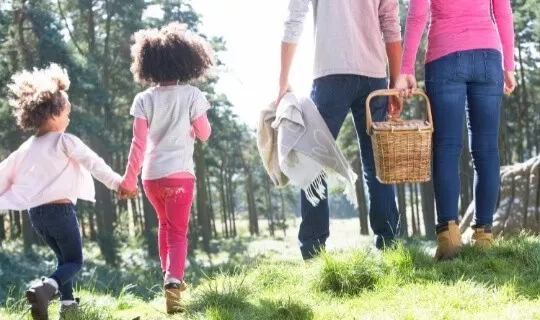 A beautiful summer's day is great for a picnic. Take your picnic to the park, or pack a lunch to take on a hike. There is always something exciting about exploring a new place for lunch, and it will be especially fun if you have never been.
Go Sightseeing In Your Town
It may surprise you but there are probably lots of things to see around your town that are free. You might not know about all of them, but a quick search on the internet will help you find out what's there and whether or not it'll be worth checking out. Then go exploring! It's great to play tourist in your own town.
Fun Backyard Activities For Kids
Water balloon fight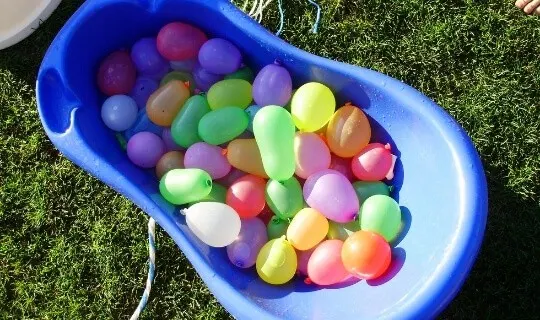 A fun summertime activity that is free for everyone and can be played anywhere, even in the backyard. All you need are lots of water balloons! Water balloon fights are lots of fun and also refreshing on a hot summer day.
There are many variations to the game, but most often it is played in teams of two people per team. One person has the water balloons and fills them while their teammate holds out an empty bucket or trash can lid for catching all the ammo being thrown.
The aim is usually just to cover your opponents with as many water balloons as possible.
Garden movie night
Grab your projector and blankets and pillows it's time for an outdoor movie!
This is a great idea for hot nights with little kids in the house. Put together some snacks and drinks, then head outside to watch your favorite movie on the patio or lawn while you enjoy summer's breeze.
It can be as simple as attaching an old projector screen onto a fence, or you could go all out with a complete outdoor theater setup.
Garden scavenger hunt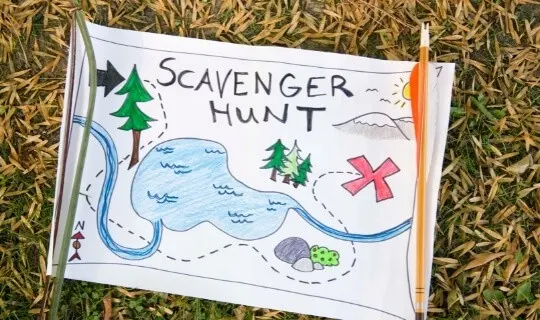 Create a scavenger hunt in your garden!
A scavenger hunt is a great way to get your kids outside and exploring their surroundings. You can make the clues harder or easier depending on how much time you have.
Gardening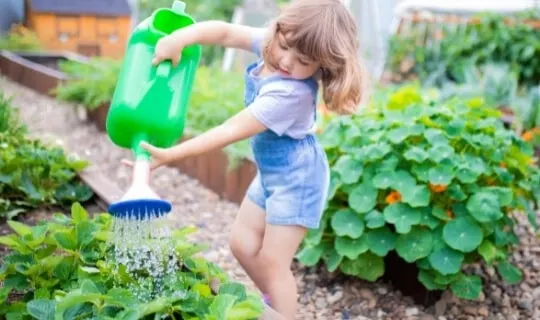 Get the kids involved in gardening! Kids love to be outside and what better way than planting flowers, nurturing them until they bloom? Start with a small patch of soil in your own backyard.
Help the kids plant some seeds for tomatoes, lettuce, or other veggies you want to grow yourself this summer. Or let the kids have an area in the garden where they can grow their own plants.
Build a fort In the Garden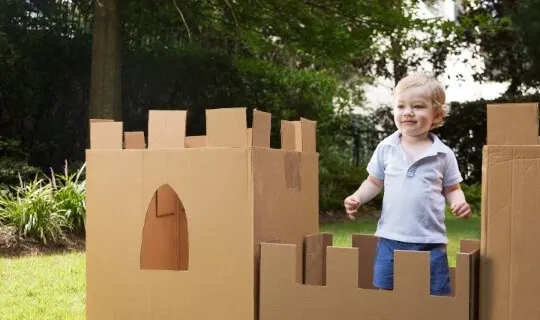 Have the kids help you build a fort in your garden! Everyone knows that forts are always better with more people. And what's cozier than being surrounded by greenery and flowers?
Let them be creative: use chairs, pillows, cushions from inside or outside-anything to make it their own personal garden fort.
Backyard Camping
Don't live near a campsite? You can still enjoy the benefits of the great outdoors with a backyard campsite. Pitch the tent in the backyard and let the kids sleep under the stars for a few nights.
Carve a Watermelon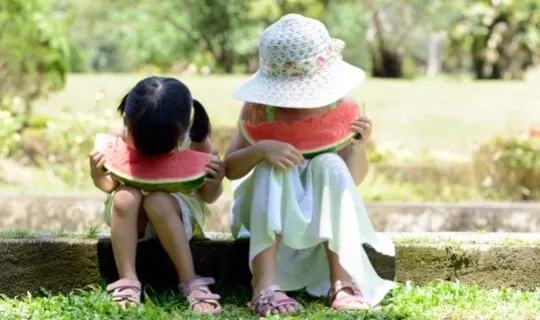 No need to wait for Fall to carve a pumpkin. Grab a watermelon and let the kids go to town. Carve Flowers, butterflies, or something that reminds them of summer.
First, scoop out the inside of the watermelon, so the kids can snack on it while carving their creations. Then draw a pattern and carve it out. Younger kids will need help with this. It's a fun activity to keep the kids busy for an hour.
Sidewalk Chalk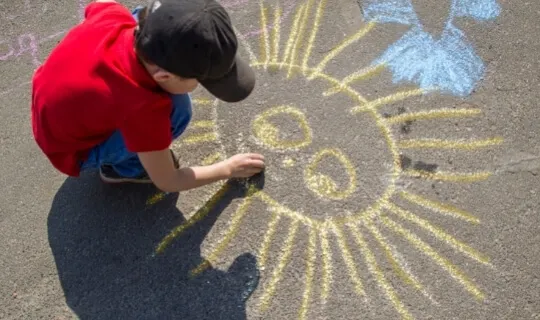 Get out the chalks and draw on the driveway or patio. Your little artists will have a great time creating masterpieces and it's free!
Make Giant Bubbles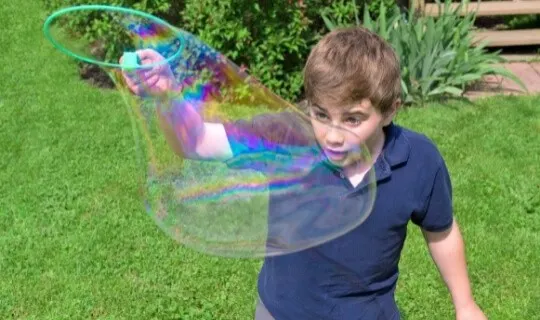 Blowing bubbles is always a great fun activity especially for younger kids. Seeing who can make the biggest bubble is a game that will keep everyone busy.
You can also make your own giant bubble solution by mixing a squirt of dish soap and a quarter cup cornstarch together and a squirt of glycerin, then adding a few cups of water.
To create a bubble wand, thread some cotton wool through two straws to use as handles and tie a knot. Dunk the straws and string into the bubble solution and blow! You'll be amazed at the giant bubbles you create!
Go In The Pool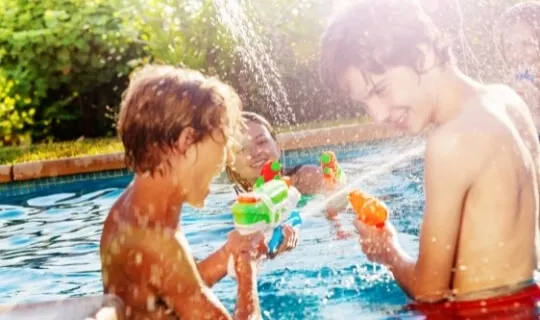 Nothing says summer like a good splash in the pool. If you have a pool in your backyard your already set and if you don't you can always blow up an inflatable pool for the backyard.
Put out some drinks and snacks and have a pool party with your friends and family. The kids will have a great time and burn off all that excess energy! A good night's sleep guaranteed.
Read Next: Pool Toy Storage Ideas
Paint Rocks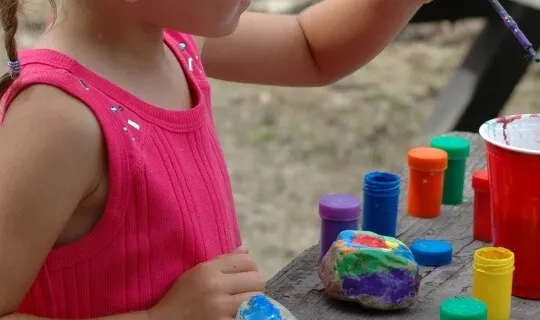 Rock painting is a fun, free, and creative way to spend the summer. Collect some smooth rocks in your garden and paint them. Experiment with different colors and patterns, or let your child's imagination run wild.
The kids will have hours of fun painting rocks that they can use to decorate the garden, give as gifts to friends and family, or keep for themselves!
If you're looking for a more permanent paint job try using acrylic paints which are waterproof.
Have a BBQ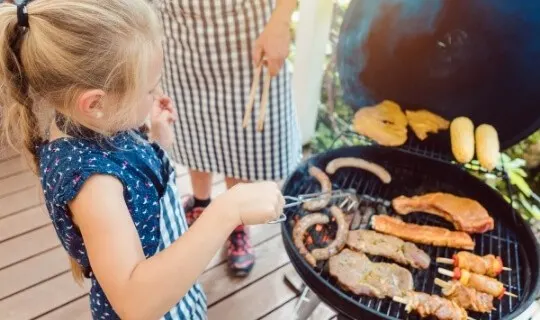 Having a BBQ is a great way to get the whole family together for an afternoon or evening of fun. Invite some friends over and put on some music, it's a great way to spend the afternoon! You could also put out some backyard games for added fun!
Catch Fireflies
Catching fireflies is a great evening activity for kids. Head out to the backyard after dark with a net and jar and wait for them to fly by.
When you spot one, scoop it up into the container! It's great fun to watch their glowing tails flicker in your hand as they try not to get captured. Just don't forget to set them free afterward!
DIY Bird Feeder
Smear the cardboard of an empty toilet roll in peanut butter and then roll it in seeds to create a bird feeder. The kids will love making these and you can also keep a diary and draw pictures of the birds who come to visit the feeder!
Indoor Free Summer Activities For Kids
Kids need a break from the summer heat, too. Thankfully there are still plenty of free activities to keep them entertained indoors.
Visit the local Library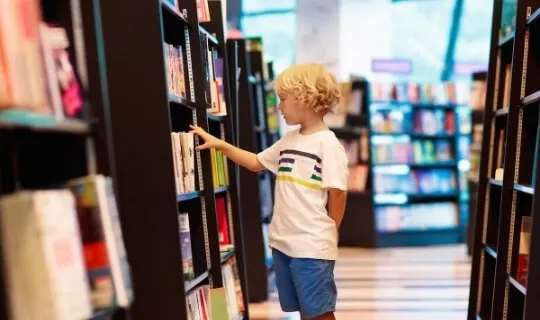 The local library is a great free summer activity for kids. Spend an afternoon looking around, checking out books, and exploring the library. A free activity that's also educational? That's a win-win in our book!
Indoor Obstacle Course
Put together a few simple obstacles as part of an indoor obstacle course. Have the kids work in teams to get from one side to another without touching anything or getting caught under anything. The first team to finish wins!
Include things like furniture, blankets, and pillows around the house for them to jump over, crawl through, or walk around.
Or, if you want to get more creative, use items like an old refrigerator box as a tunnel and see who can make it through the fastest!
The best part is that this activity will keep them entertained without costing you anything – except for some creativity on your end.
Play Games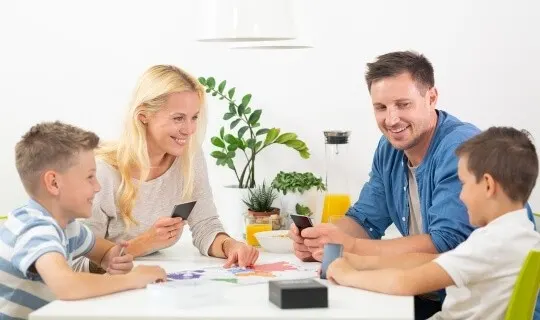 Spend some quality family time this summer by playing games. Board games, card games, or guessing games are a great free way to spend time with your children.
Go to a Museum
Going to a museum is a great way to get out the heat on a hot summer's day. And there are also plenty that are free! You can search for free museums in your area and make a great day out.
Lego Challenges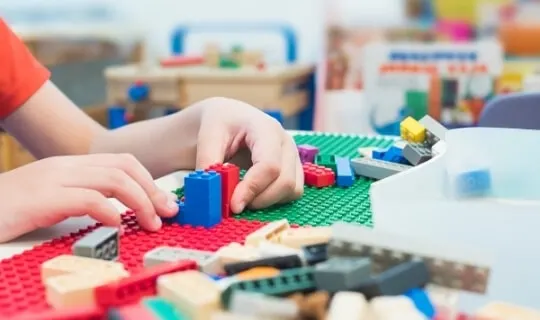 Lego challenges are a great way to keep your child entertained this summer. Build an enormous castle to keep them busy for days, or find some lego challenges online to print out and do together.
Have a Tea Party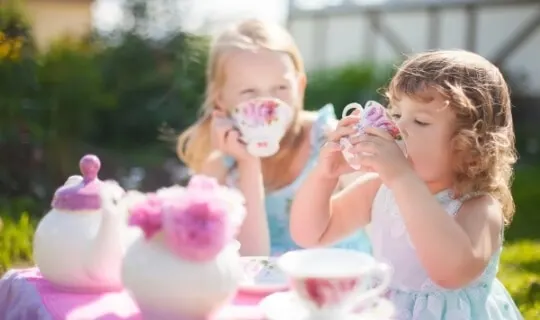 A tea party is a fun way to spend time with your children. Set out little teacups and make cucumber sandwiches and even dress up for the occasion, the kids will love it. Plus it's a great time to teach etiquette and table manners!
Indoor Scavenger hunt
If it's too hot outside a great fun way to keep the kids engaged and entertained with devices is to create an indoor scavenger hunt.
Conclusion
The summer is a time to relax and have some fun but that doesn't mean you need to break the bank or jet off to an exotic location. There are plenty of fun free activities to keep the kids entertained this summer from bike rides to tea parties. There are tons of free ideas to have a great memorable summer!
Share your favorite free summer activities in the comments!