Easy Pool Toy Storage Ideas
Pool season is finally here. The days are getting warmer, the kids are out of school, and it seems like everyone has their pool toys in tow. As fun as it is seeing the kids splash and have a great time, the aftermath of pool noodles, floats, and toys floating around or scattered around the backyard is not so great!
So if you're looking for easy pool toy storage ideas we've put together a list of easy ways to store your pool toys and floats so that you can enjoy them all summer long without worrying about sun damage or clutter in your backyard.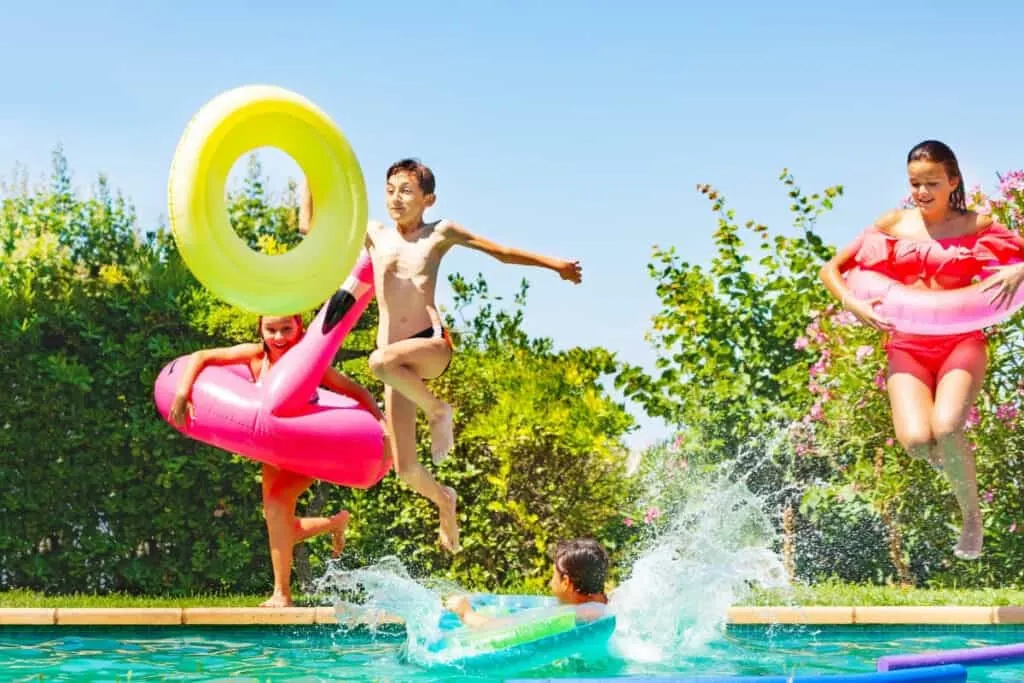 (This page may contain affiliate links you can read the full disclosure here)
1) Store Pool Toys Inside:
It may sound counterintuitive, but storing pool toys inside will help keep them from being exposed to harmful UVA/UVB rays from the sun. This will also protect the toy's colors and prevent any fading or discoloration. Plus, when they're not outside in the elements, they won't be as dirty!
An old laundry basket works well for storing noodles and other toys, just make sure they are dry first before storing!
2) Hang Them Up
One easy pool storage idea is to drill some hooks onto your fence to hang up pool toys, floats, and towels!
Hanging the pool toys on a fence in your backyard can make for an adorable art installation, plus it's easy to see whether you have all of the necessary toy pieces when they're displayed like this! If you do not want to risk damage from hanging pool toys off of your fence, you can also hang pool toys in a designated area of your backyard using the same method.
You can also drill some PVC piping horizontally onto your fence or wall to easily store pool noodles and keep them from fading and crumbling in the sun. (just make sure they are dry first)
Door Hanger Over The Fence
If you don't want to ruin your fence or walls with lots of hooks, try hanging pool toys with a door hanger over the fence, no tools required! This is great for hanging up things like towels or googles after pool time, but it can also be handy for storing pool toys.
3) Net Bag Or Plastic Basket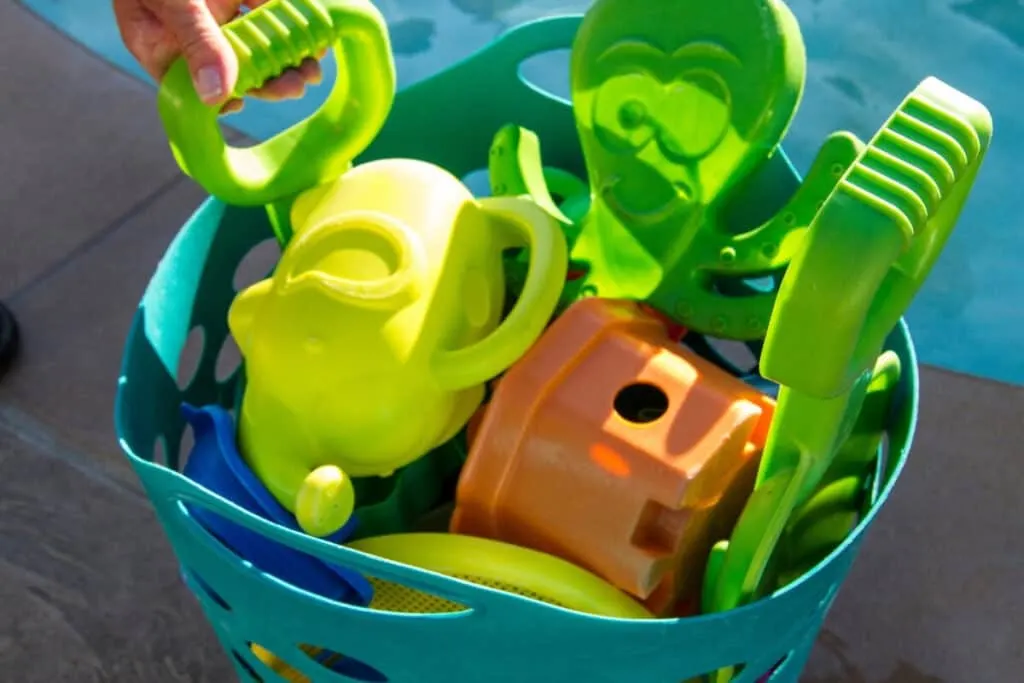 A net storage bag or a plastic basket with drainage holes are also great ways to store pool toys and floats. Simple put all the toys in the bag and hang up. Make sure to hang the net bag up on a hook to allow excess water to drain out.
4) Store Pool Toys In A Storage Box or Shed
If you have the space available, try a storage box or shed for pool toys. This is the best way to keep pool floats and toys tidy and organized. Make sure that the toys and floats are dry before storing them!
5) Pool Toy Mesh Storage Bin
Mesh pool toy storage baskets are another easy storage solution. The mesh allows the water to drain out, which prevents pool toys from getting moldy and damaged.
These storage containers are great for throwing pool toys in and keeping them together in an easy-to-reach location. At the end of summer simply pack it together and store it until next year.
6) Laundry Rack
A laundry rack like this one is a great way to hang towels and lay other small pool toys out to dry.
These racks are much less expensive than storage sheds, and they're a great solution for those with limited space in their backyard. Hang towels to dry, or stand the noodles between the rack for easy grab and go access. Things like swimming goggles can lay on the bottom shelf!
Tips For Keeping Pools Toys In Good Condition
If you really want to maximize the life of your pool toys to prevent fading and damage then follow these additional tips!
Rinse pool toys and floats with fresh water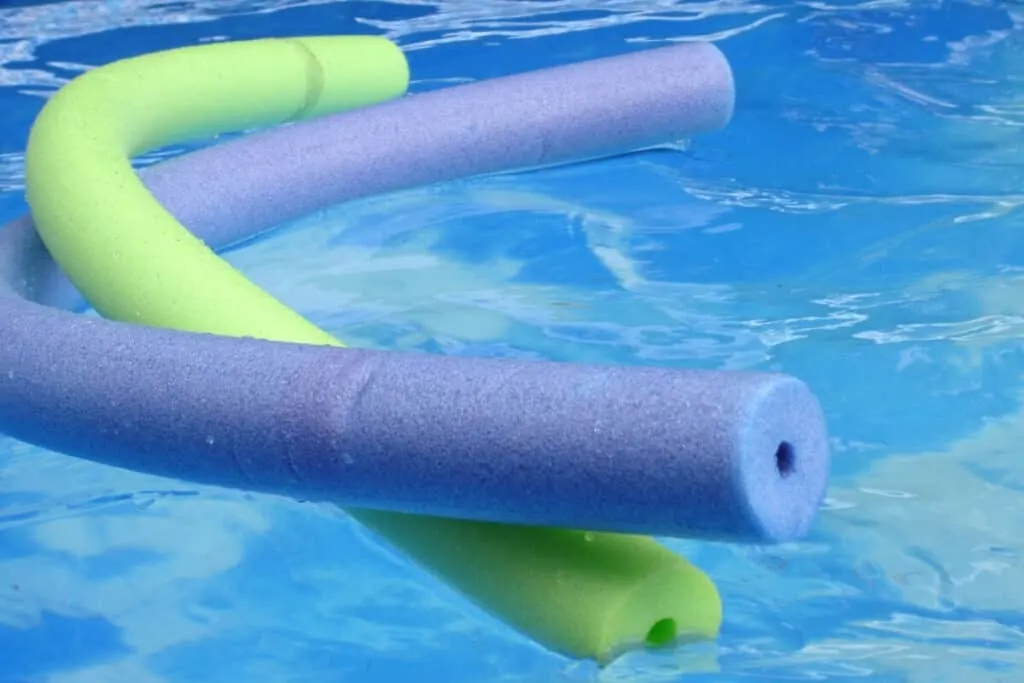 Don't leave toys in the pool! Rinse pool toys and floats with fresh water after every use. Also, don't forget to remove any sand or dirt from pool toys before storing them.
Keep out of direct sunlight
The bright summer sun may be a welcome sight after a long winter, but don't put pool toys out in the sun to dry. Sunlight will fade colors and cause plastics to break down over time. This not only makes a big mess in your backyard, but it also causes the pool toy to be unsafe for use.
Sun-damaged pool toys can actually get moldy and smelly! Lay your toys and floats out to dry after rinsing with clean water out of direct sunlight before storing.
Deflate Inflatables and Get An Electric Pump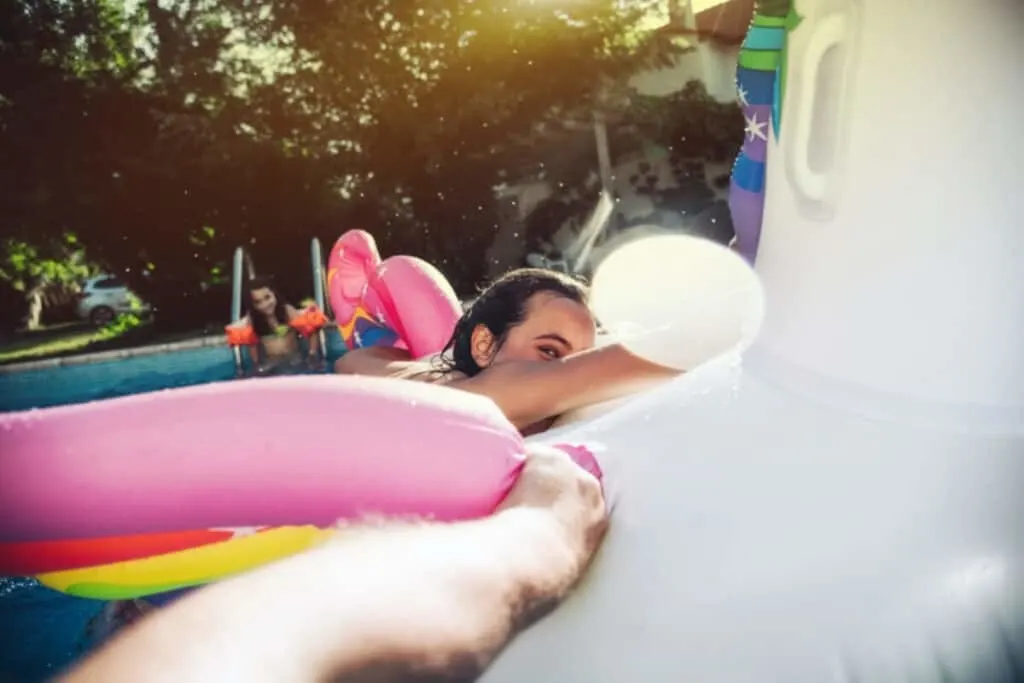 If you won't be using your large inflatables every day consider an electric pump that inflates and deflates your inflatables. This is the best way to keep them in prime condition. When you're ready to use your large pool floats again, simply get out the electric pump and inflate in seconds, without getting lightheaded!
Conclusion
Now that you know some of the best pool toy storage ideas, get outside and enjoy your summer. Remember to take care of your toys so they last longer. If you have any good pool storage ideas please share them in the comments! We would love to hear your creative ways for storing pool toys!