How To Make Your Home Smell Like Christmas With These Simple Yet Insanely Christmasy Scents!
Want your house to smell like a Christmas wonderland this winter? Well look no further, this post will have simple ideas you can apply to key areas of the house to make your home smell insanely Christmasy!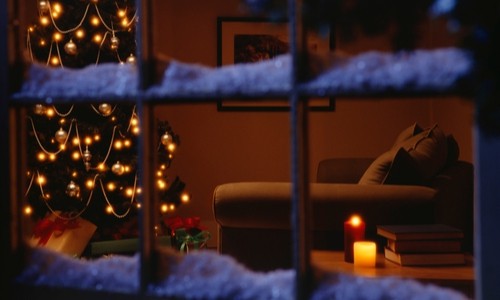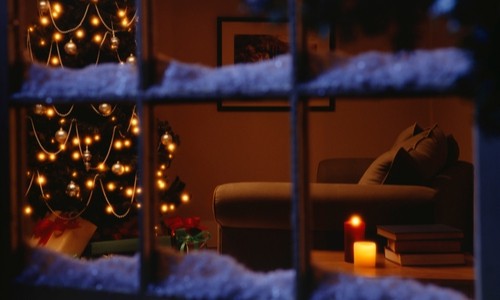 What Is The Smell Of Christmas?
Is it the crisp air? The smell of pine trees or freshly baked cookies?. There are so many smells associated with Christmas that it is impossible to pinpoint one particular smell.
But what is evident is that "The smell of Christmas" triggers emotions of joy, excitement and even the good type of nostalgia.
These combined scents create such powerful and wonderful feelings that it's no wonder we want to create them each year and inhale all the Christmas goodness!
Ready to begin?
(This page may contain affiliate links you can read the full disclosure here)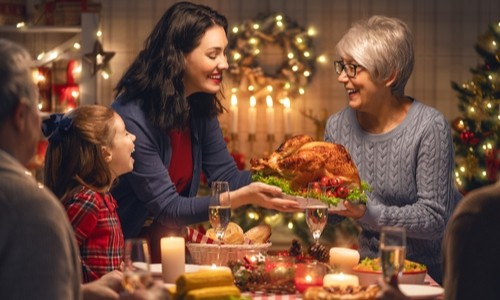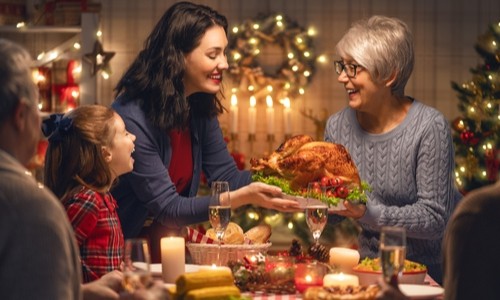 Living Room
The living room is THE room you really want to the Christmas scents to hit your nostrils so this is where we shall begin.
Real Tree
I know, I know those pre-lit trees in the department store might save you the hassle of getting tangled in lights and might be considered a better investment as you can reuse it each year, but if you truly want your home to smell like Xmas then a real tree is the way to go.
Sure you can sprinkle some pine leaves around, but you're not going to get the powerfulness of pine scent without a tree!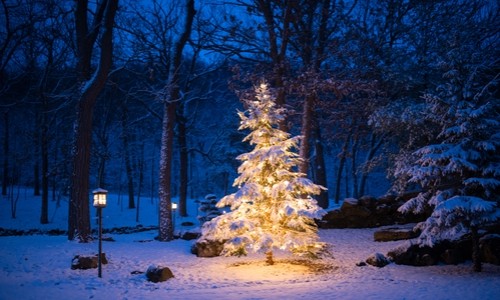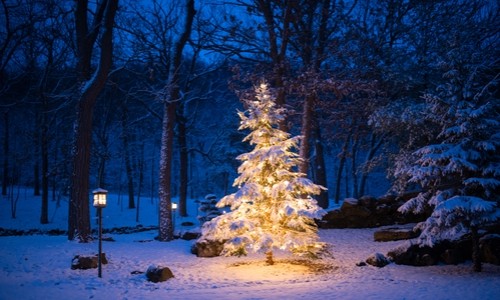 Ginger ornaments
Not only do these ornaments smell absolutely divine, but they are the perfect holiday activity for the whole family to enjoy.
Kids will love making these cinnamon ornaments and cutting them out into stars, gingerbread men, trees, or whatever shapes their heart desires.
The other good news is that they are incredibly easy to make requiring only 2 ingredients!
All that needs to be done is mix applesauce and cinnamon until it forms a dough (you can add ground nutmeg, ginger or other spices if you like). Cut out shapes in the dough and then use a straw to make a hole for some ribbon to hang on the tree. Then bake, let cool, thread some ribbon and hang your tree! You can find the full recipe and instructions here.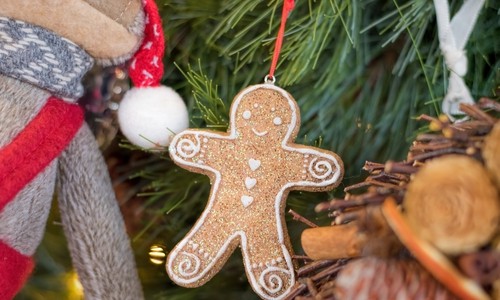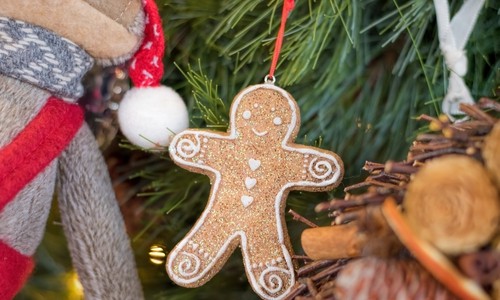 Popcorn Garlands
Another fun activity that makes the house smell like Christmas is popcorn strings! This easy and festive decoration is cheap to make, makes the house smell amazing, plus the kids will love to help make them!
First, you're going to need some popcorn! It is best to use an air popper so you can make unsalted and unbuttered popcorn.
Once the popcorn has cooled, it's time to grab some thread and a needle (preferably a blunt tip needle).
Tie a knot in one end of the string and thread the needle and start threading the popcorn. After some time you will have a beautiful popcorn garland that will make the room smell divine.
Orange and Cloves Pomander Balls
This simple decoration is so easy and fun to make and screams it's Christmas. They also fill the room with a wonderful fruity Christmas scent.
They are also really easy to make!
You will need just two ingredients – some firm oranges and whole cloves.
Simply press the cloves into the oranges to stud them and you're done!
There is no limit to the number of cloves you stick into the orange, just get creative and have fun creating different designs. They make beautiful decorations and make the house smell incredible!
Place the pomander balls on your table as a display or wrap some ribbon around them and hang them on the tree!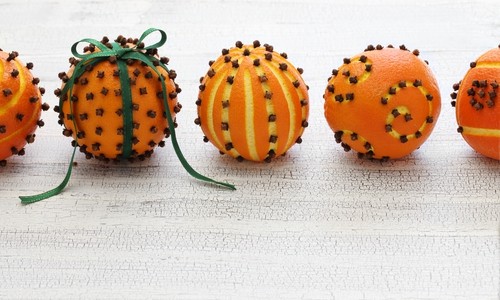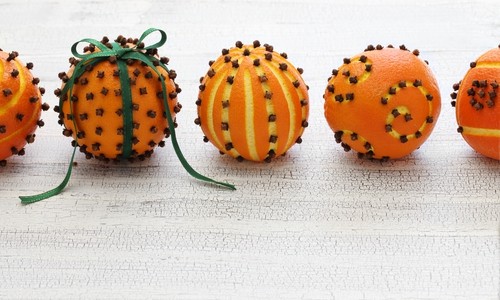 Lightbulb Scent Hack
This is such a simple smell hack but one that works great! Simply choose an essential oil with a Christmas scent such as pine, cinnamon, frankincense, or peppermint and rub a drop or two onto the lightbulb.
When the light heats up the warmth of the lightbulb will help the fragrance fill the room with a delicious scent.
Kitchen
Mulled wine, hot chocolate, and gingerbread men all scream Christmas and will make your kitchen smell absolutely divine! And If you're not in the mood for baking then you can simply boil some Christmas potpourri on your stovetop or slow cooker.
Mulled Wine
Mulled wine or spiced wine as it's also known, will fill the kitchen with a classical holiday smell, plus you get to drink it afterward!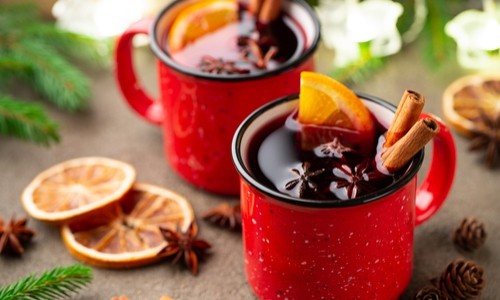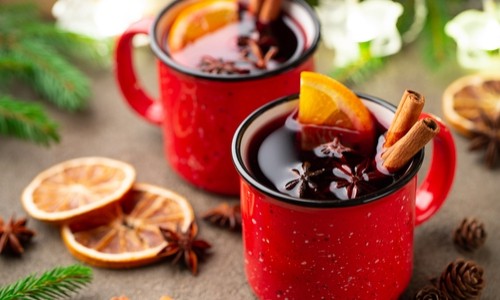 Stovetop Potpourri
Stovetop potpourri is one of the easiest and fastest ways to make your house smell incredible.
Making stovetop potpourri is easy! Simply fill a pan with water add your ingredients and let it slowly simmer for a couple of hours to fill your house with an aroma of warm spices, citrus, and pine.
Some favorite combinations for Christmas are:
a cup of diced apple or cranberries, cloves, orange slices, rosemary sprigs, and a couple of cinnamon sticks, in 5 cups water.
Apple, ginger, clove, cinnamon
Pine needles, oranges, cinnamon
Vanilla, cinnamon, orange, cinnamon
The combinations are endless, you can also use pine cones, star anise, lemon or whatever your heart desires!
Reusing Christmas Stovetop Potpourri
You can reuse stovetop potpourri by allowing it to completely cool and placing it in the fridge. Then heat up the next day. You may need to replace some water due to the evaporation process while it's simmering, but as long as it's still giving off a lovely fragrance you can keep using it.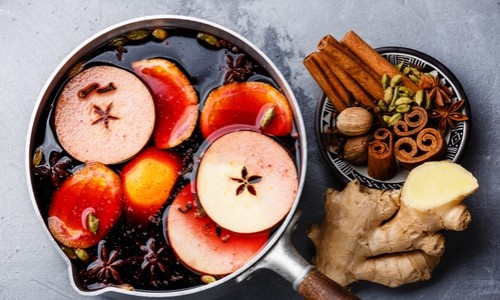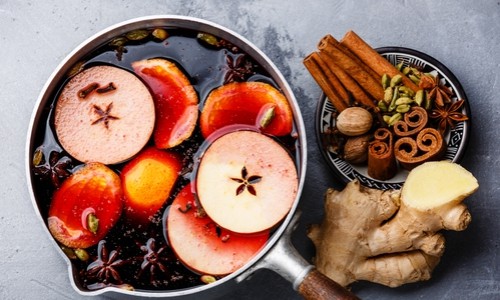 Tip!
You can also use your slow cooker to make stovetop potpourri!
Entrance and Stairs
Light Bulbs
Grab a cinnamon essential oil and rub a drop or two on the lightbulb
Potpourri Bowl
On your entrance table place a bowl with pinecones, cinnamon sticks, star anise, cloves, and nutmeg.
Real Pine Wreath
Just like having a real tree, try to get a real pine wreath with pinecones. This will ignite your senses before even getting through the door! You can also stick some cinnamon sticks in the wreath as well to enhance the smell.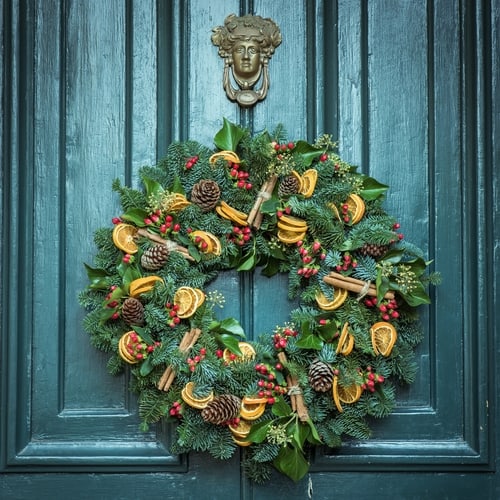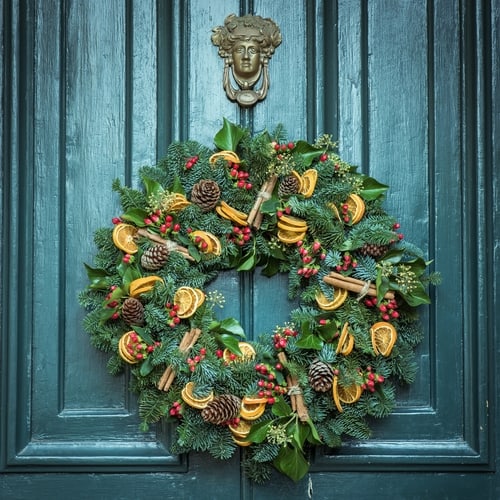 Staircase Garland
Hang scented orange and clove, and ginger ornaments off the staircase garland and decorate with star anise and cinnamon sticks, and candy canes.
Bathroom
Essential oils on toilet paper roll
Frankincense, pine, cedarwood, myrrh, clove, peppermint, cinnamon, and nutmeg are all Christmas smells. Add a couple of drops of one of these essential oils inside the toilet paper roll on the cardboard.
Potpourri
Fill a bowl with some Christmas scented potpourri like this one. It will fill the room with that holiday smell!
Scented Candles
Candles such as vanilla or other warm fragrances work well for Christmas. If you don't have a real Christmas tree you can always use a tree scented candle like this one to fill the room with that piney smell.
So there you have some incredibly easy ways to make your home smell insanely Christmasy this year!
Related Posts to How to Make Your Home Smell Like Christmas
What is your favorite smell of Christmas? And what happy memories do they trigger? Let me know in the comments!