As the leaves change and the air turns crisp, there's nothing quite like curling up with a good book and a cozy blanket. And what could make that experience even more enjoyable? A beautiful bookmark, of course! But these are not just bookmarks. These are free Thanksgiving bookmark printables, perfect for all book lovers during this festive season. The best part? No email address is required. Simply download, print, and enjoy!
Why should you download these free Thanksgiving bookmarks? Well, not only are they completely free, but they also add a touch of festivity to your reading routine. Each bookmark features unique Thanksgiving-themed designs that can serve as a delightful reminder of the season's spirit every time you open your book. Imagine reading your favorite novel with a cute turkey or a colorful autumn leaf peeking out from the pages. Sounds charming, right?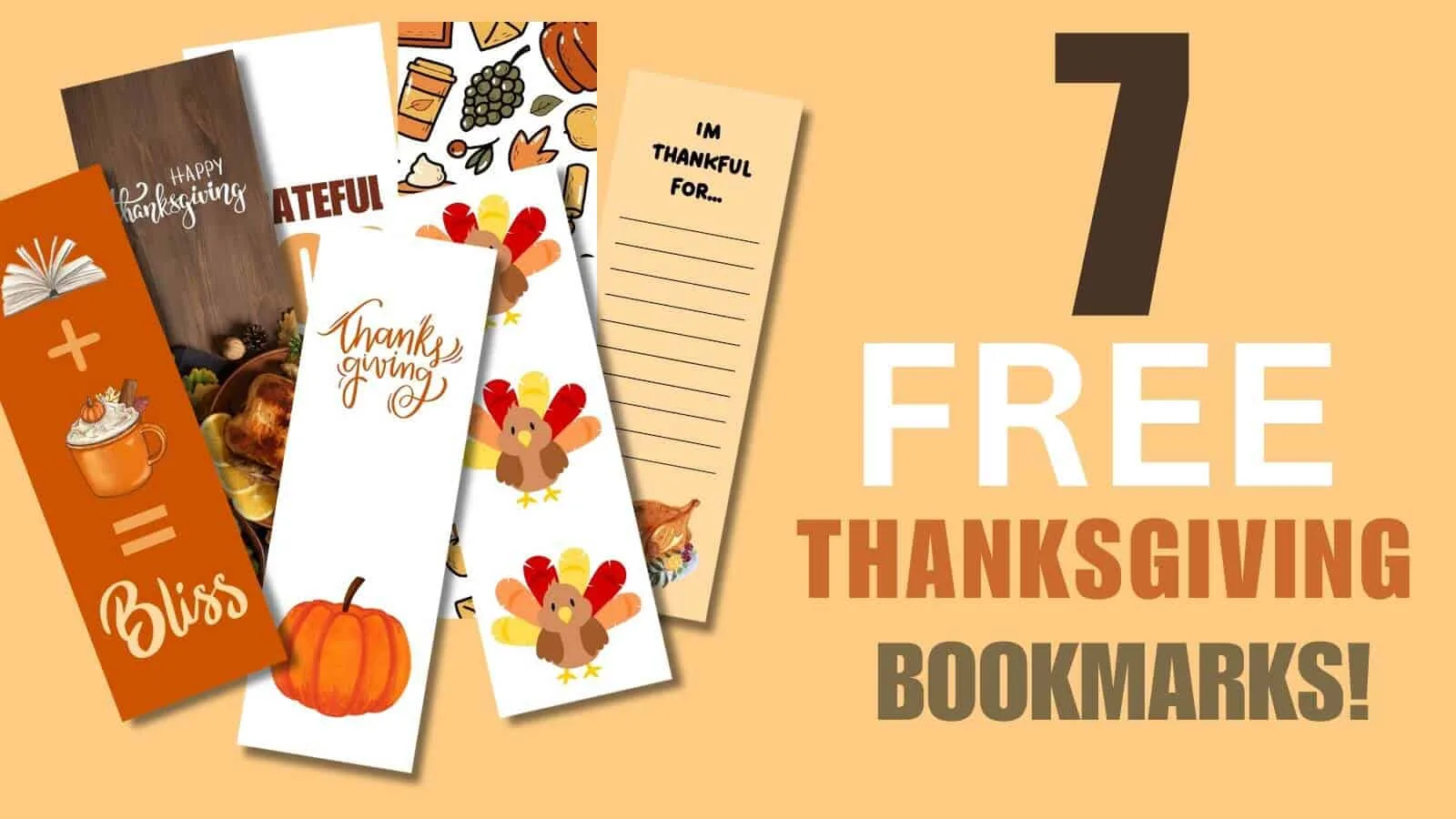 So, how do you get your hands on these free printables? It's as easy as pie! There's a download link at the bottom of this page. Just click on it, and voila! You'll have seven adorable Thanksgiving bookmark designs ready to be printed.
​
​Thanksgiving Bookmarks – What's Included?
What's included, you ask? When you click the download link at the bottom of the page it will automatically download a pdf file. This free printable contains seven different designs. Each bookmark is carefully designed with unique illustrations and quotes that embody the essence of Thanksgiving. From pumpkins and turkeys to Thanksgiving messages about gratitude, there's something for everyone.
How To Print Your Free Printable Bookmarks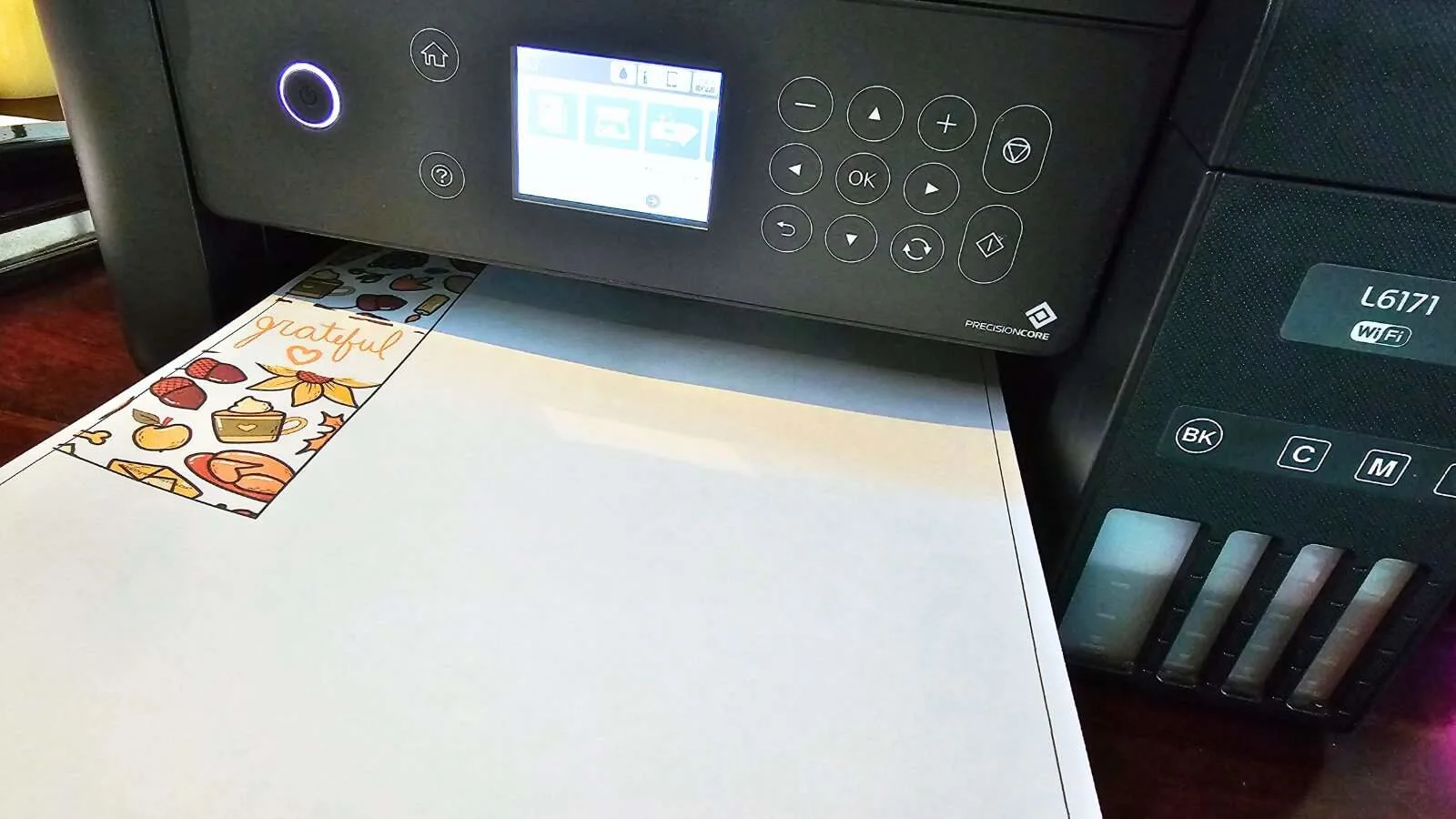 Now, let's talk about printing. You have two options here. You can print these bookmarks on regular paper and laminate them for durability. Laminating will protect your bookmarks from wear and tear, ensuring they last longer. On the other hand, if you want a sturdier bookmark right off the bat, you can print them on cardstock. Card stock is thicker than regular paper, making it an excellent choice for bookmarks. Or for the best results you can print on cardstock and then laminate them.
Make sure to print the images at the scale of 100% to ensure proper size.
Customize These Cute Free Printable Thanksgiving Bookmarks!
But why stop at just printing? Turn your own bookmarks into a fun activity with your friends or family members! After printing, use a hole punch to create a small hole at the top of the bookmark. Then, thread some ribbon through the hole.
A great idea is to choose a ribbon color that complements the design for a sophisticated look, For an easy Thanksgiving craft for little ones, let them choose Fall colored ribbon and have them thread it through the hole to practice those fine motor skills, it's a great activity for younger kids! This little extra step can transform your bookmark into a charming keepsake or a thoughtful gift and is the perfect way to involve your kids in a simple yet fun craft.
Free Bookmarks – Terms of Use
These seasonal bookmarks are for personal use only and are not for reselling or re-uploading.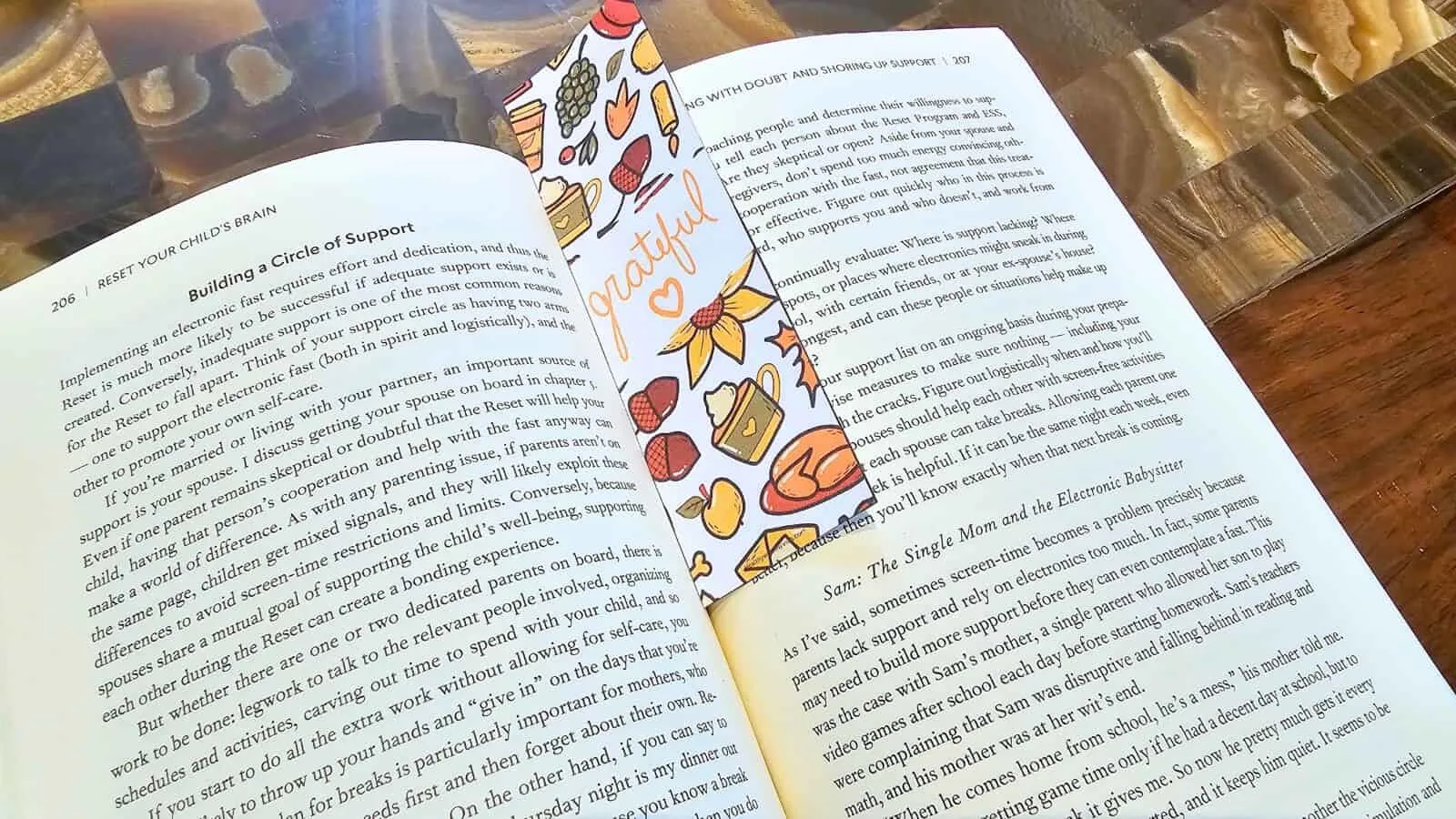 These printables aren't just for book lovers. They can serve as a unique and thoughtful gift for teachers, colleagues, or any loved ones who appreciate a touch of creativity. You could even use them as place settings at your Thanksgiving table, adding a personal, festive touch to your holiday decor.
The beauty of these bookmarks is in their simplicity and versatility. They are a small way to add a big dose of festive cheer to your daily life. And let's not forget how they encourage reading. For parents trying to instill a love for reading in their children, these bookmarks can be a fun and effective tool. Kids would certainly look forward to turning their pages and seeing a colorful bookmark.
Remember, the joy of reading is magnified when shared. So spread the love this Thanksgiving by sharing these free printables with your friends and family. Let's celebrate this season of gratitude with a good book, a cozy blanket, and a beautiful Thanksgiving bookmark. Happy reading and Happy Thanksgiving!

This free printable set is more than just placeholders in your books. They're little reminders of the season, tokens of gratitude, and symbols of love for reading. So, go ahead and click on the download link below, print your own Thanksgiving bookmarks, and immerse yourself in the joy of the Thanksgiving season and the world of books.
Happy reading and Happy Thanksgiving!