How To Grow a Physic Medicinal Garden
Thinking of growing your own medicinal garden but not sure which plants to plant? These 8 plants are easy to grow and are perfect for starting off your own physic garden,
What Is a Physic Garden?
Physic gardens have been around for hundreds of years and are nothing new. They are collections of medicinal healing plants traditionally grown by physicians and monks.
In fact, some of the earliest physic gardens recorded date back to the year 1334!
The good news is that growing your own medicinal garden isn't hard.
By investing a little time into your garden, you will have the organic natural supplies to create your own healing teas, infusions, and balms.
But first…
Annual, Perennial, or Biennial?
Now before growing your medicinal plants, it's good to know whether they are annual, perennial, or biennial.
Why does this matter? Well because some plants will require planting every year and others will not!
In the most basic terms:
Annual – This means that the plant will need to be planted every year.
Biennial – The plant will need to be replanted every two years.
Perennial – The plant will continue to grow every year.
(This page may contain affiliate links you can read the full disclosure here)
So now that's covered let's move on to 8 medicinal plants to start off your physic garden.
8 Medicinal plants To Grow In Your Physic Garden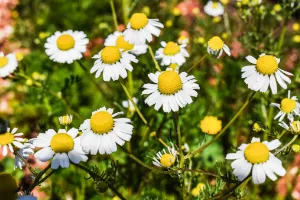 Chamomile
Chamomile is one of the most famous medicinal plants due to its wide variety of health properties.
Chamomile is known for its ability to reduce stress and promote sleep, but this flower can also help with:
Boosting your immunity
Fighting off colds
Reducing menstrual pain and muscle spasms
Easing indigestion and gas
Treating skin conditions and wounds
Acne
Anti-aging
Lightening hair color
Getting rid of dandruff
Use the flower heads from chamomile to make teas, infusions or even balms.
Taking care of your chamomile plant:
Chamomile plants are pretty fuss-free and grow well in plant zones 3-9 and do well in both partial shade or full sun. They are also drought tolerant. You can also grow chamomile indoors.
Plant type – Annual
Also Read (Chamomile Tea For Babies)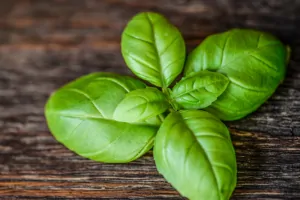 Basil
There is so much more to this aromatic herb than looking and tasting good in a Caprese salad!
Basil is absolutely bursting with health benefits, some of which may even surprise you!
Basil Can:
Reduce Joint Pain
Prevent and slow down damage to cells as it's an Antioxidant
Fight aging
Lower Fevers
Relieve anxiety, stress, and depression
Improve digestion
Help fight bacterial infections
Reduce inflammation
Boost cardiovascular health
Enhance liver function
Help heal wounds and cuts
Lower Cholesterol
Control appetite
Growing basil and harvesting
Basil is super easy to grow and can easily be grown indoors or outside. Harvest the young leaves as needed.
Plant Type – Annual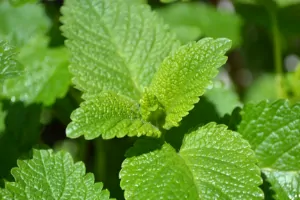 Lemon Balm
Lemon balm is related to the mint family and also has lots of medicinal properties to offer. From easing upset stomachs to reducing anxiety.
Other Benefits of lemon balm include:
Reduces anxiety and depression
Improves sleep quality
Enhances memory and brain function
Can help with weight loss
Fights Cancer
Helps with hyperthyroidism
Fights cold sore and herpes
Reduce inflammation
Can help with infant colic
Helps relieve upset stomach
Treat insect bites
Growing Lemon Balm
Lemon balm can be grown both indoors and outside. It is a hardy perennial shrub that requires little attention.
You can use lemon balm leaves as an when needed, but for medicinal purposes, it's best to wait until the plant starts to flower.
Plant Type – Perennial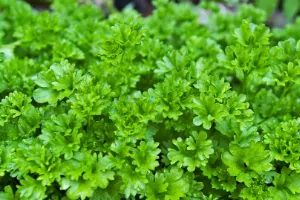 Parsley
Got bad breath? Chew on some parsley! This kitchen staple has numerous health benefits that will make you want to eat more of it rather than using a small piece as decoration!
Benefits of Parsley:
Prevents bad breath
Eases gas
Reduces body odor
Fights cancer
Keeps bones healthy
Improves the immune system
Is a natural antibiotic
Improves cardiovascular health
Helps detox the body
Reduces Inflammation
Packed with vitamin C
Growing Parsley
Parsley is a very easy herb to grow that doesn't require a green thumb. Grow in your kitchen or garden.
Plant Type – Biennial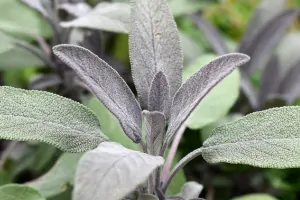 Sage
Sage's genus name, Salvia, means "to heal" and has long been used for its medicinal properties. This evergreen is native to the Mediterranean and is excellent at healing throat infections.
Benefits of Sage:
Reduces inflammation
Lowers bad cholesterol
May help with Alzheimer's
Fights Cancer
Treat menopause
Has astringent, antiseptic, and antibacterial properties
Treat throat and mouth infections, and coughs
Growing Sage
Sage is one of the easiest herbs to grow, and thrive in the ground, in pots, or indoors! This plant is also fuss-free.
If planting indoors make sure it's near a sunny window. Water when the soil is dry. Harvest sage just before flowers start to bloom.
Plant Type – Perennial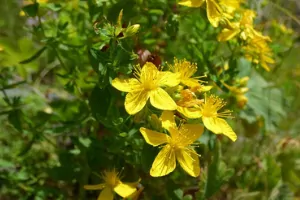 St John's Wort
The herb St John's Wort is famous for helping ease mild to moderate depression. However, it is always best to talk to your doctor first!
Benefits of St John's Wort:
Reduces mood swings
Lowers anxiety
Is an anti-depressant
Helps ease withdrawal symptoms from alcohol, substances, and nicotine
Contains Antiviral properties
Anti-inflammatory
Balances hormones
Helps heal bruises and burns when applied topically
Growing St John's Wort
This undemanding plant is easy to grow and produces beautiful yellow flowers. For medicinal purposes harvest the leaves, yellow flowers, and fresh buds.
Plant Type – Perennial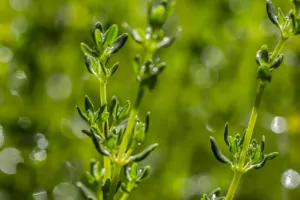 Thyme
Thyme may taste fabulous with your Sunday roast, but this popular herb is also a strong antiseptic and is great at treating coughs and congestion!
Benefits of thyme include:
Lowers blood pressure
Treats coughs and bronchitis
Boosts immune system
Enhances your mood
Lowers cholesterol levels
Growing Thyme
Plant thyme in well-drained soil with plenty of sunlight, either outdoors or by a sunny window.
Plant Type – Perennial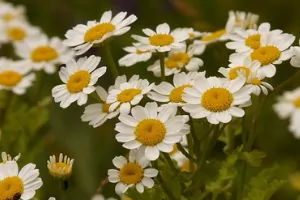 Feverfew
Feverfew is related to the daisy family and while it may look sweet it packs a powerful health punch! The leaves and flowers of feverfew are often used to make tea for a whole host of health issues.
Benefits of feverfew include:
Migraine and headache relief
Lowers stress and anxiety
Reduces inflammation
Reduces pain thanks to its analgesic properties
Helps lower fevers
Reduces menstrual cramps
Growing feverfew
Plant in well-draining soil, in a sunny location.
Plant Type – Perennial
So there you have 8 easy to grow medicinal plants perfect for your herb garden!
Note: Always consult your doctor and/or a licensed herbalist before if you have any questions or to learn about any potential side effects.
Articles Similar To Growing a Physic Garden
Already have a medicinal garden? Leave a comment with your favorite plant!