Feeling stressed, full of anxiety and having trouble sleeping? You need a weighted blanket.
There is nothing cozier than snuggling up under a blanket after a long day. But what if that blanket could actually improve your stress levels, reduce your anxiety and help you sleep better?
Sounds too good to be true right?
But here's the thing, there IS a blanket that can do just that and it's called a weighted blanket. So if you're looking to reduce your stress and sleep better keep reading.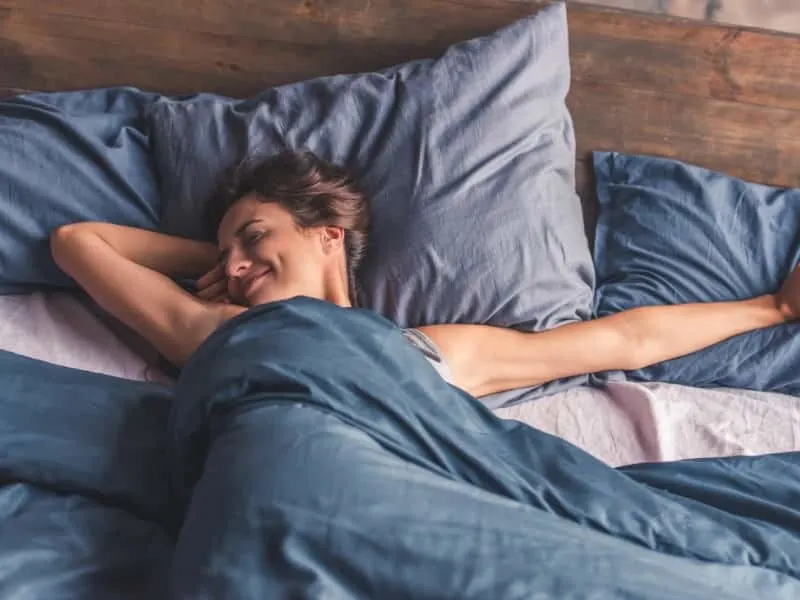 (This page may contain affiliate links you can read the full disclosure here)
What is a Weighted Blanket?
The name says it all, a weighted blanket is essentially a heavy blanket filled with weighted material, such as pellets or glass beads. They come in different sizes and have different weights ranging from 5lbs to 30lbs.
How Does A Weighted Blanket reduce stress, anxiety and improve sleep?
Weighted blankets are designed to use the principles of Deep Touch Pressure (DTP) which helps to reduce stress, and create a sense of calm.
This type of pressure helps the brain to release the happy chemical serotonin, thus creating a feeling of well-being and reducing stress levels and improving sleep.
Warning:
Never use weighted blankets on babies and toddlers.
What are the Best Weighted Blankets?
Available in a variety of colors, and sizes this weighted blanket is one of the leading on the market. Made with glass beads and boasting 7 layers this 100% cotton blanket will have you melting the stress away in no-time. It also comes with a removable Minky cover.
This weighted blanket comes with 2 removable covers – one that promotes cooling and the other that keeps you warm. Giving you basically 3 different blankets in 1. Made with nano-ceramic beads this is another good choice.
The bamboo material makes this blanket highly breathable, while still providing the weight to create relaxing pressure. Plus it also comes in this with this leather and suede tote bag!
So go ahead and grab yourself a weighted blanket and start melting the stress and anxiety away!