How To Choose A Diaper Bag
So you want to know how to choose a diaper bag? It seems like a simple task to find the perfect bag, but there are so many different choices out there. When it comes to selecting a diaper bag and all of its features, you want to make sure that you are going with something that will work best for your lifestyle.
In this post we are going to cover the types of bags, the bag features to consider, how you can determine which type of diaper bag is best for your family, and what to pack in your diaper bag.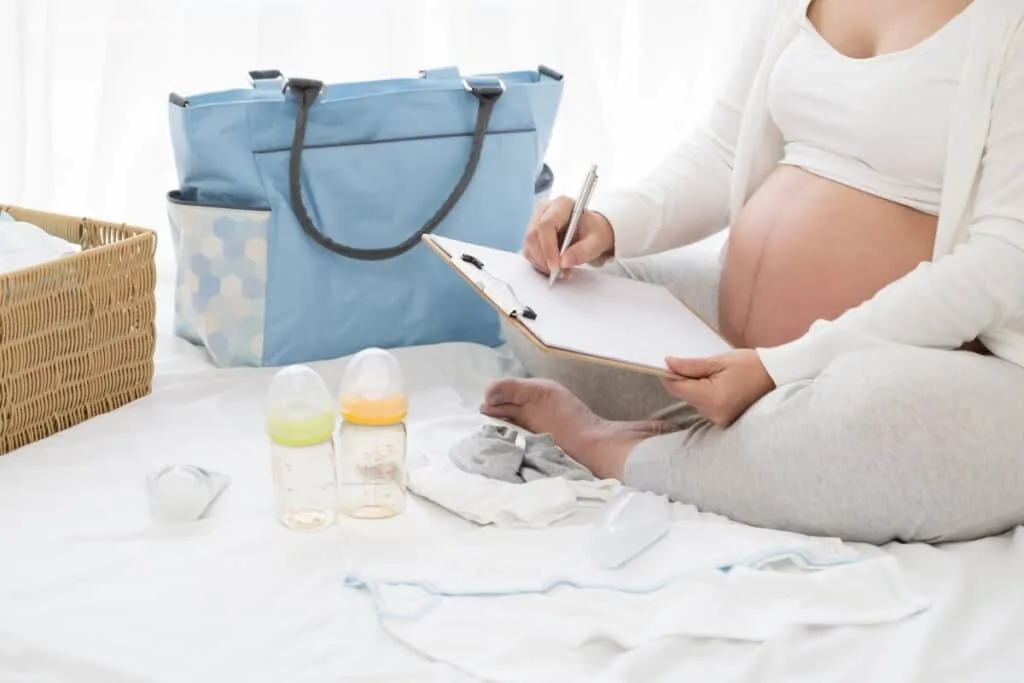 (This post may contain affiliate links, to read the disclosure click here)
Types Of Diaper Bags
There are several different types of diaper bags available on the market that you can choose from. These include backpack, messenger style, shoulder bag, tote, and more.
Backpack diaper bags
The backpack diaper bag was made for hands-free carrying. They are often used when traveling or hiking and they feature a wide, sturdy strap that goes across the wearer's back.
The straps usually have lots of pockets on them to keep everything from water bottles to phones handy but there is also plenty of space inside for diapers, baby clothes, and other things you may need!
Backpack diaper bags are great for moms who don't want to wear a traditional diaper bag across one shoulder because they are more comfortable and can be worn like a backpack, however, these bags may not offer much storage for toys or bottles.
Tote diaper bags
Tote diaper bags are usually one of the most popular styles and are a very stylish way to carry around everything you need for your baby. The bag is often made up of two handles that can be carried by hand or over one shoulder, and they have lots of pockets inside as well as outside that will keep all your things organized.
Convertible diaper bags
Convertible diaper bags are a style that can be worn over one shoulder or as a backpack. They come with straps you can adjust to wear the bag how you want, and they often have many pockets inside for organization.
Some moms opt for cross-body bags, which is an option if you prefer not to carry anything on your shoulders! These bags are also a great option for those who are always on the go.
A good idea would be to choose a diaper bag that can do double duty as your everyday purse or handbag — it will save you from having to carry two bags around all day long!
Messenger diaper bags
A classic diaper bag style is a messenger diaper bag, which will typically come with cross-body straps and one or two handles. This type of bag works best for moms who are on their feet all day long but also want to be hands-free while they're out and about with baby!
Messenger bags can get heavy over time, so if you will be running errands carry it all day long, you might want to choose a bag that has adjustable straps.
Diaper Bags With Stroller Attachments
Some diaper bags have a stroller handlebar attachment that can be removed when not needed. These usually have a handle on each side, so they don't take up too much space and are more convenient for moms who just want to carry their essentials around with them at all times.
A stroller bag will typically hang down in front of your baby or off the back of the stroller. These bags typically have one pocket on the outside for a water bottle or baby's favorite toy.
If you diaper bag is too heavy though it can cause the stroller to tip over. When choosing a stroller bag, make sure the attachment is secure and think about how much space you will need for your needs.
Make Sure It Fits Your Lifestyle!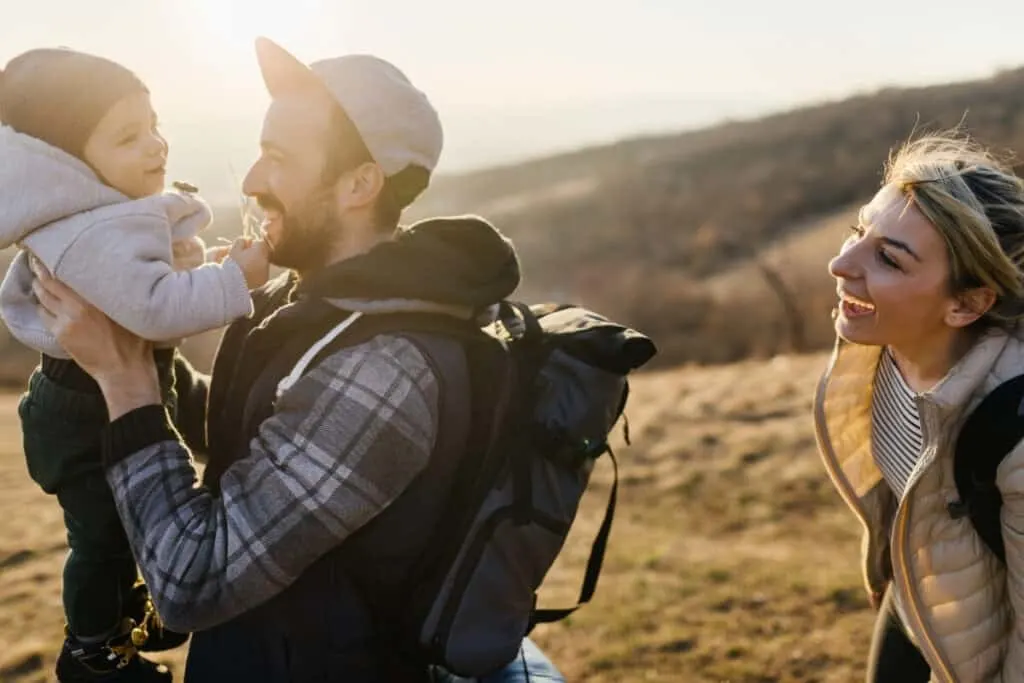 When choosing a diaper bag it's important to make sure it fits your lifestyle! If you are very active or have a lifestyle that takes you outdoors, then choosing between a backpack or shoulder bag may be more difficult. A good rule of thumb is to choose the diaper bag that feels most comfortable.
How to Choose A Diaper Bag – Features To Look For
Storage:
Storage is one of the main things you should think about when choosing a diaper bag. You want to make sure there is enough room for all your baby's needs, including spare clothes and diapers. Keep reading for things to pack in your diaper bag!
Quality:
You want to make sure your diaper bag is of good quality! Cotton canvas is a good, sturdy material. Make sure the seams are reinforced and there are no loose threads.
Comfort:
When choosing a diaper bag make sure it's comfortable. If you're out for the entire day you'll want to make sure the bag is comfortable and easy to carry. There is nothing worse than having to drag around a heavy bag that's cutting into your shoulders. Choose a bag with an adjustable strap so you can adjust the bag to your body.
Price:
Price is another important thing to consider when choosing a diaper bag. You want to find a bag that has the features you need without breaking your bank. Diaper bag prices vary dramatically but more expensive doesn't always mean better quality, comfort, or practicality.
Easy-to-clean:
Another important thing when choosing a diaper bag is making sure it's easy to clean! A lot of times, a toddler will spill their milk or juice on the bag before they even get to take a sip. If you can't easily clean your diaper bag then it won't be long until that spills turn into stains and bacteria which could lead to all sorts of health problems.
Choose a diaper bag that cleans easily and doesn't have a ton of crevices.
Built-In Changing Pad:
Lots of diaper bags come with built-in changing pads these days. This is good and will save you from needing to pack one.
Organization:
You want to make sure there is enough space and compartments to keep everything organized. You don't want to constantly be digging around for that tiny pacifier you know is in there somewhere, but can't seem to find it.
A lot of people have diaper bags with more than one compartment so they can separate their diapers from the rest of their stuff which helps keep them clean too!
There are also diaper bag packing pouches like these which will help you keep everything organized!
The Backup Diaper Bag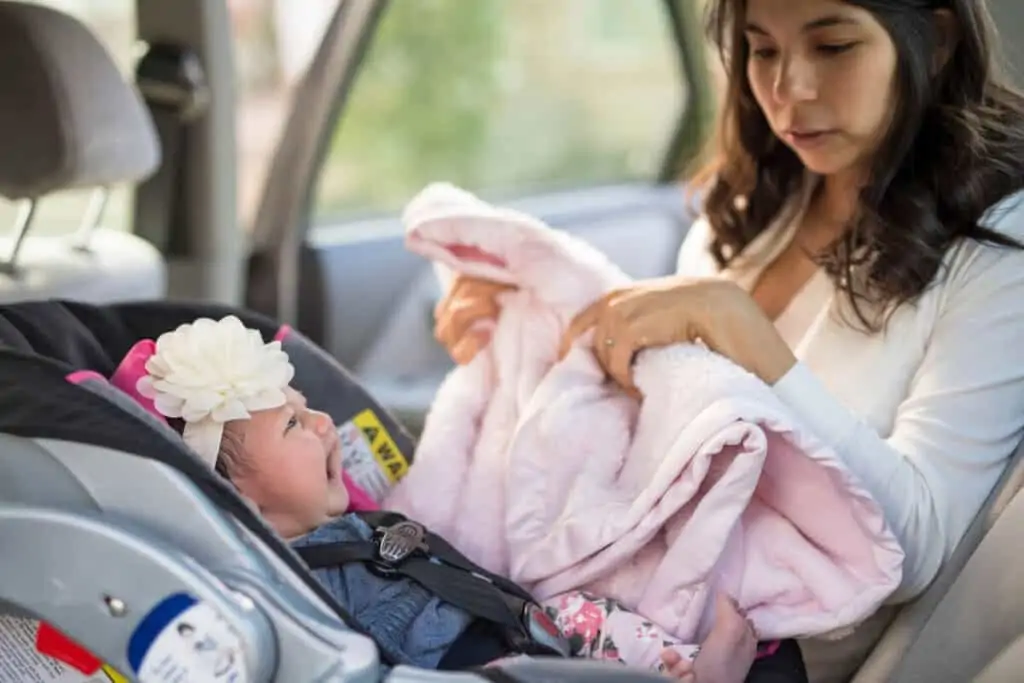 It's always a good idea to keep a backup diaper bag. It happens to all moms, you're in a rush and forget to put the diaper bag in the car.
It's a good idea to have a fully stocked diaper bag that you leave in the car, it doesn't need to have everything you put in your main bag, but just the essentials, wipes, diapers, change of clothes, etc.
What To Pack In A Diaper Bag
Diapers
Wipes in a zipper bag
Changing pad
Diaper cream
Plastic bags for dirty clothes and diapers
1-2 changes of clothes
Shirt or jacket for baby and mommy
Blanket
Hat for sun or cold
Bottles and formula – you can pre-measure powdered formula beforehand instead of taking the whole container
Baby food and spoons
Burp cloths and bibs
Teething gel or rings
Pacifiers
Toys for comfort and distraction
Hand sanitizer
Sunblock
Antibiotic cream, fever and pain reducer, antihistamine
Emergency phone numbers and information
Conclusion
Choosing the right diaper bag for your lifestyle can be tough, but with these tips you should have an easier time making a decision. Don't forget to consider how easily the diaper bag will clean, how comfortable it will be to carry all day, and what kind of storage it offers. If you don't want to worry about forgetting your main diaper bag at home, remember that having a backup is always handy!
Read Next