Need a nursing bra but not sure where to start? This post will help guide you in choosing the right nursing bra for you!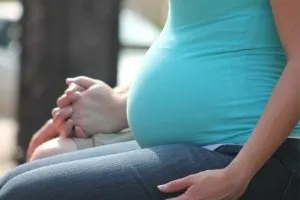 When you're pregnant it's not just your belly that gets bigger. Your breasts also change and prepare for their forthcoming job to feed your baby.
Your breasts will generally increase one to two cup sizes during the pregnancy, which means they are also heavier than usual.
Your upper body will also increase in size, meaning you will need extra support during your pregnancy. It is therefore vital that you have a good-fitting, supporting bra that fits perfectly.
If you decide to breastfeed you will also need a bra that allows baby "easy access" without having to strip off your clothes.
You should buy at least two nursing bras so that you always have one clean one if the other one is in the washing.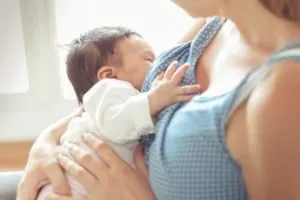 How to calculate the correct bra size
There is no universal law as to which bra is "right" or "wrong" when searching for a nursing or pregnancy bra because everybody is different and women also develop differently during their pregnancy.
Most pregnant women prefer to have a bra that is comfortable so try and avoid underwired bra's if possible as it could restrict milk flow and become uncomfortable.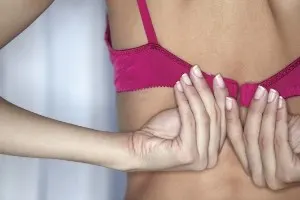 The best way to buy the right nursing or pregnancy bra is to consult an expert, however, nowadays there aren't many salespeople who are trained to give you expert advice so here is how to calculate which bra you need yourself, all you need is a tape measure:
Step One: To calculate your correct bra size (irrespective of whether or not you're pregnant) first measure the circumference under your breast to obtain the band size for your bra. Round up to the nearest full measurement, I.e. if it's 31.3 inches or 82 cm, for example, use 32 inches or 85 cm. This will give you the correct width of the bra so that it doesn't pinch and restrict your breathing.
Step Two: To calculate the cup size measure the circumference of the 'largest' part of your breast, i.e. just above your nipple to obtain your cup size and round this up too.
Step Three: Now subtract the band measurement from the cup measurement and you will have the correct size for your bra.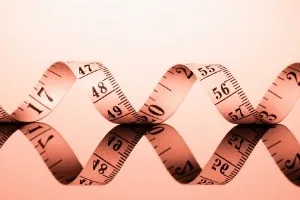 As your pregnancy advances and you feel that your bra becomes slightly uncomfortable, you should measure your breasts every couple of months or every trimester.
Please note that some manufacturers do not stick to the regulated measurements so always try before buy!
Do I need a special nursing bra?
You don't necessarily need both, nowadays there are flexible 'multi-functional' bra's on the market that have an extra-large adjustable band width which 'grow' with you during your pregnancy with cups that you can open easily to breastfeed your baby.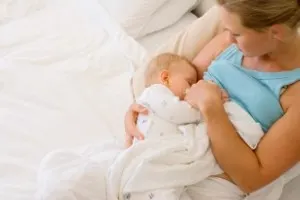 Apart from the multifunctional bra, you might also want to check bras that are specifically designed for certain requirements during your pregnancy or for breastfeeding.
Most women have extremely sensitive nipples during their pregnancy so it's important that the material of the cup is extra soft and has no seams that might rub.
A nursing bra is made from stronger material and therefore offers more protection as your breasts can become very heavy during the time you produce milk and require that extra support.
Extra "Functions" of nursing bras
Contrary to normal bras, nursing bras come in various styles with all sorts of 'extras' that you have to familiarize yourself with first.
Hooks, clips, easily adjustable straps, removable, upwards foldable or cups that fold to the side and cups with pockets for pads in case you 'leak' can make breastfeeding more easy and comfortable for mum and baby.
There is no 'right' or 'wrong', – it simply depends on your personal preference and what you find easiest to use.
Post Similar To Choosing A Nursing Bra