I can´t believe it´s already been another month! I keep feeling like  I ¨should¨ be much further with my blog right now but I keep reminding myself that I went into this knowing it will be a slow and steady process due to time restrictions (plus I get so caught up reading other bloggers who received 2 million visitors in their second-month blogging) hehe. If this is your first time visiting my blog you can check out the reasons why I started this site right here.
Blog Income and Traffic Report Month 3 July 2017 – Overview
The month was ok-ish… I did achieve all but 1 of my goals from last month´s report so I guess it was actually pretty successful!
My Goals For July
More Content – YES but some aren't posted yet!
Tweak blog design etc. – NO
Increase Visitors –

YES

Earn more than 1 cent…. –

YES

Get more Pinterest followers –

YES

Adding more to my Pinterest boards –

YES
What I Achieved In July
I did write more content, however, most of that was right at the end of the month and some posts haven´t been published yet…whoops.. so that is kinda achieving my first goal of the month. In the beginning of the month I also joined two Facebook groups although I have only been active in one of them so far before remembering my goal was to focus on CONTENT… so then I put that on ¨pause¨ to get back to actually focusing on content!
Finally, I got back on track towards the end of the month so let's take a deeper look.
Writing more content
As I mentioned above I did write more content towards the end of the month but some have yet to be published. Those should be up soon. The 2 which I did manage to upload this month were…
Tweak Blog Design and Make Improvements
I´ll be completely honest I did nothing to improve the overall look or feel of the site this month…
Increase Visitors and Pageviews
Nothing to shout from the rooftops about but it improved from last month! Last month my total unique visitors was 185 and I received 908 page views. In July my unique visitors was 386 and page views 2,103. I hope these figures will continue to rise as the blog grows.
Here is a screen shot from my google analytics for July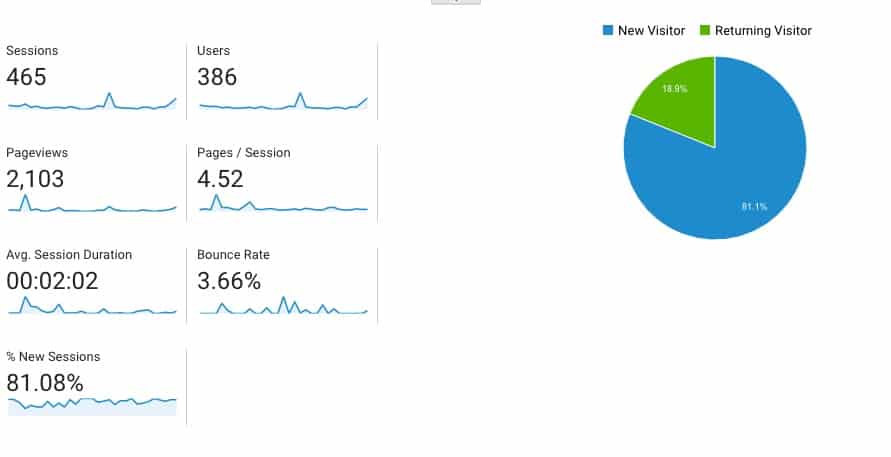 Adsense
Last month the site earned its very first cent! This month it increased… only slightly but it increased so it's still good haha 🙂 This month I made $0.36
Get more Pinterest Followers
At the end of the June, I had a total of 13 Pinterest Followers. At the end of July, I have 53 followers. I have not really focused too much on getting followers it certainly has not been a priority right now for me, some of those followers were from the facebook groups I joined and the others just happened organically.
Pinterest
Pinterest is the platform I am focusing on most for traffic, although I have been getting some traffic from Facebook too. Here are some screenshots from my Pinterest account in July.

VS. JUNE Avg. Daily Impressions 1,421 and Avg. Daily Viewers 645

VS JUNE Avg. Monthly viewers 5,638 and Avg. Monthly engaged 260

VS JUNE Avg. Daily Impressions 448 and Avg Daily Viewers 335
Goals For August
Yup, you guessed it Content…
Earn at least $1
More visits and page views
Get more Pinterest Followers
My goals for August are very similar because right now as I mentioned in last months post, I really need to focus on content so that will yet again be my main focus for this month.
My most popular posts in July
So that´s it for this months Income and Traffic report. Onwards and upwards! 🙂 I would love to hear your feedback in the comments or suggestions of things I could improve on.
Emra