(This page may contain affiliate links you can read the full disclosure here)
Where is this year going seriously? I feel like I blink and it´s another month! Even though I've been building this blog slowly… ok more like at a snail's pace… In August I just hit a mega bump. I could not find any motivation at all to work on the blog towards the middle of the month and it continued until now!. I did manage to do more posts, but I lost my focus completely and did not focus on Pinterest at all this month so my views etc dropped… multiple trips to the dentist didn´t help either, nor the tropical storms etc… So I am trying not to beat myself up too much and just remember my plan all along is to just keep going no matter how slow… (I feel like a parrot repeating that each month 🙁 )
Anyways…let´s get into the actual income and traffic report
My Goals For August
Yup, you guessed it Content… –

yes 

Earn at least $1 – almost
More visits and page views – nope
Get more Pinterest Followers – yes
More Content
The 6 posts I created in August are:
Increase Pageviews and Visitors
In July I had 386 visitors and 2,103 pageviews, In August this went down as I mentioned because I did not really do anything on Pinterest at all this month apart from some things which had already been scheduled in advance with BoardBooster. For those not familiar with Boardbooster, it´s a great tool which allows you to schedule pins in advance from within Pinterest and helps automate your pinning. You can schedule 100 pins completely free to try it out as well no commitment required!
Back to the stats in August I had 349 visitors and 1,559 pageviews, here´s the screenshot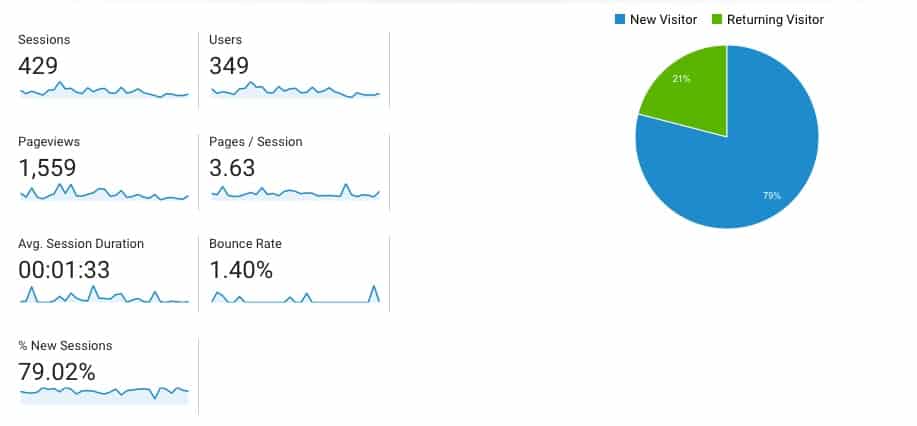 Income
In August I earned $0.82! It´s going up though haha always look on the bright side of life hey! So how did I make that 82 cents well 6 cents came from Google Adsense, and 76 cents came from an Amazon sale 🙂
Pinterest Stats and Followers
I really didn´t spend any time on Pinterest this month and my stats have dropped significantly because of it, not that they were anything major to begin with, but I still like to see the lines go up not down!
At the end of July I had 53 followers on Pinterest and by the end of August I had 68 so I gained 15 new followers.
Here are the screenshots from Pinterest

↓VS. JULY Avg. Daily Impressions 2,583 and Avg. Daily Viewers 1,238

↓VS JULY Avg. Monthly viewers 37,022 and Avg. Monthly engaged 1,615

↓VS JULY Avg. Daily Impressions 734 and Avg Daily Viewers 538
So as you can see my Pinterest took a hit from not being active on it this month.
Goals for September
More content
Earn more $ (would love to break the $1 mark lol )
Join more Group Boards on Pinterest
More Pinterest Followers
More Pageviews and Visitors
Previous Income and Traffic Reports
Until next month! 🙂
Emra
xoxo