Struggling to find foods your toddler will eat? These super simple recipes are sure to be a big hit and the best part is they're healthy too!
Most parents will face the challenge of picky eating at least once during the toddler years!
Toddlers are interesting little humans, one-day bananas are their absolute favorite food on the entire planet and the next they turn their nose up at it like you've handed them a bowl of rotten eggs.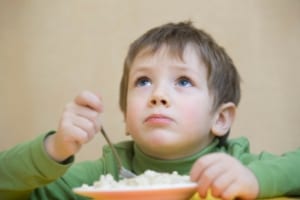 When my baby boy first entered into the world of eating "real" foods I wanted to keep everything as natural and organic as possible.
I told myself I would not be filling his little snack box with random animal/car/unicorn shaped non-nutritional value, you get the idea, crackers (ha! That didn't work out so well)
But… the majority of his meals are healthy, simple, easy to make and pack a good nutritional punch!
So if you're looking for toddler meal ideas that your toddler will actually eat and that are healthy look no further!
These recipes are simple, don't require lots of ingredients, and are sure to be a big hit with even the fussiest of eaters.
Banana and Oatmeal Pancakes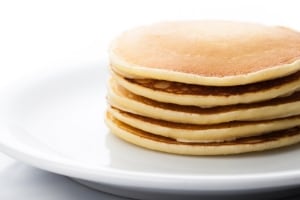 My son, nephew, sister and I actually all really like these and they are super healthy!
I think my son actually lived off these (and milk) for an entire week!
I make these pancakes 1 hour before bed as they keep him full during the night, but also they have bananas and yogurt… two foods which help promote sleep.
This recipe is the perfect bedtime snack as bananas not only help in relaxation due to their magnesium and potassium content but also help in melatonin production as does the yogurt!
Plus did I mention they are a HUGE hit! it's a definite win-win!
Heres the Recipe:
Ingredients
1 large banana
¾ cup oats
1 egg
1 small individual pot yogurt (I use natural greek yogurt)
1tsp chia seeds
Organic Coconut Oil Cooking Spray
Method
Place all ingredients into the blender. Blend till the mixture is smooth and has a creamy consistency (not too watery but not too thick, I use my NutriBullet for this, as they are super easy to use and clean!
Heat a frying pan with the coconut oil spray and pour in the batter. Sometimes I make cute little pancakes or when I´m pressed for time I made 1 big pancake.
Wait to cool and Serve.
Chocolate and Chia Seed Pudding

Need I say more?
Found on Baby Foode
2 Ingredient Cookies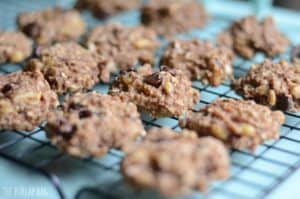 Yes, you did read that correct, only two ingredients!
So simple, but so perfect, delicious and nutritious…I do add in a tsp of chia seeds though to boost the nutritional value even more.
Found on  The Burlap Bag
Tuna Pasta with 3 vegetables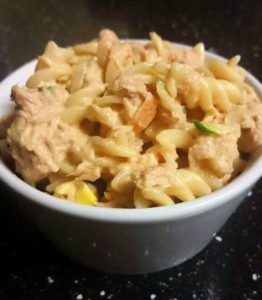 I have a confession…I actually only used 2 vegetables the first time I made this for my son.
This recipe went down a treat! Not only did he eat every last piece it was really fast and easy to make. Super win-win!
Found On  Simple Toddler Recipes
Breakfast Oat Cups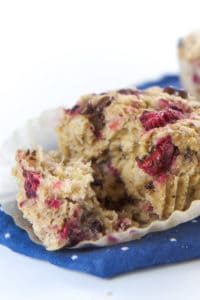 I made the chocolate chip and raspberry version and they were a huge hit…my son scoffed down 3 easily and me… well…I ate the rest woops… hehe.
On the plus side, they are so easy to make I made another batch!
Found on  Baby Foode
So there you have it, 5 delicious healthy recipes for your toddler that are easy to make!
Related Posts To Toddler Food Ideas
Have you tried any of these recipes? Let me know in the comments!